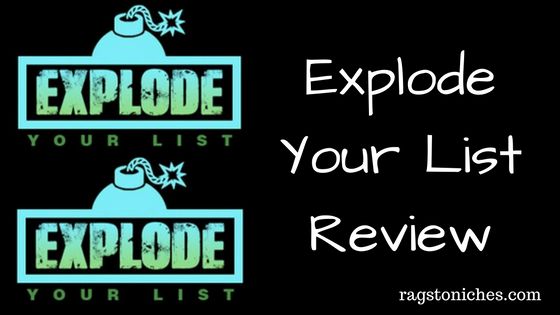 Explode Your List Review.
Product: Explode Your List.
Creator: Fergal Downes.
Website: explodeyourlist.com
Price: $9+ (subject to change, plus potential upsells).
Overall ranking: Legit – but for marketers with some experience, that are interested in going into creating their own micro products.
What Is Explode Your List?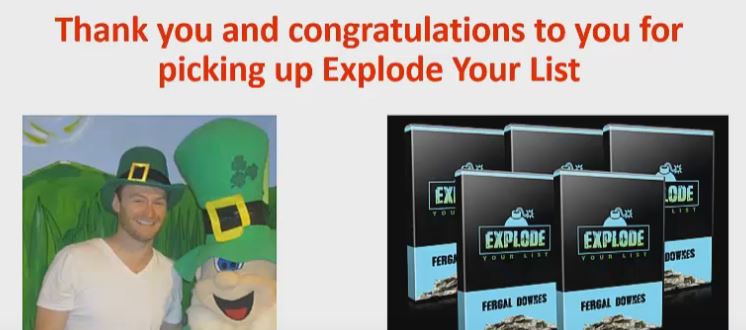 Explode your list is a mini video course, showing you a few ways that you can build your list, using very low cost or free methods.
The course has five modules – consisting of 15 short videos in total. I will outline them in some detail below.
There are also a a few upsells when you purchase this product, you will get these with a majority of internet marketing products and I generally have no problem with them – if they don't take away the value of the original product.
In this case, the upsells are either optional, or possibly complimentary to some aspects of it.
Upsell 1 – is an automated list building tool, obviously this isn't essential in relation to the course. ($17)
Upsell 2 – Landing page, download page and squeeze page for $12.95.
Upsell 3 – How to create fast micro products – this definitely could be a good idea and could compliment the course, as the main course talks about selling cheap mini courses in order to build your list. ($17 – downsell of $11.97 at the time of writing).
Upsell 4 – How to dominate google rankings ($17.08) – this course is meant to show you how you can rank for moderate to low competition keywords and ranking for low competitions is valuable. But if you already have some SEO knowledge, you will already know how to rank for low-competition keywords.
Once you you get into the members area, you can see all the modules laid out.
Module 1 – 4 videos.
Module 2 – 1 videos.
Module 3 – 1 videos.
Module 4 – 5 videos.
Module 5 – 4 videos.
Module 1 – $1 Micro products.
This module focuses on creating $1 offers within the warrior plus platform. However, this will only work if you have previously launched on warrior plus. So, if you haven't had this, there's no point in watching this section really. Maybe this could have been put in the course details. However, I think it's a good strategy to sell low ticket items with value, as a way to build your list.
This obviously isn't for complete beginners – but if you're a total newbie, you're may not even be building a list yet – let alone exploding it :).
If you have followers already on Warrior Plus, they will all be emailed when you release a product – which can then lead to immediate sales.
Module 2 – Backend Freebies.
This method allows you to promote a course every day of the week while building your list. You approach marketers to promote their course, but ask for a backend bonus inside their download area – in their backend bonus spot. However, I'm not sure how likely it is that they'll agree to this if they have no idea who you are.
Module 3 – Solo Ads.
This module shows you how you can make money via solo Ads, sending traffic to a $1 course.  Furgal has some advice about how to approach solo ads – where to get them from and how much you should spend. This is fine again, but you would need to have some clue how to put together a course, (Furgal has some advice how to in the next module).
Module 4 – Creating Your Course.
Here you're advised on what sort of courses sell the best and how to create your course on a variety of topics – even if you don't have expertise in that particular area and where you can find products to use as upsells in your low-ticket products.
He also runs over how you can put your course together on the Warrior Plus forum.
Module 5 – Promoting Products As An Affiliate.
here is some extra advice about how you can promote products as an affiliate.   He talks about how you can create review pages with bonuses and how to go about creating YouTube reviews.
Explode Your List Review: Conclusion!
You can't expect a huge amount from a little mini course like this, but this product does contain some useful ideas and advice for anyone looking to build their email list with a budget and also to jump into product creation.
If you're a marketer with a little experience and you think you're ready to start creating your own products – creating mini low-ticket products could be a really good introduction into doing that.
Ultimately, people will not expect an amazing product for $1, (or free!) so if you actually provide some genuine value in your product, you're going to stand out above the rest and build up a good reputation.
The ideal scenario is that people on your list that will be look forward to purchasing more products from you in future, because your initial product provided great value.
On the other hand, if you're brand new to internet marketing and just trying to make your first money online, then this course would not be for you.
How do you feel about creating your own micro products?
I think it sounds like a pretty good idea for a list-building strategy, as long as you pack in plenty of value.
Let me know in the comments!
All the best,