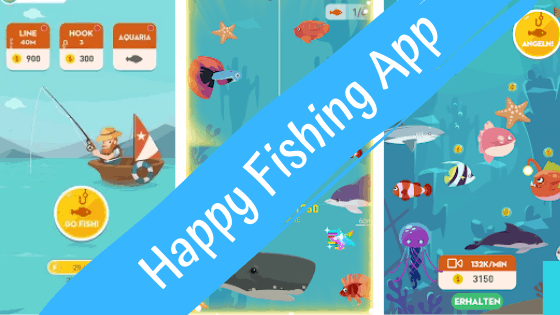 Is Happy Fishing App Legit? Can you really win real money playing this virtual fishing game on your smartphone?
I thought it looked pretty fun and I pretty much check out every App going that claims it can help you win or make money.
Unfortunately, it can be incredibly difficult, (or potentially impossible in some cases….) to actually make enough money to cash out with MANY of these Apps.
Some feel the way these Apps claim you can really make money, is misleading enough to call them a scam.
Also, even though the mass majority will never seem to reach the cashout threshold – there does seem to be the odd person who, against all odds, does.
Have you EVER been about to cash out with Happy Fishing, (or not!?)!?! Leave a comment at the end of this post!
Happy Fishing App Review…
How Does It Work?
Download the App for free with Google Play.
Playing the game is as basic as you can imagine – simply click a button to go fishing and the fishing rod descends into the ocean.
If you're on your phone, you can use your finger to move the rod around to catch more fish.
I was playing on my chrome book and you can use the arrow keys to move the rod left and right.
The more fish you catch the more coins you can win.
You can catch both fish and treasure chests – So far, I have only won coins, I haven't received cash wins, which made me question its existence.
Particularly since other people seem to say it's the first few times you play that you get cash wins.
Where were these cash wins………. Have they stopped?
I used up all my goes available and hadn't won a single cent.
Want to stop making pocket change? Learn how to build an online income – like I have!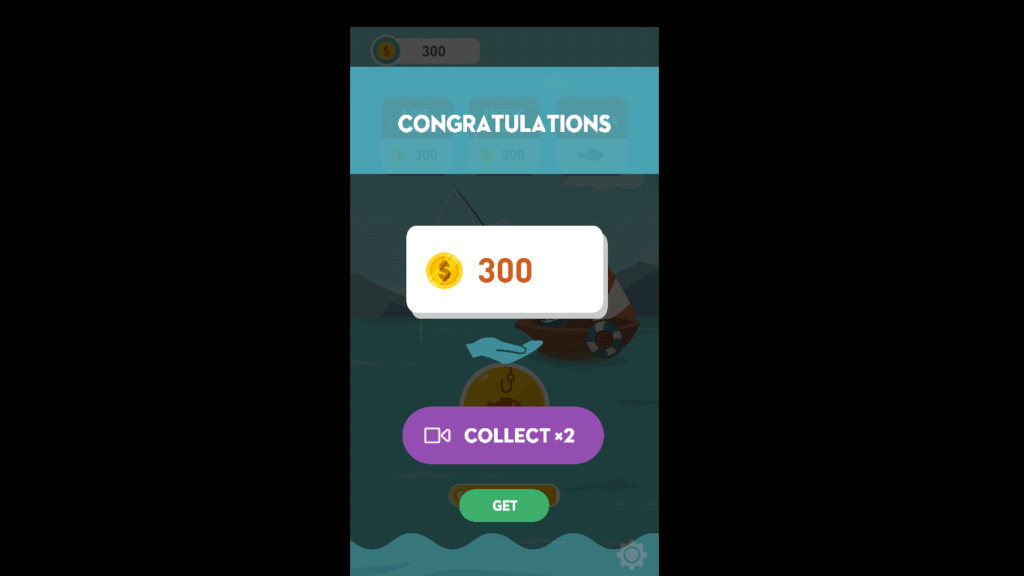 Happy Fishing – A Lot Of Ads?
Every time you have one go with this fishing App, it will ask you to view an Ad to double your win or more.
You don't have to watch an Ad every single time, but you will feel compelled to, in order to get more coins.
The more coins you get, the more additional perks you may be offered – for example; after a while I was offered a better rod.
The new rod was capable of collecting more fish each time.
Buttons That Freeze?
I found this App a little bit glitchy – in the beginning, I couldn't seem to avoid watching an Ad.
The button was there to continue without having to watch as Ad, but I pressed it and it wouldn't move.
Therefore, I'd have to take the alternative option of watching an Ad.
This could be just because I hadn't watched enough of them – because, later on the buttons seemed to work again and I managed to play more games without watching Ads every time.
Not Much Going On Here?
Personally, I was pretty disappointed with just how simple this App is.
Once you've "gone fishing," once… there isn't much variation.
Yes, you can get additional new fish to catch and you may get some extra bonuses, like a better rod, but there is nothing else!
I guess it may have been more interesting to me if I actually saw some real cash wins – but I got absolutely nothing. Zilch, Zip, Nada!
Happy Fishing Information?
As well as the game being extremely basic – there isn't much in the way of actual information on the App itself either.
They have a terms of service and privacy policy buttons – but when I tried to click on them and view the info, nothing happened.
On the App, there is some basic info about the Fish you can catch, but I couldn't see any info about winning real money, or how you can out if you do manage to win anything.
I couldn't see a basic FAQ section.
So, Can You Win Money Anywhere?
People have talked about winning real cash on this App, but I didn't see any at all.
The only place this game mentions winning real money, is right at the top of the App description on Google Play.
It says: "Throw your line and catch as many fish as possible for cash…"
Considering just how many Ads are on this APP, it's a shame if they aren't sharing any of that with their users, in terms of cash or rewards.
What Do Other People Say About Happy Fishing?
Happy Fishing App has 4.4 stars on average on Google Play.
It has nearly 96k ratings! So, clearly some people must enjoy playing it.
However, as far as winning money goes – people say they have got some money initially but that eventually it just gets less and less.
I haven't seen anyone say they've actually reached the $10 payout threshold.
That said, I couldn't see anywhere on the App that said the payout threshold was $10, how you were meant to cashout – or even any mention of money!
It made me wonder whether you have to be a US resident to actually win real money? OR if they've stopped it altogether!?
Is Happy Fishing Worth It?
I personally didn't win a cent – but even those who have, claim they cannot reach the $10 payout amount.
So, if you're only playing to win money then no, it's not worth it.
What about entertainment value?
Well, I quite liked it when some new fish was unlocked, or a brand new rod to play with but….
For me, the amount of Ads you need to watch to actually play, just ruins it for me.
Maybe if I did win some additional money on the App, this wouldn't be so much of an issue.
But seeing as I seemed to be being forced to watch Ads, in order to play an extremely basic, uninspiring & unexciting game… It wasn't so fun.
Right now… This one gets the thumbs down from me!
If You Want To MAKE Cash Online…
If you're actually looking for a real way to make extra cash online, free apps are just not going to get you there!
Believe me, after trying hundreds of Apps now, I know you're going to be making pocket money at best.
They are absolutely fine for a bit of fun, but don't have any high expectations when it comes to making or winning money with free apps!
I make money from a few different methods online, including affiliate marketing and self-publishing!
But one of the best time investments I ever made, was taking the time to learn how to start my own website.
Because there are various ways you can make money from your own website or blog – including affiliate marketing, paid advertising and more.
When I got into this, I was a total beginner with zero knowledge about any of this.
This step-by-step training helped me to get started – their free training is definitely worth checking out, if you're interested!
That concludes my Happy Fishing App review today – but if you've had any experiences you'd like to share – feel free to leave a comment