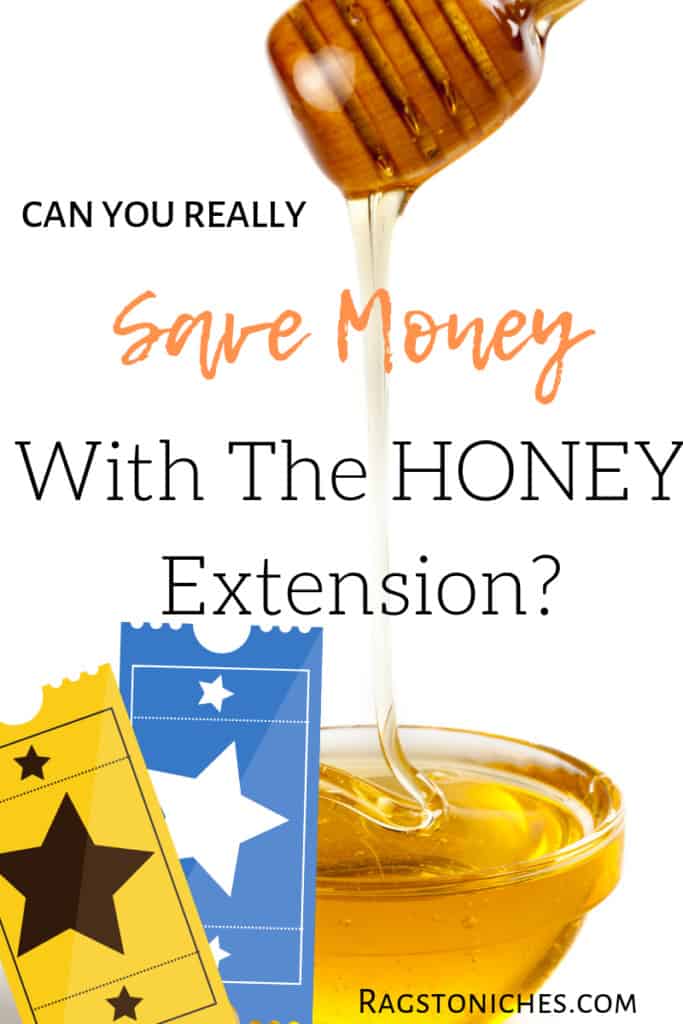 What is the Honey coupon Chrome extension and can it really help you save money?
Well, I've had this extension installed for many months and I was certain I'd already written about it before…
But it appears not!!!
I think I was waiting for a while having it installed, to see how effective it was and then just, totally forgot all about it!
However, only yesterday, I decided to uninstall Honey and I will explain why a little later in this post.
In my Honey Google Chrome extension review, I'm going to be covering the following topics:
What Is The Honey Coupon extension about?
How do you get started with Honey?
Who Is Honey For?
Earn *Gold* By Referring Others.
Feedback about Honey online.
Why I uninstalled Honey.
PROS VS CONS.
Is Honey Chrome Extension Legit?
Making money online in the long-term.
In brief – Honey is a decent browser extension to help you make savings at thousands of stores.
It's going to be most valuable to people who do a lot of online shopping to really benefit – but it's no trouble having it sit on your browser, so it's worth a try!
What Is The Honey Coupon Extension About?
The Honey Google Chrome extension has over 10,000,000 customers!! But what is it?
It's a handy little extension that sits on your browser and alerts you of coupon deals whenever you get to the checkout of thousands of online stores.
Essentially, it searches through every available coupon promotion it can find.
(Take note – currently will only find offers in the US, Canada, Australia and the UK).
You can also alert Honey of coupons that you may happen to come across.
How Do You Get Started With Honey?
Simply search honey chrome extension, (or find here direct).
You can find via the search engine, or simply search "honey," in the Google Chrome Store.
There will be a blue, "add to chrome," button and this will add Honey to your browser.

Once you've added it, you will be able to see that it's active by seeing a little "H," icon on your toolbar, (see below!).
The icon will be grey initially – but it will be orange when you're on a website that Honey supports.
When there are coupons, you can see them in green show up on the icon.
If you are using Honey in Safari though, the icon will stay grey and then the coupons will show in red.
If you click on the "H," icon while in a supported store, it will show you the coupon codes available.
Who Is Honey For?
This extension is for absolutely anyone who shops online and is interested in getting the best deal, (without searching the net for coupon codes!).
However, it's going to be best by far, for people who do a LOT of online shopping.
If you do next to zero shopping online, then you probably won't get much value from this.
On the other hand, even if you solely just shop on Amazon now and again, it could still be worth you having this.
That's because, Honey also provides some useful info to Amazon shoppers – including best-price detection, price history and even price drop info!
Earn GOLD by Referring Others:
You can earn 500 honey gold once someone you refer makes their first purchase.
Once you have a certain amount of gold, you can redeem a gift card.
How much gold you need, will depend on your location.
For example; I need 1400 honey gold in order to redeem a £10 giftcard – which means I'd earn a little over £3 per referral roughly.
It's around $5 per referral in the US.
But only once they've made a legitimate purchase using a Honey discount code.
You can invite friends to join directly via social media, but they also give you your own unique referral link.
Save Money On Travel:
If you don't spend too much on with stores online, you may be able to save money on your travel instead.
Honey provides various discounts on things like flights, travel voucher deals and hotels.
One way you can make savings, is by collecting virtual "Honey keys."
You can collect these keys by making purchases online via the Honey extension – this is one element I have yet to use!
Although, I have noticed I have one Honey key on my account….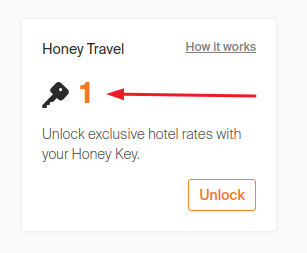 Feedback About Honey Online:
The Honey extension has pretty good reviews online.
It only has 3 stars on Trustpilot right now, but there are only 45 reviews at this time.
The primary problem people have is just not saving any money – which is the primary purpose of this extension after all.

However, this extension has 5 stars on the Chrome store website and over 123,000 ratings!!!!

To have 5 stars, with so many people rating, it pretty impressive.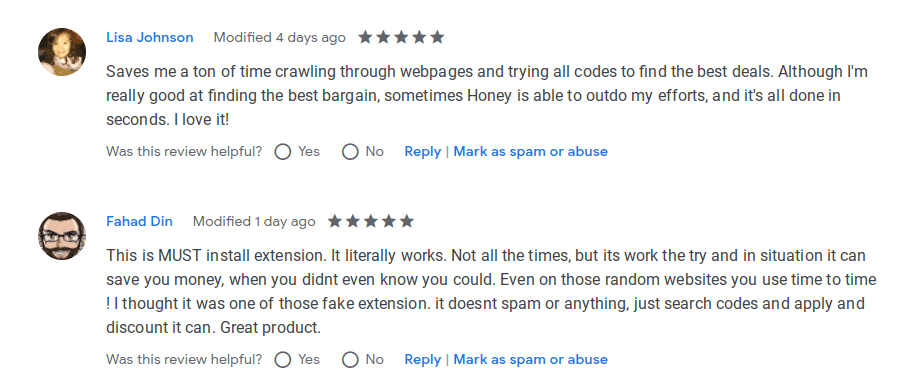 My feeling is that it could be strongly dependent on your location, as to how many deals and coupons work for you.
In any case, it's free and is no effort to have sat on your toolbar…
It automatically shares deals so, you may as well check it out.
Why I Uninstalled Honey:
After several months of using Honey, I uninstalled it.
Why? Purely because I hadn't made a single saving since I installed it.
Every time I'd reach check out, I may be told that tonnes of coupons are available to try… But none of them ever work.
I don't know if this is just the type of stores I shop with, if it's my location, or if it's just coincidental but it started to get pretty frustrating.
I thought I would have at least found one measly code for SOMETHING… ANYTHING in the several months it was installed.
In order to complete this review, I decided to reinstall it… So, this is round 2 for me!
I will update this post if I happen to get any good deals.
However, one reason why I may not be is that I don't do a massive amount of purchasing online.
If you do a majority of your shopping online, you may have much more success with it.
PROS VS CONS:
PROS:
Free extension, simple to get started.
Chances to save money easily.
Will notify you of any discount codes at the checkout of thousands of stores.
Earn $5/£3 for referring friends/families.
CONS:
Some people have experienced a low rate of deals available, or codes that actually work.
Is Honey Google Chrome Extension Legit?
Yes! But how successful you find it is likely going to depend on your location and how often you shop online.
If you rarely ever shop online, then you will probably find it a waste of time.
I have a bit of a habit of collecting different chrome extensions and it can slow things down, so don't keep any extensions on your toolbar that you don't use.
The good thing about it is that it's very user friendly and can save you time AND money!
It's better you find out there are no coupons available, rather than risk missing out on a discount.
So often we make purchases online, completely unaware of discounts available and this extension resolves that issue.
Making Money Online Long-term:
I enjoy making savings online via cashback and discount codes – but it's only going to save you a small amount here and there.
I make much more online from having my own website, where I can earn for recommending products or services that I enjoy, (affiliate marketing!).
Plus, I can also get paid for having Ads on my site and various other ways.
If you'd like to learn how you could do the same, I got started here.
That sums up my Honey Google extension review for now…
While I haven't found any deals with it so far, thousands of others certainly have – which is why I'm going to add this to my positive review category.
Let me know in the comments, if you have any other questions!
All the best,