Maybe you are like I was before I entered this online world…
I was interested in having my own website, but the whole idea of domain names (HUH?) and hosting, (What?) confused the hell out of me.
 But it's actually all pretty simple.
So, HOW do you buy a domain name?
Let me take you by the hand and explain this to you, step-by-step.
The initial problem you may have come across is, there appear to be a lot of options and there are lots of people all vouching for different options.
My #1 suggestion, which is where I purchase all of my own domain names, is Namecheap.
Why is Namecheap right for me?
Well, the clear other option for me initially, (mainly due to price) was Godaddy, which is incredibly popular.
 Godaddy have some very low prices for their domain names….
the issue with Godaddy is, while they may be super cheap to purchase today – what about next year when you have to renew?
There have been complaints that, by the second year, the price is significantly higher – so, if you go with Godaddy, you may want to check this out.
In my opinion, I also dislike the amount of Ads Godaddy has!
 I also found it confusing to navigate and too many extra add-ons and options that I didn't need.
No sneaky extra costs, everything is up front.  What you pay this year is not going to be vastly different to the next year.
For a newbie, Namecheap is also very user friendly and simple to navigate – you can't go wrong with Namecheap, I have zero complaints.
I've also received some excellent support, if ever I've needed help online.  
They have a live chat section, they've been very quick to respond and incredibly helpful.
Why don't we create a domain name, right now?
Before we continue, take out a notepad and write down a few potential ideas for your domain name.
Consider something catchy, short and easy to remember!  
Personally, I feel up to a few words is best – there are exceptions of course!
So, once you have some of your best ideas noted down….
…and follow along with me.
STEP ONE: Searching For Your Potential Name.
You should now be on the main search page.  You can now go ahead and search for your domain name.
Once you've pressed search, you will see some results…
Having searched for my own name, as you can see – the .com is taken.
In my opinion, you should seek out either a .com (first choice) or .org  – it's thought you will have the best chance of ranking with a .com and it's what I stick to personally.
So, if your particular .com is taken, you may want to keep searching until an appropriate name is available.
Be careful though, you want your domain name really to be as simple and easy for people to both remember and type into the search as possible.
Any odd characters or differences in spelling, could end up in them at someone else's website, so keep it clear and simple.
STEP 2 – Add Your Preferred Domain Name Into Your Basket.
Once you've found the domain name you want and you think the price is reasonable, you can go ahead and add it to your basket.
Once you can see your domain name is safely in your basket, you can proceed to payment!
STEP 3 – Time To Purchase!
Click to view cart, you can now edit your payment options.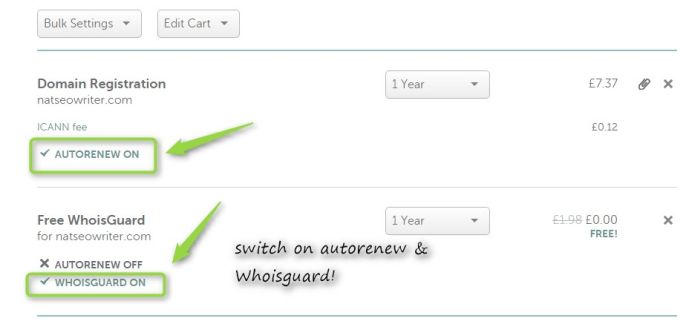 You now need to add…
How long you would like to purchase the domain for, ie; 1 year.
I suggest you click the auto-renew option, because while you can easily switch this off, the worst thing to happen is that you forget and lose your domain!
Also, switch on the Whoisguard option, because this can protect you from unwanted spam and hackers – which I'm sure you want to avoid!
That's it!!  You can ignore the other options, unless you're particularly interested! …now press CONFIRM ORDER!
Step 4 – Pay via Credit Or PayPal
If you haven't already, you'll need to set yo your Namecheap account.
Then you just simply follow the payment instructions and you will have purchased your domain name!
What Now?
Now that you have your brand new domain name, you'll want to start building your website.
To do this, you will need to set up a hosting account.  There is a large number of hosting opportunities available at very reasonable prices
Some popular options are Siteground, Go Daddy, Hostgator and Bluehost.
I personally recommend Siteground and I have a step-by-step post showing how you can sign up with them here.
You may also want to check out my post here, where I talk about a few different options.
I hope you found this post helpful and are now well on the way to building your own website!
Update… If you'd rather, you can now also purchase domain names on the Wealthy Affiliate Platform.
All the best…