Can You Optimize Your Auto Ads On Amazon KDP? – YES!!!
I've realised recently that there are many people who don't realise, that you can actually optimize your Automatic Ads for KDP.
Optimizing your Ads is a vital step and incredibly important for ensuring you get the best result possible from your Ad campaigns.
It's important to regularly go into the backend of your Auto Ad and tweak them, in order to reduce your ACOS and make your Ad more profitable.
How often will be a bone of contention. The trouble is, you REALLY don't want to over do it.
Your sales that come directly from those clicks on your dashboard, can take a while to filter through.
So, if you were to go in and try and take out keywords every day or two, you would most likely end up removing keywords that have actually led to a sale, (without realising).
When I started, I didn't know this. So, I would literally go in every day and start messing around with things.
I try and give my Ads around a week to run before I do anything. I do still check in on my Ads each day, because sometimes a particular keyword will just run out of control and not be profitable.
But for many keywords, I just check that they're plodding along OK. Then I tend to have a more serious look at things, around once a week.
This is just me though & I would recommend you still check in on your Ads each day.
Especially if you're on a very tight budget.
If you aren't sure about basic Ad terms such as ACOS, Auto & Manual Ads and so on, then please refer to this post first, which explains the basics.
I then also created a video that explained how to set up your Auto & Manual campaigns here.
Go To Your Ad Dashboard:
So, the first step is to go into your main dashboard and find your Auto Ad.
I personally set up portfolios for each type of campaign, so that I can find them easily.
For the purposes of this post, I will be checking into an Ad I ran for a while recently – for a couple of books I created for this sole purpose.
They're in a gift type niche and so, it's highly competitive.
But I wanted to see if I could sell the book via Ads, get it ranked and then start making organic sales.
So, what you want to do is click on the Ad in your dashboard & then click again on the Ad group name.
You should then go to a section that looks like the bit below.
In this case, I have two books I added to this Automatic campaign because they are in the same niche. I like to do this whenever I can.
So, above are the two books in question.
The first book has already spent £3.00 and 7 clicks. The CPC is also high in this case. What I would probably do is switch the Ad off now for this particular book.
OR lower the bid amount and see if it still got clicks and any sales. If still no sales, I switch the Ad off for that book and either try and improve it or simply move on.
The book above however has made a sale. The CPC is still high for me, but we did make a sale in 7 clicks.
Now what we want to do is see what keyword has led to this sale and if there are any keywords we can add to our "negative keyword list," to reduce our ACOS.
For that; you need to look at the menu on the left hand side and go to, "search terms."
We can now see the keyword that led to the sale & other details about it……….

The keyword in question only had 20 impressions, but 2 clicks and one sale. *edit – later the next day I had two sales, one to another keyword.
Unfortunately – the keyword that led to the sale is very generic and is also expensive. It cost 50p per click, but it did get me a sale in only 2 clicks.
This could be a one-off event.
This keyword has also only had 20 impressions, so I would probably need to raise the bid even higher to get more impressions for this particular keyword.
For now though, as I have made a sale with it, I will leave the keyword there.
It has a 10% click through rate, which isn't that bad and an ACOS so far of 14.31%
I now want to scroll down and see what other keywords amazon has shown my book under….. (only keywords not showing in the image below).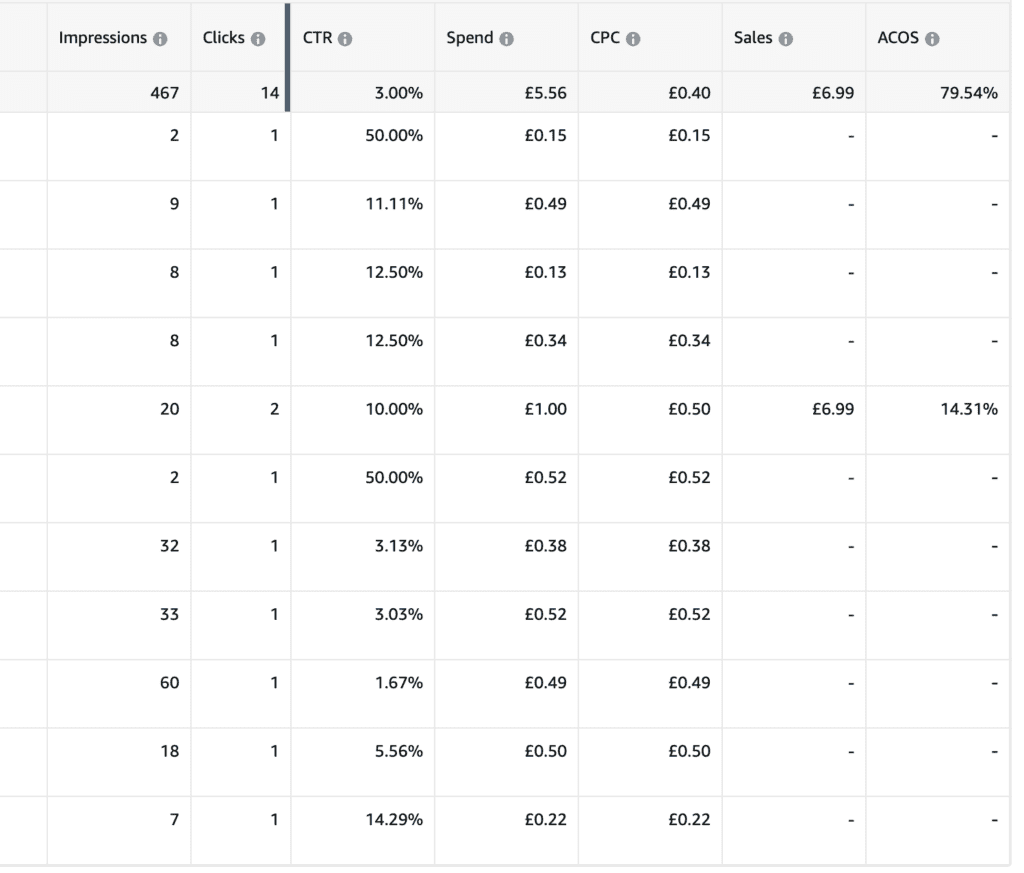 TAKE NOTE: You may notice that the impressions under the search terms don't match the total impressions, (hundreds vs thousands). This is because, under search terms, Amazon only shows you the impressions that actually led to clicks.
Many of the keywords in the list have still only had 1 or 2 clicks.
There are not many impressions however, so I may actually raise my bid temporarily in order to hopefully get more impressions and more clicks.
Many of the keywords I see look relevant enough & I may choose to keep them running until they have had more clicks.
But some I may stop right away.
This will generally be for the following reasons….
They are not specific enough or too generic and therefore unlikely to lead to a sale. For example… blank book.
The click through rate is extremely low. In such cases, this will usually also show that the book isn't matching the search term closely and I may stop these even after 1 click.
So, at this point – choose any keywords which either gone over your budget & have no clicks, (in my case; this is often 7-10 clicks).
Or keywords which you think are unlikely to achieve a sale & are not specific enough.
Lastly, you may want to switch off keywords with a very low click through rate. Although, often this aligns with the point above, (keywords which are not relevant enough).
For example; the main keyword I switched off wasn't very relevant, had a low CTC rate of 0.79% and a high CPC of 41p per click.
Even though it had only had two clicks, I decide to add it to the negative list.
How Do You Add Keywords To The Negative List?
So, in order to remove the keywords that aren't working for you, you need to add them to your negative list.
Once you're in search terms, add all the keywords you want to a list, (one under the other with no punctuation). Copy & Paste.
Look at the left hand menu again and look for: NEGATIVE TARGETING.
You will now see a blue button that says: "add negative keywords."
Click this and you reach the following page:
Whenever I add keywords to this list, I always add them as, "negative exact."
Because otherwise additional keywords that simply CONTAIN this keyword will also be included and that could end up being ones that are profitable for you.
By choosing, "negative exact," you can be sure it's only the keyword you're adding to this list that is removed as a target.
Simply paste the list you created in the box & click ADD KEYWORDS.
That's it!
There is also the option to add negative products, as Amazon will often choose product pages to run your Ad too.
In this case, you add your list in the same way – but with product ASINS, rather than keywords.
If you want to adjust your bid, look at the left hand menu again and go to AD GROUP SETTINGS.
Here you can adjust your bid.
In my case, I have decided to up my bid in order to quickly get more impressions and clicks.
My feeling is that it may be too competitive and the clicks too high for me overall to warrant keeping the Ad long term.
HOWEVER, just by getting a few sales – this will hopefully rank my book for certain keywords organically and lead to reviews.
So, if cannot get the Ad to be profitable; I will often wait for a few sales & switch it off and see.
If I then get some reviews, I will switch it back on again.
Did You Know You Could Optimize Your AUTO Ad Campaigns?
Let me know in the comments if you knew you could optimise your Ads, or whether you've had any success doing so.
This is only how I do things and I'm certainly not an Amazon Ad expert – I'm still learning all this myself but I thought I would share how I do things and hopefully this can help you to feel more confident tweaking your own campaigns.
Pin Me For Later: