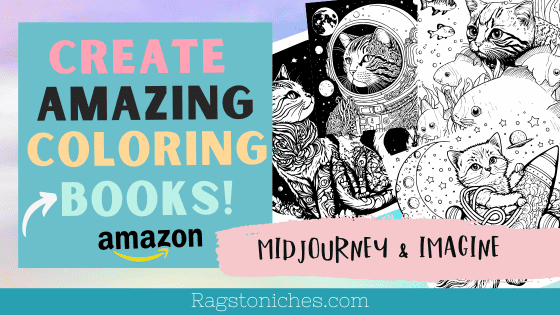 If you're interested in making coloring books using Ai tools & self-publishing them using KDP, then this post should definitely be of interest to you!
When I first started KDP, I had little hope of ever creating a coloring book. I did try to create a couple of coloring books using ready made images, but I never felt satisfied with the results.
I couldn't draw the images myself and the cost of hiring an illustrator to create a whole book of coloring page images, would be a large investment.
However, the creation of coloring books has been revolutionized, thanks to groundbreaking advancements in AI and software tools. Tools like Midjourney have streamlined the process, making self-publishing on platforms like Amazon KDP more accessible to everyone.
That being said, mastering Midjourney comes with its challenges. The software often produces images with a significant amount of greyscale, which isn't ideal for coloring books. And if you're lucky enough to curate enough suitable images, the daunting task of formatting for KDP awaits.
While it's true that you can create greyscale coloring books, this is not standard and not usually something that we want. Unfortunately, even midjourney images that LOOK black and white on the surface, usually have a fair amount of greyscale in them.
Enter IMAGINE: Your One-Stop Solution
IMAGINE is both a course and a software solution, designed to address every hurdle in the coloring book creation process. This new program could not have come out at a better time for me, because it was just what I had been looking for!
The masterminds behind the program are Issac and Katharyne, the delightful duo who also brought us the legendary Tangent Templates. When I embarked on my self-publishing journey, Tangent Templates was my guiding star. It simplified the complex world of book creation, especially for those of us without a background in graphic design.
While I won't delve deep into Tangent Templates in this post (you can find a detailed review I did several years ago), it's worth noting that IMAGINE also includes Tangent Templates in the package.
*If you've previously purchased Tangent Templates, you can have this cost removed.
Why IMAGINE Stands Out:
So, what makes IMAGINE so special?
An in depth course: With 19 insightful videos, including interviews with industry successes like Sasha O'Hara, (who has made over a million dollars with her coloring books!).
Tangent Crystal: This software is a game-changer, enabling you to produce sharp black and white coloring pages devoid of any greyscale.
Prompt Catalogue: Dive into a treasure trove of prompts to fuel your creativity, with continuous additions to keep things fresh.
Additional Resources: From an introduction to Midjourney to a private Facebook group, IMAGINE ensures you're well-equipped for success.
It's really an all in one package that contains everything you could possibly need to create a coloring book using Midjourney… From start to finish.
You must ensure you have the paid version of Midjourney before you begin. That is required for you to be able to use the images you generate to create a book to sell on KDP.
Who Should Consider IMAGINE?
IMAGINE is tailor-made for those keen on crafting coloring pages using Midjourney. Whether you're a novice or at an intermediate level, this course has a wealth of information to offer.
I would consider my own knowledge of Midjourney to be around the beginner/intermediate stage and I got so many tips and ideas from this course.
One of the standout segments of the course is Katharyne's demonstration of creating a full-fledged coloring book using just Midjourney, Tangent Templates, and Tangent Crystal. This was a course highlight for me and is going to be so valuable to anyone who wants to be guided through this process from start to finish.
Another highlight for me, is when Kataryne explores into the potential of ChatGBT, illustrating how it can be a valuable tool for enhancing your coloring books. She introduces various resources and offers insightful tips on engaging with ChatGBT for meaningful conversations.
What's particularly beneficial is how she demonstrates its utility in brainstorming niche ideas. By showcasing real examples, including showing some of her own coloring books, Kataryne ensures that you're equipped with a plethora of ideas for niche generation.
This isn't only useful for people wanting to create coloring books for KDP, but for ANY business online that requires an understanding of niche research and brainstorming ideas.
There is a vast amount of in-depth information here and Katharyne really deep dives into prompt crafting – with more ideas that you will ever need for styles, as well as hundreds of ready made prompts that you can experiment with.
Aside from upscaling the cover image, (which you can do using a free tool like BigJpg) Katharyne creates the book purely using these tools.
Up until now, I always created my Covers in CANVA. So, it was great to see how easily I could actually create in Tangent Templates. This is just another thing that I will now use Tangent Templates for.
How Can IMAGINE Help You?
Some of the highlights of this course for me include:
A deep dive into the realm of AI-powered coloring book creation.
Using ChatGBT can help you brainstorm and generate unlimited ideas.
In depth discussion of market niches, trends, and research methodologies.
Step by step instructions of how you can harness tools like Midjourney, Tangent Templates, and Tangent Crystal, eliminating the need for intricate software like Photoshop or Illustrator.
Instantly turn your coloring pages into vectors with Tangent Crystal and remove greyscale, eliminating the need to upscale those images.
What's Actually Included With Imagine?
An in depth video course, with 19 videos in total, (including two interviews).
Tangent Crystal – a software that helps you to create crisp black and white coloring pages, without any greyscale.
A prompt catalogue – hundreds of prompts you can use towards your own creations. These will be added to.
A prompt builder.
Resources section.
Research pack.
Tangent Templates, (discount for people who already own this).
Intro to Midjourney
Midjourney – an unofficial manual.
Private Facebook group.
An Awesome Step-By-Step Course & Software Combination:
In conclusion, Whether you're a complete beginner seeking a new entrepreneurial venture, or a seasoned publisher on KDP who is looking to expand your portfolio – Katharyne's course on coloring book creation is an awesome way to get started and create your first book.
I've watched every video through once at the time of creating this post and I already know I'm going to be going back and rewatching videos, because Katharyne provides such a wealth of information and has so many ideas.
You know when someone is so enthusiastic, you can really feel their passion come through on screen? That's how Katharyne comes across and she never fails to lift my mood and help me feel motivated.
I'm proud to be an affiliate for this course, if you click any links on this page and make a purchase, I will make a small commission. Thank you for supporting my blog & I hope you have a great time creating your first coloring book!
Pin Me For Later!