As expected, June was lower than in May and I was expecting there to be a reduction due to us now entering the summer months.
However, it was still pretty good considering and it happens to be almost identical to June 2021. But still, slightly more.
JUNE 2022 LOW CONTENT INCOME REPORT:
June was quite a lot less than May and I presumed it would be, by comparing it with the previous year.
My highest day came to – $328
My lowest day came to – $80
On average, royalties seemed to hover around 150 or more per day. With the odd higher day bringing the overall total up.
You Can See My Marketplace Stats Below For June:
The USA was just ahead of the UK with 46.6% – but in general, they are very close to each other.
Way behind that is Canada on 8.2% and I would like to increase this possibly.
Germany is way lower and expectedly so at 0.06%, but I have thought for a while about translating some books into German.
Were There Any Surprises In June?
There wasn't much going on out of the ordinary in June!
However, one book that I had spent a lot of time on and ran Ads to etc… Finally sold a bunch of copies.
It seemed to be a bulk order and it was only that order for the month, but I hope that this order may lead to some positive reviews for this book.
Trying A New Ad Strategy In July…..
Before I head into talking about my Ads results for June, I wanted to quickly mention something I am trying in July that has been a total experiment for me and not something I would have ever thought of doing.
I heard about this Ads strategy from Kim from YourChicGeek – who has tonnes of useful videos, so I really recommend you check her out.
She also mentioned she originally heard about this from Ashely from PublishwithAshley
They call this the lottery method.
It's where you basically chuck in a tonne of books in any niche into one AUTO Ad campaign. I think in Ashely's case there was over 1000 books thrown in!
The reason why you don't have to worry too much this turning into some insane Ad spend, is because you're meant to start with a VERY low bid amount, like 5 cents.
The difference in my case, is that I did quite a larger bid amount to start with – which is obviously a lot more risky.
I found this to be a great way to possibly start seeing books that have never sold, or not sold much recently and seeing whether they have potential.
In my case, this is what seems to have happened.
One that I never sold, just sold FIVE copies yesterday and it was a simple composition notebook! It was one I did long ago and I probably never would have thought to run Ads to it.
Another one that's started selling is a sketchbook – again I think it had only sold a couple of copies before this.
I added around 200 books I think to this campaign, but I've found it very interesting so far.
What's more, this is the first time for me that the section with the best targeting group for this campaign right now is COMPLIMENTARY products….
The ACOS is currently at 11% for complimentary products, 14% on substitutions and 25% for close match.
Loose match was the lowest at 46% so, I have reduced the bid on that one.
All in all, I've found this incredibly interesting and I will see how it goes.
Check out some of the ACOS results on the right…. The one at the top was actually a bulk order, where someone bought several of the same book.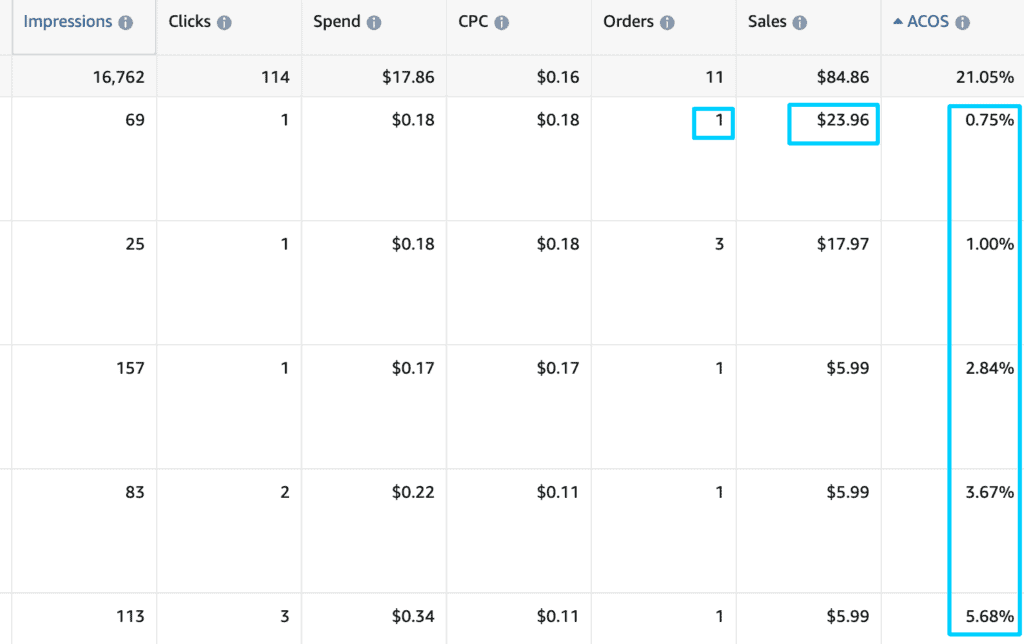 At the moment, the ACOS overall is just over 20%, so definitely needs tweaking but is still profitable for me personally.
My cost per click is still on the high side for this type of campaign, (considering it's meant to be a low bid amount). So, I will have to monitor this closely.
KDP Amazon Ads For June:
My Ad spend was much lower than usual this month.
I was really hands off with it this month, often going many days before even checking what was going on.
In July I have started a bit of an Ads experiment, so I imagine that will increase my Ad spend for the US.
In total, it was only the UK that was very slightly unprofitable with the Ads, as the ACOS was 28%.
My Canadian Ads:

My USA Ads:
My UK Ads:
If you're not sure about Ads or how they work, you might want to check out the brief intro I did on Ads here.
Once I exchange pounds and Canadian dollars into US dollars, my approx Ad spend was:
$187
I then need to add on 20% VAT which I am charged on these Ads automatically by Amazon because I'm in the UK, (some other countries will also be charged this).
So, that brings the total to around $225.
Other Expenses:
My other expenses right now come from the same ones I've had in a long while and currently that comes in at around $100 at the present time.
You can see the tools I use here – some are ones I paid for out right and others are monthly subscriptions.
TOTAL PROFIT:
$5465 – $325
PROFIT: $5140
But don't forget, that doesn't land in my pocket! I have to pay my taxes and just how much that is depends on what tax bracket you're in and the rules of your particular country.
Check Out My Mini Course Below — It's Free & For Beginners:
How Was Your June?
So, how much did you make on KDP this June? Have you noticed a difference in sales, now that we are going into the summer months?
Let me know in the comments and also and feel free to ask any additional questions below.
Pin Me For Later!