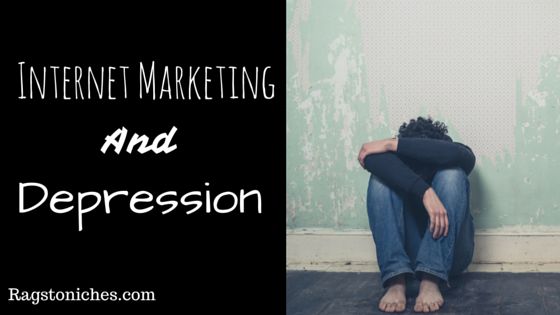 Internet Marketing And Depression…. Have You Experienced It?
"Internet marketing," is a weird term these days, because generally a whole subset of scammers in the online world have adopted the term as their own.
However, internet marketing is really an umbrella term used to describe making money on the internet in a variety of ways – whether that be through affiliate marketing, email marketing, social media marketing and so on.
With all the perks that could potentially come with making money online though, it's often not very openly discussed how dark days can become along the way.
In fact, it's probably avoided at times, because much of the online internet marketing world want to market the industry as if it's "living the dream."
But there are many highs and lows and a majority of people will give up before they make it.
A majority of people looking to make money online, actually never do.
Often because they will fall into buying programs that promise them they'll make money online very quickly, with very little effort… and soon realise, it's bullshit.
If You're At Risk Anyway, You're More Likely To Experience It!
People who are already at risk for depression it are likely to have bouts of it in the online world and even those who aren't predisposed, are still likely to go through some extremely dark days!
This isn't limited to those at the start of their journey either – not at all!
You still get highly successful people online, making 5 figures a year or more who have expressed experiencing moments of despair.
What about you? Have you reached some low moments?
Some Key Reasons That Depression Can Take Hold:
If you're working full time at home, alone, you can end up feeling isolated. Plugging away at your work, it can be easy to feel apart from every life and you may feel you're missing out.
Loneliness – even interacting online with people is no substitute for real life interaction.
You're losing interest in your niche – or you've had some setbacks and it makes you rethink everything.
It can feel that every day you're chasing that next sale.
If you're established, you feel you may have people who are relying on you and this can bring extra pressure to the table.
You may fear that you can't just stop working for a bit, because there is too much you're working on and you feel stuck.
Traffic slumps, sale slumps and any other slump that can come with working on the internet can really suck.
You're chasing sales – you get a rush from success and then you keep wanting more and more.
Get Out Of The Slump…
If you're not married with kids, you're basically free to go where you want! That's part of the internet lifestyle… Have a change of scenery… Find somewhere to go with airbnb
If you ARE married with kids and need to stay close to home, that doesn't mean you can't move your office during the day – take your laptop anywhere else you like that has WIFI and get some work done in a different environment – you can switch this up as much as you want.
TAKE A BREAK! No I mean it… schedule in breaks for yourself, schedule in rewards for once you've completed tasks. I literally had to schedule in breaks into a plan, or I found I wasn't taking any.
Have you found yourself feeling worse after scrolling through certain blogs, or engaging too much on social media and so on? Then… take a break from this too. STOP doing things that are just bringing you down and focus on the work at hand.
Schedule in social events – even when you don't feel like it. When we're working at home alone, we're not getting any social interaction like we would do at work, so we have to work harder for it. Even if that is just meeting with a friend for coffee or a beer now and then – arrange it and plan it like you would anything else. Generally, humans need some social interaction, even when they don't think they do!
Log your achievements… Over time, it's very easy to get blinkered about your results unless you're looking back far enough to see the progression – it can feel you're not moving forward, when you are. Make sure to take a moment to realize how far you've come and how everything is moving in the right direction.
If you're genuinely depressed about what you're doing and are not gaining any satisfaction from it anymore – then it's time for a change. Brainstorm other ways you can diversify your income and perhaps move away from what you're finding most challenging. Take steps to make it happen! You don't have to be stuck in this, there are always alternatives!
Consider outsourcing! If you're making some money, it might be time to think about outsourcing some of your tasks – really, those mundane tasks that you hate to do, could be done by someone else. Think about it.
working online is not easy, you will do yourself a lot of favours to keep in the best physical and mental condition you can in order to deal with the highs and lows that come with it – make it a priority to eat healthily and exercise… Yes, put away that pack of biscuits my man!
Meditate…. yeh, I'm going there. Listen, lots of people may think meditation is all a bit airy fairy, but that is not the case. There's just a mass amount of compelling evidence that meditation can help one heck of a lot of things and your overall state of mind is just one of them!
Wait, I'm going to mention exercise again! Sitting in front of a computer all day, alone, is going to make a majority of people feel like crap — we need exercise! Get up, get out and move in one way or another. It will help in a whole host of ways, mentally as well as physically.
Get the hell out of bed early brother! I read a book recently that changed my life – it's called "the miracle morning." (find it here). It involves having a morning ritual that will pretty much give you the best possible start to every day.
Read positive stuff! This follows on from the tip above really, start reading books that make you feel good – if self-development type stuff isn't your thing, find something that is! It helps. A lot.
Join a community or group with people in the same boat – I'm part of an online community of thousands of people trying to make a living online and I find being able to always have someone to reach out to helps.
Envisage what your life was like if you did the unspeakable… and returned to your 9-5!!! The boss you can't stand, the people you have to pretend to like, the work that bores the life out of you and the feeling that you may be trapped there for several decades to come… come on now, you don't really want that do you?
Try and enjoy the little things…
If you start getting addicted to the rush of sales, you can start to feel that you're not enjoying the things you used to. Try and enjoy the little things in life, consider looking into mindfulness. It's something that has helped me.
Lastly, mild depression is one thing, but if you're at the point where you're not coping and that you feel you're in a hole you can't get out of – go and seek help! You can get over this, but you shouldn't struggle alone.
I've certainly had my share of lows on my own journey and what I've found helped me personally is….
Getting outside for breaks,
Practicing mindfulness,
Socialising/seeing people.
Running…. which is just one of the best mood enhancers in my opinion.
Most of all, being able to seek out help and advice from people who I can relate to, who are working towards similar goals, really can help.
Often people in the real world have no idea how many people making a living on the internet.
Personally, I am a member of this online community… and it helps to connect to others in the same boat!
Have you experienced some dark days online? Let me know in the comments!
All the best… 🙂