If any program promising to make you money online has the word automated in the title; it's pretty much a red flag and you should be sceptical.
Other terms like, "push button," or "instant," are also ones to take with a large pinch of salt!
But is automated daily income a scam?  Well, it's certainly not as it appears.
Product: Automated Daily Income.
Price:  $49 plus upsells.
Website: automateddailyincome.com
Overall Rating: Scam. Smokescreen product – it's simply a gateway into MOBE.
Fed up of scams online?  This is where I started & you can for free!
What IS Automated daily income?
To get access to any information at all here, you need to provide your email address, telephone number and email address.
I gave a fake number and an email address I use purely for signing up to things like this, (you can be guaranteed to be spammed relentlessly).
Anyway, if you do give this info, you'll be sent for the main sales page.  You're confronted by messages such as the one below:

Media attention?  Really!?  I will go into that claim in a moment.
They also claim that you can earn $379 per day, with just an hour a day.  I love how they come up with these random numbers.
I mean….  $379?  That's a pretty specific number isn't it.
While people do make money online, many people will struggle for years before they reach any decent sort of income and many more give up along the way.
It certainly doesn't happen over night and there is nothing push button about it.
On the surface, Automated daily income appears to be another link posting scam.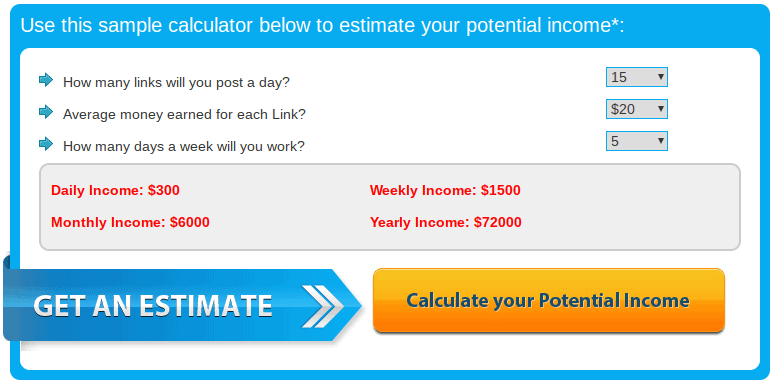 There are many scams online that will tell you that you can earn big bucks for posting links, (or, in reality, spamming links all over the internet).
They say you could be paid $15, (or more) for a link!  Well, no one will pay $15 for you to post a link.  That's just a complete fairytale.
You can hire people for post links for you online for literally a few dollars a day if you wanted to.
However, You'd quickly get banned from forums and websites for spamming if you start posting links all over the place.
For example; I often get people spamming links in my comments section of my blog… and what happens to those do you think?
Yup, straight into the SPAM folder.  It always amazes me why people would ever think I'd post a comment containing spam, or some self-promotion or other.
People are well aware of spam these days and are far less tolerant of it.
No one is going to trust you if you're spamming links, it will be obvious and you'll be wasting your time.
Something they tell you here – is that you can make your money back in 5 minutes.  Another very bold statement!
Will you really make your money back that quickly?  No, I'm afraid you won't.
Umm… besides… one minute they tell you it will take an hour to make money, the next is 5 minutes!?
So, which is it?
The weird thing is, the actual program that you do purchase has nothing to do with link posting!!!  So, who ever is expecting that may be in for a surprise.
I will explain why in a moment.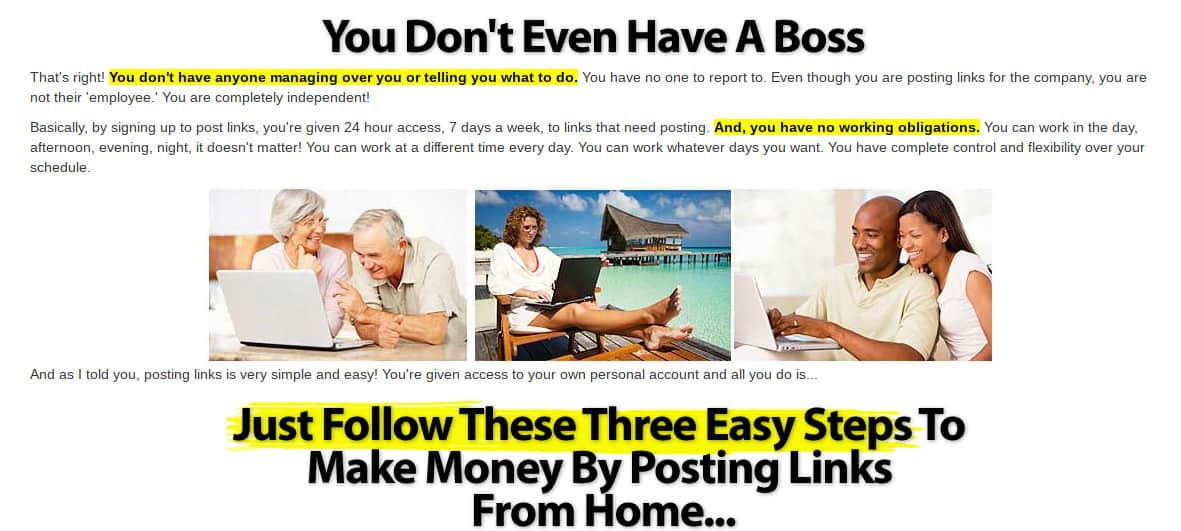 Who Is Raena Lynn?
This sales letter appears to have been written by someone called Raena Lynn.
Notice that many scam internet marketers like to use a female name or persona for their products – often hiding behind a "stay-at-home-mom," type story.
Someone like that may appear less threatening and more trustworthy to people.
HOWEVER, in this particular case, Raena Lynn does appear to be a real person.
No, the photo on the sales page is just a stock photo.  THAT Is not Raena Lynn.
Will The Real Raena Lynn Please Stand Up?
Raena is in fact a MOBE affiliate.  It seems that a bunch of these smoke-screen products; are simply sales funnels into MOBE, (or My Top Tier Business).
Is this MOBE funnel program actually created by Raena?  Or is another MOBE affiliate simply using her name?
Well, on the sales page, the Raena story claims she was a struggling mother of two, working two jobs and no special skills or education…. I believe Raena was actually a teacher prior to MOBE, so that doesn't fit.
in fact, everything ASIDE from the name, doesn't fit in with the real Raena at all.
Additionally, Raena is highly successful within MOBE, so I doubt she would need to create a funnel like this.
Which leads me to think that perhaps another affiliate used her name….  but this is my own personal assumption.
There are other programs I've reviewed that link to MOBE – including; my internet success coach and my millionaire mentor.
This is a common tactic now amongst MOBE affiliates.
What is MOBE?!
MOBE, or My Top Tier Business – is meant to show you how you can build a business online via multi-level-marketing.
There are various products/levels you can purchase.  My top tier business is the $49 product and merely the initial gateway product into MOBE.
From there, the price goes up considerably and ends up being thousands of dollars, if you wish to get to the top tier.
With MOBE you have to buy the products you want to promote.  So, you cannot promote the highest level of MOBE and profit from it – unless you have also purchased it yourself.
Because of the way this business is structured, they're often going to be attracting people that have limited interest in the products, (if any) – because they're primarily going to be interested in what profit they can make from selling the very product they're purchasing.
While MOBE may have some products that arguably contain some value, are they really worth thousands of dollars?
Have you been a MOBE affiliate, what's your opinion?
MOBE is also known at MTTB, or My Top Tier Business and they start off from a deceptive standpoint right from the get go.
You have to pay $49 just to get into the program and then need to purchase ever-increasingly expensive products in order to qualify for higher affiliate commissions.
All the while, you're also subjected to various upsells.  Many individuals have ended up in serious debt as a result of this  and far worse off than they were when they first got involved.
The sad thing is, this sort of business can really prey on the most vulnerable.  People that are the most desperate to improve their financial situation, are going to be the most likely to sign up.
Why Does MOBE Hide Behind Fake Products Like This?
MOBE affiliates have been forced to find new ways to bring people in, because it has such a bad reputation online.
There are so many complaints from previous members and so much negative feedback online, that it makes sense that they'd want to hide it.
By creating a fake front end product, affiliates can funnel their sales into the MOBE program without them realising what's happening.
While the initial buy-in is $49, you will be encouraged to spend more and more, in order to qualify for those higher affiliate commissions that look so tempting.
Trained salesmen will call you up and encourage you to keep buying – all the way to the top level if they can.
While they may say they'll give you $500 for trying out the system, that doesn't mean simply by paying the initial $49.
What they actually mean is, they'll give you the $500 to try the ENTIRE SYSTEM – with thousands of dollars invested.
My Favourite Lie.
The sales page is full of lies.  But my favourite is this:
Raena claims that her work-from-home program has been voted the #1 work-from-home programs in America… by leading online review sites!!
What leading online review sites are those?!  And is she referring to this fake front-end-product…  or MOBE itself?!
Video Testimonials:
There is a little screen showing video testimonials to the right of the sales page.
I took a look at this and noticed yet another MOBE affiliate in the testimonials.
I know the affiliate in question is successful, (or claims to be) as I've seen a bunch of her YouTube videos.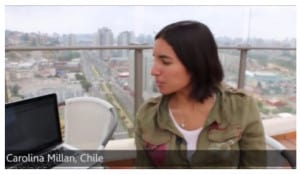 So, it's quite possible that other individuals in the videos are also MOBE affiliates; although it's uncertain whether any of the actual earnings claims are legitimate.
MOBE does reveal in their income disclaimer how much people earn from their program – and as with most MLM based programs, it is only the top percentage of earners that make a significant income.
A majority of people that sign up will lose money, not make it.
The people who could make the most out of a program like this, are experienced internet marketers.  Who already have a large following and extensive email list.
Disclaimer – It's Mobe!
Aside from the fact they're using Raena Lynns name as a persona, (whether she is involved or not) it's actually the disclaimer that reveals that this is a MOBE sales funnel.
If you go and visit the disclaimer, you find this:

…and it goes on for some length.
Nothing More To Say Here!
I could go on about this, but really – there is little point!
All this product is is a sales funnel into MOBE and if you're hoping for anything else besides this, you will be disappointed.
It's certainly not going to help you make hundreds of dollars for just an hours input a day.
Ultimately, there is no way I can recommend this program at all.
What I'd really like to know, is whether the creators of MOBE actually condone these types of sales funnels into their business.
It wouldn't surprise me.  But if they are trying to appear legitimate – then blatantly deceiving people via these various fake programs, doesn't seem a good way to go about it.
Making Money Online Takes Time, It Doesn't Need To Cost Thousands!
Many programs online often fall into a couple of different groups.
Either…
They try and tell you that making money online is REALLY hard and takes tonnes of expertise, therefore leading you to believe you have to pay huge sums of money to access their "secrets," or adopt their "proven system."
OR they try and tell you that making money online is REALLY easy and quick, if only you buy into their push-button-system, you'll be able to make money on autopilot.
From my perspective, it's not easy to start making money online, but anyone can learn even if they don't have any experience.  What it does take is perseverance and determination.
I wouldn't recommend that someone with zero experience online spends thousands of dollars for training upfront.  It's just not necessary.
I also wouldn't recommend that you sign up to one of these programs where everything is done for you, (the website, the emails and so on) because that way you learn NOTHING for yourself.
Any program promising you online success over night at the push of a button though – is just an outright scam. 
If you're not sure what making money online involves and you want to understand the basics, this is where I first started online.
The good news is, it's entirely FREE to get started. Let me know if you have any questions.
[maxbutton id="5″ url="https://ragstoniches.com/wealthy-affiliate-review" text="CLICK HERE TO LEARN MORE :)" ]
All the best,