Welcome, I'm doing a Clawee review today – an App that claims you can win REAL prizes, from REAL claw machines which you operate remotely from your phone.
But is Clawee legit, or is this game just a big con?
This App was introduced to me by my son, who wanted me to check it out.
As a huge fan of claw machines and cute plushy toys – he has been enjoying the App, but hasn't been able to play long, because his free coins have ran out.
I was interested to see if you could potentially play, win AND ship prizes for free, so I downloaded it to check it out.
What Is Clawee App & How Do You Get Started?
So, essentially Clawee is a claw machine App – where you can play real claw machines, (located at some undisclosed location somewhere…..) and win real prizes.
The Claws seem pretty firm, making winning somewhat easier than in real life, (at least… that's been my initial experience!).
You can purchase virtual coins that you use on the machines, but you can also get free coins in bonus money.
You can currently download this App on both the APP store and Google Play.
You can sign up by connecting your social media account, or you can simply log in as a guest.
You will need to have a high quality internet connection for live video, which is shown when you play the claw.
Also, it's worth noting that the machines do malfunction occasionally and if they do, you'll need to contact their support team.
My Experience With Clawee App:
Make no mistake – many of these prizes are cheap knock offs from China, most likely purchased from AliExpress.
However, this is not ALWAYS the case. Some people have even reported being sent items straight via Amazon Prime…
So, they ended up only waiting a couple of days for their prize.
In most cases though, they will wait a long time for delivery and some people claim they still haven't seen their prize in many months.
As far as quality goes though… What decent prizes do you EVER get in a claw machine!?
Most of the soft toys I've won from a claw machine look like they were sewn together in the dark.
With that in mind, some of THESE some of these prizes do look pretty cute.
But are they worth spending tonnes of money on? Eihhh………. No.
But what you value in your life is up to you.
I got 400 coins just for signing up and there is also a daily bonus that starts when you sign up.
So, every day, for the first 30 days, you'll get some bonus coins. The first day it as 50 but the next it was only 25.
Playing THE CLAWWWW….
So with my new coins, I actually had enough to play a game.
Weirdly, I had the same sort of excitement you get from playing a real claw.
It's a strange thing to get excited about winning a prize you don't really want and would never buy in real life.
But for some reason, when the challenge is there, you just really need that crappy toy in your life.
So, I decided on a cute little toy for 300 coins and had a go.
Amazingly… (or maybe because the first time is rigged, who knows) I managed to win the toy on the first try.
However, I didn't get to the next stage because you have to pay for shipping.
How Much Is Shipping?
If you pay Clawee just $3.99 you can get free shipping……..forever.
You can also pay for free shipping by paying 300 coins.
By doing so, you become a VIP member & this is a one off payment.
Once your a VIP member, you can get access to other games, not just those available to beginners & bonus coins.
The shipping itself is going to be a very long wait and there's no tracking – but ultimately you should receive your prize eventually.
Because many prizes are often sent from China, they are going to take a while to arrive.
I was thinking you had to purchase coins in order to play at all times – but there is another way…..
Can You Play Clawee Free?
At first I presumed you could just save up the free bonus coins you get and eventually use them to play. You could even save them up to pay for shipping……
Although that would take a long time with it being 700 coins!
However, I have read via a post on reddit that you need to make a purchase each week in order to get more free bonus coins.
It makes sense because Clawee do not have any Ads on the App, therefore there's no way for them to make money without people purchasing coins and VIP memberships.
BUT………..
You Can WIN COINS!
Rather than straight up playing to win prizes, you can also play to win coins.
There are claw machines set up that purely have coins as prizes.
If you use your free coins strategically and are relatively skilled on the machines, you could win enough coins in theory to get another toy.
However, many of the prizes, (including playing the coin claw machines) require you to be a VIP.
So, no matter what, you do need to pay that fee to become a VIP, if you want to play for coins alone.
But, if you simply pay to the VIP membership and then primarily play to win coins and save them up, I imagine this would be the cheapest way to get prizes.
However, remember that you will run out of free coins and you won't be entitled to get any more free coins, unless a transaction is made.
So, for 80 coins, I could play a coin machine to win 150 coins.
For 450 coins, I could play a machine to win 3350.
You could win a tonne of prizes for 3000+ coins.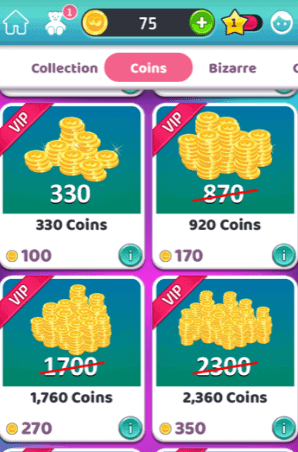 How Much Are Clawee Coins?
I'm in the UK, so what I saw was in pounds.
I was surprised that you could ONLY get 160 coins for £2.99… (just under $4).
This seemed incredibly expensive. The more money you spend, the better deal you get – but it's still steep.
Even for £19.99, I could only get 1,590 coins.
What makes this slightly more understandable, is that the games are easy to play, (easier than your regular claw).
The actual claw does not seem to get any tighter or more looser, giving you a real chance of winning.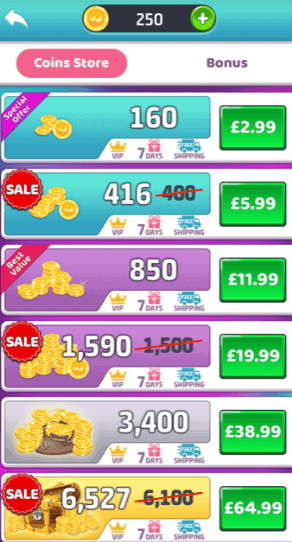 What Do Other People Say About Clawee?
Clawee has 4.5 stars on the App store, with 7.5k reviews.
Clawee has been downloaded over a million times on Google play, it's maintained a 3.8 star rating right now & has over 46k reviews.
On the downside, some criticisms include….
That it's expensive,
That it's not free…… But you can't expect a company to just ship out prizes to you for free. There are no Ads on Clawee, so they won't be getting money that way, (as is the case with many other Apps).
Sometimes there is a lag – you do need a high speed connection.
Sometimes the claws malfunction, (again, understandable – machines do sometimes break down).
There can be other malfunctions with coins.
Some claim they haven't got their toy after claiming – or that the proof videos showing their wins have disappeared.
One thing I did like was that, Clawee were pretty active in replying to comments and giving contact info where there were unresolved issues.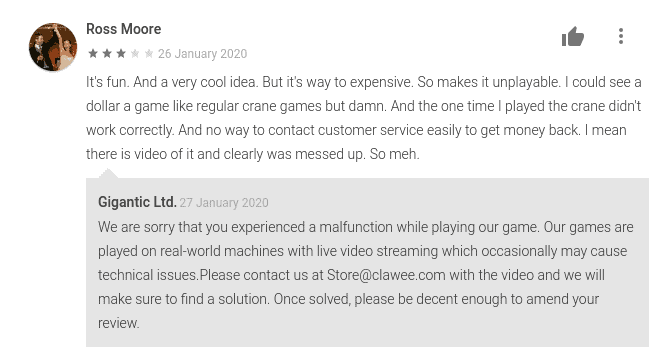 On the plus side, many people enjoy the App and feel that there are a large number of prizes.
A large number of people do still find it fun and have received their prizes… Eventually.
Is Clawee Legit? Concluding thoughts….
With the initial coins you get signing up, you can win your first toy and you can then get it shipped if you sign up to be a VIP…. Which is only $3.99.
After that, you're likely going to have to purchase some coins – which can get super expensive.
However, if you focus on only winning coins rather than prizes, you do have the chance to win enough coins to get some more prizes without constantly buying more coins.
The toys available are generally not branded, but they still don't look bad – some look pretty good.
The downside being, you'll probably have to wait a long time to get the item sent to you.
Ultimately, if you're looking for an APP where you can just win stuff for free, this isn't it.
But it's still an App that I have enjoyed so far…. It's quite fun and I may even be tempted to pay that $3.99 & become a VIP.
Do you have any experience with Clawee App? Let me know in the comments!
Beyond Apps – Making Real Money Onine?
I love checking out different Apps that claim to help you win or make money.
But in a majority of cases, you just end up wasting a lot of time – for minimal gain.
Some ways that I've attempted to make money online, you can learn about here.
I first discovered how to create & earn money from a website – by joining this training platform, (they also have some free training you can try).
So, that concludes my Clawee review for today – I hope you found it useful!