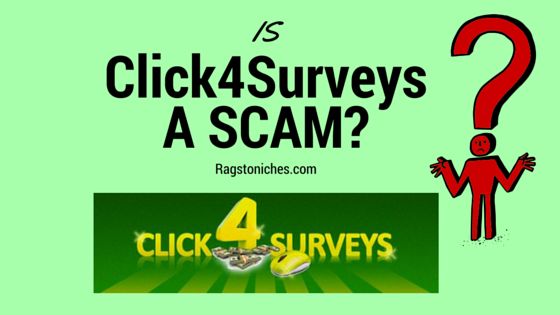 Is Click4Surveys a scam?
Or is there something special about this program that sets them above the rest?
I've reviewed a lot of survey sites in recent times – but this one particularly caught my eye because you have to pay to sign up for this.
I will tell you right now, you should never pay to sign up to surveys sites.
Legitimate sites are free to join and can be found very easily on the net – you do not need to pay to discover these sites at all.
What Is Click4Surveys?
Program: Click4surveys 
Price: $97 – downsell $34, (with coupon), downsell $19, (if you click away from page).
Overall Rating: 0/100
Click4Surveys is a program that claims to be life changing – they claim you could earn fantastic money from simply completing online surveys.
Survey sites have been going for years and a majority of people now will be aware that their earning potential is very minimal.
Check a legit training program here.
However, when you visit the sales page to this program, you will see there is a lot of hype claiming you can earn big from doing online surveys.
Click4Surveys is basically just a database of different survey sites that you can sign up to –
they charge you to access this database, even though joining up for these survey sites is free.
It's also quick, easy and free to find a huge number of survey sites by doing a quick google search.
I've reviewed a lot of survey sites, (mainly quite unfavourably) you can find my reviews for survey sites here.  
My First Impressions Of Click4Surveys…
Mega Hype & Fake Testimonials:
I'll be frank here, the testimonials on the sales page for this product did bring me a little bit of joy.
Knowing survey sites like I do, I found it quite amusing how over the top these testimonials were.
It didn't take much research to discover that these testimonials are also completely fake.
Yup, you can pick up a testimonial video from Fiverr for as little as $5.
As you can See, here is a pic of one of the testimonial guys here –
this was on the click4surveys sales page.
He certainly sounds very happy with them doesn't he?
FAKE ALERT!  Here "George" is on Fiverr!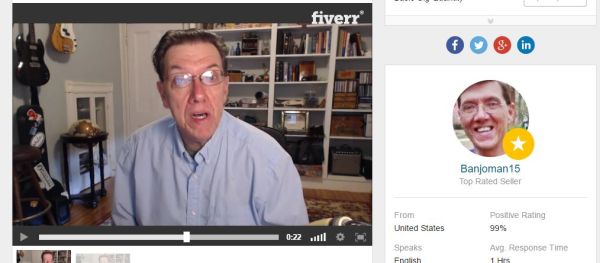 And it's the same story for the other testimonials too.
So, let me ask you:  If you had an awesome product that changed peoples lives and gave them all this quick, "easy cash," wouldn't you get honest testimonials?
Couldn't you get just one person just to go on camera and tell the world how your program had changed their lives?
I love the way he refers in the sales video to being part of a "close knit community of individuals," and then flashes up images of these fake testimonial actors.
He can't even refer to any actual real people that have signed up for this program – does this sales page have a grain of honesty on it?
The Sign Up…
Another thing to be weary of, is that when you go to sign up – they ask for your email address.  You have to input it before you have any knowledge of the price.
This means – that they have your email address EVEN IF you decide to not sign up to the program at all!
The likelihood is, you will now be spammed relentlessly to this email – even more so if your email is sold to third parties.
However, when you eventually do get to the sales bit, there's more dishonesty.
The claim is that the program is normally $97 but that you can get a special discount code..
they claim this code will run out later the same day and that you can only get the program at this super special price for this limited time.
This is all just sales BS… You can always get this coupon for a discount.
However, if you then click away from the page – you're then offered the program for $19!
I can't stand these sorts of sales tactics, but unfortunately they are common place in the online marketing world.
Earning Potential – Total BS!
No one makes $500-$3500 a month by doing paid surveys…  nope, I can tell you here – this is not true.
They claim you can make $5-$75 per survey...
you may, (once in a blue moon) get a $5 or even an $8 survey… but this is extremely rare.
I've done a lot of surveys myself for the purposes of reviewing sites and the most I ever got for one survey was around $2 for a survey, normally it's much less.
There was once a survey I saw on cashcrate  for almost $9.
However, when I went to do it – it told me I wasn't eligible, (very common problem with survey sites).
You'll be lucky to make $1-$2 per survey with any of the companies they recommend you join on Click4Surveys.
The "Proof"…
They show a cheque for $112.55 on the sales page from survey savvy.  They claim this was earned from just doing: "a couple of surveys."
This is nonsense.  Survey Savvy happens to have a generous referral program.
This means you make money every time someone signs up to their site and takes surveys… you get a cut of their earnings.
Now, in the case of Click4Surveys, this is one way they will make money – from referrals.
They will earn commissions from survey sites that have a referral program, because you and many many others sign up using their affiliate links.
Imagine all the referrals they will get from everyone that signs up to survey sites via this very program?
So, what's likely is that this money was actually made from referring others to survey savvy via Click4Surveys.
Not from actually completing surveys.
Now, he COULD have made this $100 from completing surveys, but it most definitely would not have been by doing a "couple."
Even if you work incredibly hard and spend hours and hours doing surveys, you'll be lucky to pull in a few hundred dollars per YEAR.
What's hilarious however, is the next earnings claim….
This screenshot is of over $31,000 that he claims is simply from filling out surveys.
Does that screenshot even look real to you?  Unfortunately, it's very simple to falsely create shots like this.
However, if we suspend disbelief, even if it was a real screenshot –
yet again, this will be either some bought screenshot of a random persons account, or earnings that have been accumulated from selling this or other related programs….
Not from filling out surveys!
Making Money Via Referrals:
In order to make the most money from survey sites, getting commissions for referring others is the most promising way of doing it.
It means you don't have do do any surveys yourself, but can still generate an income.
That said…
Getting referrals is MUCH harder than it may first sound.  You should have some  knowledge of internet marketing to really make it work.
 Even if you get a tonne of referrals, most people will not make considerable money by referring people to survey sites.
Some sites that I prefer with referral programs…
The Reality: You Don't Need To Pay!
All Click4Surveys is, is a database of survey sites that are both free to join and free to find easily via any search engine.
You should never pay to join a survey company, the idea is they pay you!
Even if you were to purchase this for $19….
this would take you hours and hours to make back doing surveys, when you could just find them and do them for free!
The only thing this has going for it is, that all these surveys and sites are in one place for you, so there will be some ease of use, (I guess).
But if you sign up to these survey sites independently, they all send you out emails with their surveys anyway.
Conclusion – Is Click4Surveys A Scam?
Well, not exactly in my opinion.
This program is dishonest and misleading… but it is also what it says it is to a point.
It is a database of survey sites, full of survey sites you can join.
The misleading part is, all these survey sites are free to join and you can find them for free online without this.
The second misleading part, is making you think you can make great money from joining this program and signing up for surveys — which you will not.
You can make some money from online surveys, but it's a small amount in comparison to what is possible online… you also certainly do not need this program to do it!
Ultimately – I do not recommend it.
Can You Can Make Money Online?
Making money online requires a certain amount of work, knowledge and skill, but these things can be learnt if you find the right program.
Unfortunately, there are so many scams, it's difficult to tell what is real and what's not.
I only recommend programs that I genuinely feel provide value.  You can read my review here – I am a member myself.
I hope you found this review useful… Do you have any experience with Click4Surveys?  I'd love to hear from you!
Leave a comment below!