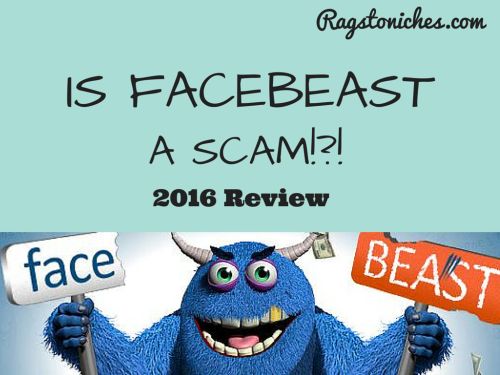 Is Facebeast A Scam?  Beware The Beast!
Facebeast claims via its sales video that you can potentially make a tonne of cash every month by simply doing what you already do on Facebook… liking, sharing, building fan pages an so on.  It sounds very simple…  Is there a catch?
Read on to find out….
Product: FACEBEAST
Creator:  William Moore
Price: original price $97, downsell $37, downsell $1  (+ upsells inside)
Rating: 10/100
First Impressions:
Upon arrival to the page, you're confronted with the Facebeast sales video. Something immediately grabbed my attention. That is; the actors people giving their wonderful, positive testimonials.
They all say Facebeast is awesome…. just a shame they've been paid to do it.

You can pick up testimonials very cheaply these days via fiverr.
They even admit  via their disclaimer, that these testimonial videos are by people who have been paid to produce them, as well as been given free access to Facebeast… (although, it's highly doubtful they have any idea what Facebeast actually consists of at all).

Fake testimonials should raise a big red flag.
Surely if you can make such a large sum of money using this program, (up to a very particular amount of $12,092 a month apparently) then people would be falling over themselves to give an honest testimonial, right?
What is Facebeast about?
To try and figure out from the sales video alone what Facebeast really involves – is impossible.  Actually, they don't tell you what it really is at all.
"Follow a set of videos" they say – and you'll start making money.
Hmm… that's specific.
So, what are the steps?
Step 1:  Activate your Facebeast account and create a user name and password.
Step 2:  Log into the members area.
Step 3: Follow the step by step tutorials.
Wow… pleased all that was cleared up.  That's some tricky steps going on right there.
But wait…they tell me that I can make money by:
Liking Statuses
Creating fan pages
Posting comments
…and any other type of regular facebook activity.
…income potential, is unlimited!
I feel that a decent program should not only deliver honest and quality training but also be a reasonable price for what is on offer.
Now, Facebeast is cheap to buy if you avoid ALL the upsells and it offers some training that could be beneficial to some people…. but it is NOT what it claims to be!!  Read on to discover what is really involved….
Plenty of internet marketers may pull in a lot more than 12k a month.  But the idea that you could walk into this program, with no experience and easily work up to earning thousands of dollars a month using Facebeast training alone, is laughable.

Beware the upsells and downsells.  If you want the best price, you need to click away from the page after it offers $37 and it should offer you a $19 deal. There are also more upsells once you actually get in.
Upsell 1) The elite coaching club.   <—- but why on earth would I need this if I can earn 12k a month?  I guess I'd want to at least reach this level first…right?  I mean, that's what they claimed the training could lead to!
Upsell 2) Next up, you'll be confronted by a completely irrelevant upsell for an "auto profit replacement."  It claims you can make over 15k a day this way. It's a free software — but it has zero to do with making money on Facebook.
So, why are they promoting it?  Because they try and trick you to signing up with a binary options broker which will cost you around $300.  Naturally, they will receive a commission for this.
The catch is, once you've forked out the money, you will soon discover that this software doesn't work anyway.  Bummer!
The course on offer:
Once inside Facebeast you find out what it REALLY consists of,  It is simply a four module course that teaches you how to build up a Facebook page, fill it with content, create an appealing appearance and then to start generating traffic to your page, using free methods.
So, if you ALREADY have a platform, such as a blog or website and would like to learn about facebook marketing – then perhaps you can gain some value here.
But…. if you were under the impression that you'd just be hanging around on Facebook and would make thousands of dollars by clicking a few like and shares.  Nah, that's not going to happen any time soon.
Via a fake testimonial:
"With Facebeast I earn cash online and all I have to do is something that I've already been doing for years!"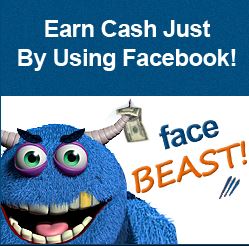 They also continually say that you can make money JUST by using Facebook.
But this is BS.  Anyone new to this internet marketing game will clearly be under the impression that by joining this program, they will make money by completing every day Facebook tasks–  not by creating their own online business.
So, why doesn't Facebeast market itself for what it is?  Well, they probably reckon they will have a greater reach by targeting newbies and would be less likely to buy a course about generating traffic via Facebook.
Once a newbie enters the course, they may quickly realise it's not really what they thought it was and leave – while a refund is an option, most people will not claim it.
There is a 60 day money back guarantee however and you are well within your rights to take it!
The Four Training Modules:
In the first module: "Game plan." it's presupposed that you already have a business and is going to suggest how you can generate an income from Facebook by building a page and gaining an audience.
But there was no mention of having a business in the sales video?   I thought it was just…"pointing and clicking" and doing what I normally do on facebook?
Clearly, this is misleading.
The second module involves creating a brand for your business, such as a logo, slogan and even a mascot.
The third module teaches you how to generate free traffic.
This involves working out who your audience is, engaging your fans in a way you get them more likely to click on your links and also, how you can outsource all of this work to someone else.
The final module, is all about video.  Such as, creating a video intro in order to add your brand to all your video content, making videos where your viewer both learns something and is entertained and how to create super speedy content – 10 pieces of content in a single hour.
A big problem:
This program relies on you generating plenty of likes to your Facebook page via completely free means.  This can be a challenge it itself to achieve quickly.
Now days, You really need to pay for your posts to be more visible if you're
planning on making money on Facebook, unless you have a massive following – because a majority of your fans simply will not see your posts in their newsfeed otherwise.
You can make your posts more visible either by using facebook ads, or by "boosting" your post.  If you're inexperienced when it comes to advertising, you may end up paying to advertise or boost posts that just don't convert into any sales – and you can quickly lose a lot of money.
Paying for facebook Ads can be expensive, so you really want them to work for you.  Unfortunately, no such training regarding Facebook Ads is included in Facebeast.
Unless you have thousands of followers, you will not be making any money on facebook without using Ads.  Generating thousands of likes using free methods alone, will take a long time and would certainly not be "quick and easy."
PROS VS CONS
PROS
Not expensive if you avoid the upsells and go for the downsell.
Some useful info if you're wanting to expand your business using Facebook.
This is a Clickbank product and therefore, you're entitled to a 60 day money back guarantee.
CONS
It is NOT what it claims to be – you do not make money on Facebook doing the stuff you do on Facebook every day.
Fake testimonials and inflated earnings just further the dishonesty of this program.
Despite the fairly low cost, should you avoid any upsells, the information given via the course can be found for free online.
Conclusion – Is Facebeast a scam?
Facebeast makes misleading claims about how you will be (attempting) to make money on Facebook.
If you were hoping to make an amazing online income by clicking a few like and share buttons, you will quickly realise that this program is nothing like what you were expecting.
If you do already have a website and want to find out ways to get organic likes, create videos and build a brand, then you may find some of the info useful.
Is Facebeast a scam?  Well, It has some elements of a scam – having a misleading sales pitch, you won't get what you expect, fake testimonials and quick high earning potential claims.
…But you do have some protection, as there is a 60 day money back guarantee and there is some value in the training, (alebit not what you were expecting) as long as you avoid the dodgy upsells.
Do I recommend Facebeast? – No I do not.  
I hope you found this review useful!
If you want to make legit money online and don't know where to start – this is where I got started for free.
What do you make of Facebeast?  Leave me a comment below!
All the best… 🙂