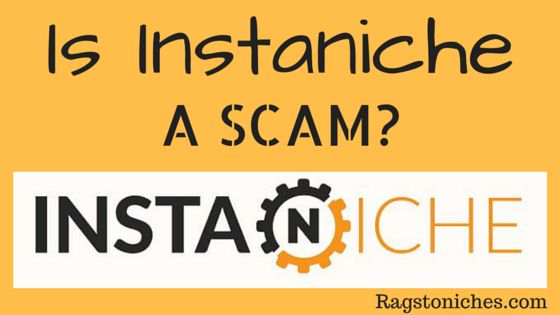 In my Instaniche review, I will check out some of the claims that the creators make about this website building software and see whether they add up.
What is Instaniche – Is Instaniche a scam? – or is this some revolutionary software that could catapult you into thousands of dollars of profit per month? Let's check it out…
Product: Instaniche (http://www.instaniche/io)
Creator: Mo Miah, John Gibb
Price: $39 for one site, $49 for unlimited sites.
Overall Rating: 20/100
Review In brief: Impressive software in a way, but what a waste! It does not do what it says on the tin. It's impossible to guarantee page 1 rankings – especially with the inferior keywords this software often spits out. The content provided is spun and not readable, you have limited control over your sites. I do not recommend this program. Learn about affiliate marketing here!
What Is Instaniche?
My guess is that if you found this article, you probably already know a little bit about instaniche, so I will keep this explanation brief.
Instaniche is essentially a software that will create niche websites in a matter of seconds.
You choose your niche, you choose a template and images and you can choose articles to add to your site.
With a click of a button, you can also monetize your website by linking up with amazon and the program will find the best selling popular products to promote via your website.
Once you've set up your site, it's plain sailing, you just have to lay back and enjoy the cash start rolling in… Happy days!
Oh yes, you needn't worry, this software guarantees your posts and pages will land on google page 1 – within one week!
Well, that's the claim.
Let's take a look at some of the claims….
THE Instaniche Promise, (and why it CAN't deliver!).
"Google page 1 rankings are guaranteed at will," (at will… really?)
Up to 52 thousands + dollars in amazon sales they've clocked up from these niche sites, (maybe – but not by using THIS software!).
The best most

profitable keywords

chosen by this site, (no they aren't)
Completely unique content, (yep, but it's spun content by a computer so, it's unreadable).
Limited niches available – what happens if 1000+ sign up to the same one? As if many of these niches aren't saturated enough.
Google Page 1 Ranking Claim

The only possible method at getting google page 1 rankings "at will" is by using black hat methods, (cheating google).
While this may work temporarily, then any site employing those methods risk a high probability of being shut down at any time.
It's more likely however, that the claim of guaranteed rankings is just something to convince you to sign up.
To get a page 1 ranking via SEO methods can take weeks, or even months. Especially if you're talking about a brand new site.
It can take 3-6 months before google starts even begins to trust your site.
The only other way you get page 1 rankings super quickly, is either because the niche has such low competition that you literally have no one to compete with and Google ranks you quickly.
Or – because you're employing black hat techniques to get there.
In all other cases, ranking your posts via SEO methods, such as using keyword research – takes time.
They claim you can have posts on page 1 within a week – good luck with that!
How They've Made Thousands In Amazon Commissions…
I'm sure they have made a fortune with amazon, after all – they are experienced and successful marketers.
But their success has nothing to do with this software. Their highly successful sites will not be created with spun content and poor quality keywords.
This software, is just a creation for newbies and this sort of program, is exactly why so many go on to think that making money online must just be impossible.
They're told something will work for them over night, that it's easy, that there is no chance they can fail — then they fail and they don't know what went wrong.
Content Creation
Google will only reward unique content, this is true. But it also needs to be quality content.
Spun articles are just regular articles that are chucked into a spinning software and spat out into something new – something "original."
A computer, (as yet) can unfortunately not create believable and engaging content like a person can.
So, it will end up reading like the work of a robot that's high on crack.
It's not something anyone would want to read – it certainly wouldn't make anyone trust your judgement enough that they'd want to actually buy something!
Therefore, you'd need to rewrite these articles.
Limited Niches
With a limit on the niches available, (250 at the time of writing) what if a tonne of people just all go for identical niches?
Realistically, there will probably only be a top bunch that really appeal to people and I imagine these will also be commonly talked about ones already…
such as in the dog niche, which they use as an example themselves.
So, this software if going to come up with unlimited super unique keywords that all relate to the same niche and they are ALL going to end up on page 1?
They do realise there are only 10 spots on page 1 of google, right?
Instaniche – Good Concept: Shame it's a fantasy!
It's a very cool idea to have a software create everything for you and start creating you amazing profits off the bat.
The software itself is good at what it actually does, but as for creating a profitable niche website for you – that doesn't add up.
It's a nice fantasy – but if it was a reality, these guys could charge thousands of dollars for this because they'd be sitting on a goldmine.
Would they be giving away the golden ticket for 39 bucks? Or 49 for UNLIMITED websites!?!
Instaniche: The Price – The Hook
They price this program low to hook people in – once they're in and buy into this, they will be able to sell further upsells to them.
What they hope is that people will not be after refunds and will either just forget about it and move on, (only $39 after all…)
Or that people may think that by buying an upsell, they can then become successful.
I have heard that many people are already claiming refunds and have not had any response from the owners – as it's a 30 day money back guarantee, they should get their money back, eventually.
(Let me know in the comments if you're reading this and have had any problems!)
Profitable Keywords: Only One Step!
Even if this software did choose great quality keywords every time, this is only part of the story with keyword research.
To have a hope of making it on to page 1, you also need to check out the SERPS!
The SERPS just stands for search engine results page and it's the top results in google for your keyword that you need to check out.
If the front page is full of authority sites, with a high domain and page authority – your chances of outranking them are next to zero.
Using a free tool like Moz Bar can help you check this out.
To learn all about legit SEO, check out this program!
Cheeky Countdown Timer!
On the sales page for Instaniche, they have a very popular marketing tool right there to put the pressure on!
The dreaded countdown timer!
This tactic is employed to create a sense of urgency in the buyer, that they may miss out if they don't take up the offer right there and then.
Total bullshit of course. You can come back later, tomorrow – or next week. If the program exists, you will be able to purchase it.
To amuse myself, I waited until the timer ran out.

What happened? Did the site explode – did it shut down and disappear out of my grasp for all eternity? Did I actually…. MISS OUT!?
No, of course not. Nothing happened. The timer remained at zero and I could have purchased the program whenever I wanted.
PROS VS CONS
PROS
Simple to use software creates amazon niche site in seconds.
CONS
Ranking in google with these sites will not be easy, you'll have to generate your own traffic and not rely on organic traffic.
Spun content would need to be rewritten.
You can't choose your own amazon products.
Limited control over your sites.
Unrealistic earning claims.
Limited niches means possible over saturation.

Keyword tool

doesn't give you the best low competition keywords, making it even harder to rank.

Keyword research

isn't the only factor involved in ranking your content.
I'm seeing complaints pop up: Not being issued a refund, websites crashing, technical issues, membership area crashing, no response to emails, poor customer service.
Conclusion: Is Instaniche A Scam?
The creators of Instaniche had a great idea… if only a software like this could exist and work, it would be worth a lot more than $39.
That said, it would also mean the end of niche sites, because everyone would be able to build them in seconds with no effort and then – in the end -nobody would win.
Niche sites now are hopefully moving beyond the tacky poor quality sites that used to exist in the past and you now have some really high quality sites in very particular niches, that really do provide value.
For the reasons I've clearly outlined, I don't feel that Instaniche can live up to the massive claims on their website – practically guaranteeing your success and page 1 rankings.
I do not recommend Instaniche – while I don't claim it's an outright scam, there are clearly gaping holes in its ability to deliver anything like what they suggest it will.
The Challenge – Finding Decent Programs!
Internet marketing is full of really poor products, as well as outright scams.
And plenty of successful marketers practically fall over themselves to promote them, because they know that programs with outrageous claims of overnight success will SELL really well.
But through it all, there are some reasonable programs out there that do deliver.
You can check out my review section, for good reviews. Or – You can Check out my personal recommendation here.
What do you think, is Instaniche a scam?  If you've had any experience with this program, I'd love to hear about it.