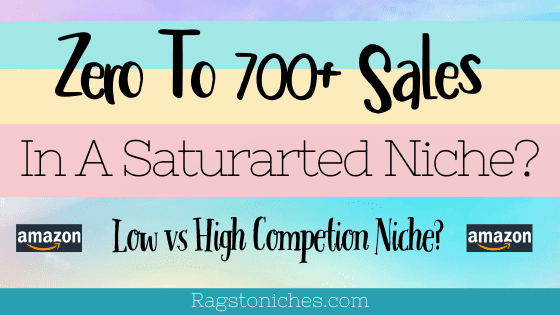 In this blog post I'm specifically talking about low content books – so, planners, journals, notebooks, log books, diaries and so on.
I'm only going to be talking about my experience with low content specifically.
So, a common question I see online is whether it's better it's better to go into a low competition or higher competition niche.
A high competition niche is often high for a reason — the top books can make a lot of money.
In a low competition area, typically less people are looking and sales will be lower and so, it would take more of a catalogue of those sorts of books to make a larger income.
First of all, there are not as many low competition niches now in comparison to a few years back anyway.
So, you may still struggle to gain visibility in some of the lower competition niches.
Secondly, something may LOOK like it's a high competition niche on the surface, but actually there is more space there than you may think.
You can get an idea about this if you find fairly recent published books ranking well on the first page, without tonnes of reviews and so on.
What Should You Do – As A Beginner?
If you're wanting to start kdp as a total beginner and you have no budget for Ads yet, or are just not comfortable learning Ads, then finding a low competition niche is going to be the best option.
This is how I learnt myself how to get started and once you do find some success within a niche, I've found it beneficial to focus in on that and create more books in that niche.
If you're looking for a simple niche validation method, I did a post about that here.
This is still a method I frequently use.
Your primary goal is to try and get into a niche where you can get organic sales.
If you see other books in a niche that have recently been published in the last 6-12 months and appear to be getting organic sales, then this is a very good sign that you may too.
That is if you can create a book that is AT LEAST as good, if not better and ideally offers something different to the original.
If You Already Have Some Experience:
If you already have experience on KDP though and you do have some experience with Ads… Then you may also want to try and go into some higher competition niches.
I experienced this over time with a book I published during the previous Q4 period.
I had some success over last Q4 and then very little again after that.
I decided to pretty much leave the book alone for the best part of a year, until the Q4 just gone.
Some details about this particular niche I went into:
PROS:
There are not many traditionally published books in this niche – making advertising less costly.
There are some very basic covers selling well and room to combine niches and create some books that stand out.
CONS:
It is in a saturated niche – even more so in Q4.
50k plus search results for the keyword.
Many books with hundreds/thousands 5 star reviews.
————————————————————————————————-
So, the PROS in this particular case are really important.
I have previously attempted to go into some low content niches where there ARE lots of traditionally published authors and this can make advertising costs too high to really get seen.
So, I personally look at niches where that isn't the case – but where there is still a lot of demand.
For whatever reason, during Q4 I also found this book too expensive to run Ads to in the US.
I probably could have persevered, but instead I tried Canada.
So, during the first few weeks of December, I managed to get 71 sales via Ads with an 18% ACOS.
A great result, that was profitable in addition.

But it wasn't the actual sales via Ads that was the big deal. Those sales boosted the book in the algorithm and actually got it to the first page for its keyword.
This led to more sales, which in turn led to more reviews.
Due to the increase in reviews, the book also started to sell more in other countries as well.
As I'm writing this at the end of March 2023 — I will have sold over 700 copies of this book THIS MONTH ALONE!
---
What Advertising Method Did I Use?
I was exclusively using product targeting Ads.
That is, targeting other sellers in the same niche as me.
This meant to was showing up on other competitors sales pages.
But it would ALSO frequently show up in several places on their page…….. Sometimes four times!
It would frequently show up in the "frequently bought together," section – (none of these are my books, but I'm just showing the placements for an example).

It would show up in the customers also viewed section.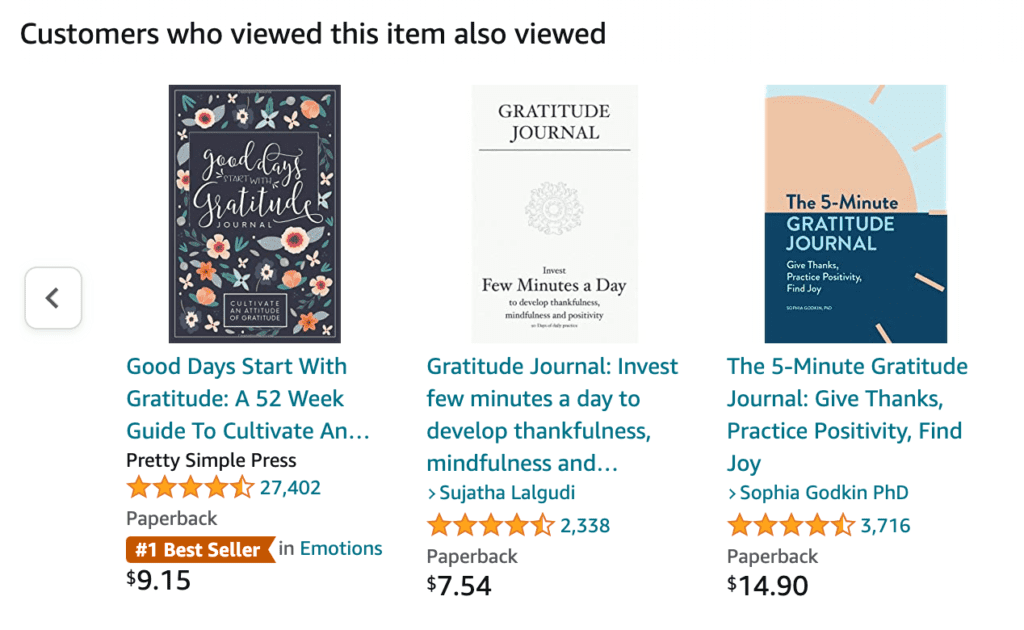 Then there are often two other sponsored listing sections.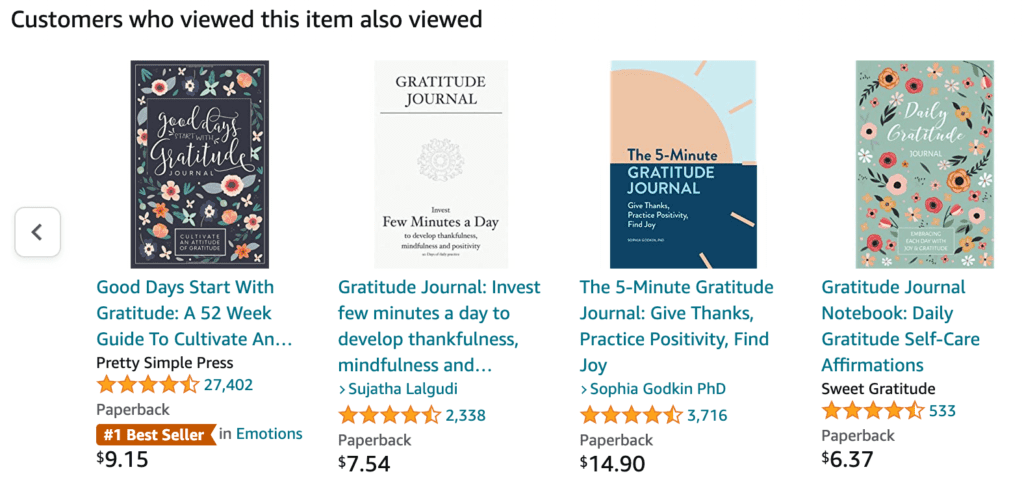 So, in this example; you can see a couple of these books are showing up in ALL four different sections.
That's a lot of opportunity for someone to click on one of these other books.
That is why I suggest very strongly that you create different books in the same niche and actually product target your own books.
Then at least when someone clicks on to another books, it's one of YOUR other books.
You can't do this entirely, there will always be other books as well. But it at least increases the possibility of a sale for you.
A Successful Ad Campaign Will Lead To Organic Sales:
Your campaign will help boost your organic listing in the search results.
This will lead to your book gaining more visibility – not just in the regular search results, but often at times on your competitors product pages as well.
It can also lead to your book being paired up with another in a bundle deal and this can be really great for sales.
Does Competition Matter?
It can be harder to make a dent in a competitive niche.
In some – it would potentially cost a huge amount of money to gain any traction and for many of us, that's not something we will choose to do.
In many niches that are competitive though, it is still possible to get sales using a successful Ad campaign and a cover that stands out from what is already there.
Do an original spin on something, or target a subset of the same audience.
Add humour to a cover if it could work.
Or consider combining niches.
There is no point creating the same thing that is already out there and has already been a success and expect to have the same results.
So, try and be original and then target books in that niche with a product targeting Ad.
Target books that you feel are selling but that you can compete with, but where you feel your cover could provide a good alternative for someone.
So, Which Is Better – High Or Low Competition?
Rather than get bogged down with whether you should target high or low competition niches…. the real solution is to try out both.
Sure, if you are not great running Ads…. Try some niches where you are going to have a better chance at gaining traction in the lower competition niches.
But if you are open to running Ads, then consider experimenting in both low and high competition niches.
Your efforts are not always going to pay off.
However, as long as you're targeting niches that aren't really over run with traditionally published books and you have a good product that's offering something different and/or better than what is there, then you should be able to advertise as a reasonable cost & generate some sales.
The book I ran Ads to this December ended up with a profitable ACOS – but I would have been happy to run this at a loss initially to get the book ranked.
As it happened, I didn't even need to do that — but it's worth baring in mind that you may have to initially run the Ad at a loss. Particularly if you're competing with books with tonnes of reviews.
How Competitive Is It…. REALLY?
I have many, many books that are ranked for keywords that have 50,000 or even 100,000 search results!!
If you see books recently published on the first page making sales for those search terms – there is no reason you don't have a chance at making sales as well.
Just as I was writing this post, I checked in on one of the niches I'm in — there are over 50k search results for the main keyword.
But I saw at least three books trying to compete in one of my top niches that were published in the last few months and ALL OF THEM are making decent sales already, (some with zero reviews!).
So, it's worth bearing in mind too that while something may look competitive on the surface, it may not be as hard as you think to rank for.
Ultimately, the quality of your product goes a long way. If you can just generate those initial sales and reviews, it can have a snowball effect.
You want to grab the attention of any potential customer scrolling on amazon and you want to make sure you also have some decent A+ content on your sales page that showcases your book.
So, don't just discredit a niche idea or keyword because it seems competitive on the surface – dig a bit deeper and you may just find there is room for you after all.
I hope you found this post useful! If you have any questions, let me know in the comments.
Pin Me For Later: