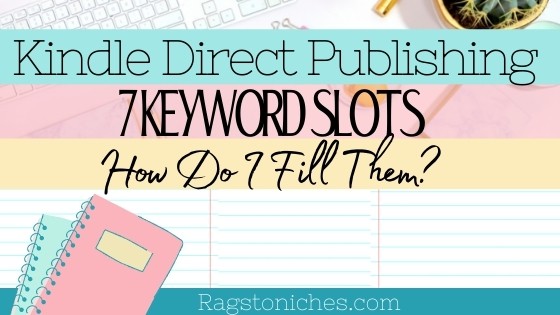 Many people get confused and possibly experience a bit of analysis paralysis when it comes to filling in their 7 keyword slots on KDP, (the kindle direct publishing platform).
Partly this may be due to some mixed information about how to fill in these slots – in particular, when you're talking about low content publishing.
To simplify it, there seems to me a couple of different methods that people use.
Personally, I seem to use the one that is less commonly used and I will explain what that is in a moment.
I think the important thing to say is that people have had success on Amazon using a number of variations as far as inputting keywords – or even leaving them blank in some cases!
However, one benefit from creating books in niches that you have SOME knowledge of already, is that you can probably think up keywords that only people who are knowledgable in that niche would know.
In this post, I will purely be focusing on how to input keywords into the slots. I'm not going to be going into keyword selection, although I can do that in another post.
Let me know in the comments if there are any other topics you'd like me to write about.
Method One:
This is the most commonly used method that I have found, in particular from the free information I have come across on KDP and on YouTube.
This method does not behave as though each different keyword slot is independent.
That means; if you put one keyword in slot one, (say, for girls) – then you would not add this keyword again in slot 2.
Below is an example for how you may proceed with this type of method…

The idea is that Amazon picks up these words and will put them together in any number of combinations and can make a large number of independent keyword phrases.
I can't comment on how effective this method is – because I haven't used it.
The second method that I talk about below, has worked for m and I decided to just stick with it.
However, I'm definitely going to do some experiments with this.
How do you input your keywords? – Let me know in the comments!
Method Two – The Method I Currently Use:
Once I have chosen a combination of keywords that are typically a variety of low, medium and high competition keyword phrases.
I will add these to my keyword slots in the form of single short phrases.
These are search terms that people are currently searching for on Amazon.
If there is ANY additional space after I have entered this search phrase, I will tag on some additional words at the end as well.
These additional tagged on words work with the original phrase, to create other keyword phrases independently.
You can see an example of this below.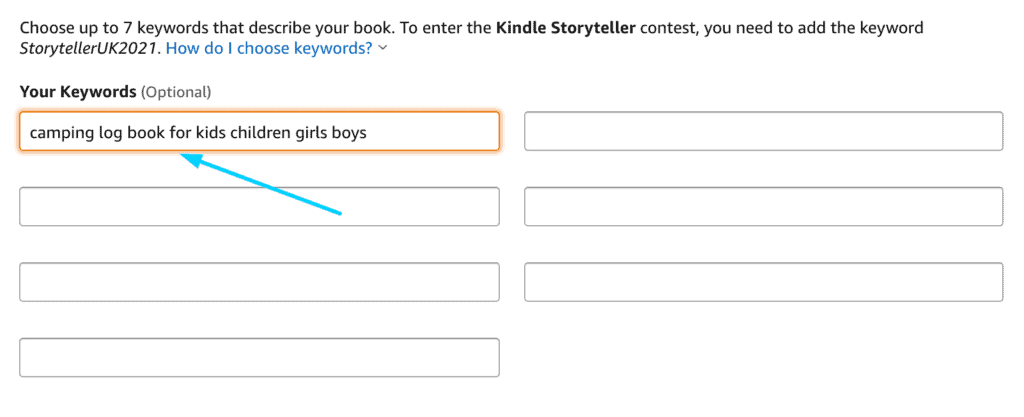 In this case, every keyword slot is used as an entirely new section.
So the above keyword slot would be used to create the following keywords….
camping log book for kids
camping log book for children
camping log book for girls
camping log book for boys
Plus, any other combination that Amazon itself comes up with.
In your next slot, you may also have another unique keyword that includes one of the same keywords above For example… camping journal for kids.
With the first method, you would not bother to put "camping," again – because you will have already put it in the first keyword slot.
Using the second method, you would still use the keyword camping because it is in an independent and unique keyword slot.
However, while you may repeat words in different keyword slots, you would not repeat any words used in the rest of your meta data.
So, if you had already had "camping journal," in your title – you wouldn't repeat it in your keyword slots. This is the case for both method 1 & method 2.
Key Points That Amazon Mentions:
Amazon has a section on their website for Meta-Data Guidelines, as well as keyword guidelines and I urge you to go and check it out, if you haven't already.
Amazon says that you should…
Put keywords in the most logical order.
Do not put in irrelevant keywords.
Imagine what you would be searching for, if you were a customer.
2-3 word phrases are better than single words.
My takeaway from some of the key points above – is that Amazon itself seems to recommend phrases above single words and when they talk about what customers are searching for.
This too seems to lean towards keyword phrases, rather than a jumble of single unrelated words.
Again, when they talk about words being in the most logical order, they are also hinting more towards short phrases that customers would put into the search bar on Amazon.
With that in mind…. Filling a keyword slot with something like…. "for boys, girls, teenagers, gift, summer," in a single keyword slot, doesn't seem relate to the advice amazon gives.
By contrast, something like: "RV journal for boys, children, girls, travel." makes up a combination of variable keywords on its own and does seem to correspond more accurately to Amazons advice.
While Amazon do talk about not repeating words from your title or subtitle – they do not talk about not repeating words within keyword slots. They don't seem to mention it either way, as far as I have read or heard.
In a video created by Amazon themselves, they repeat the same keyword in their example and also talk about putting your keywords in a logical order. Therefore, not just putting a jumble of random words together.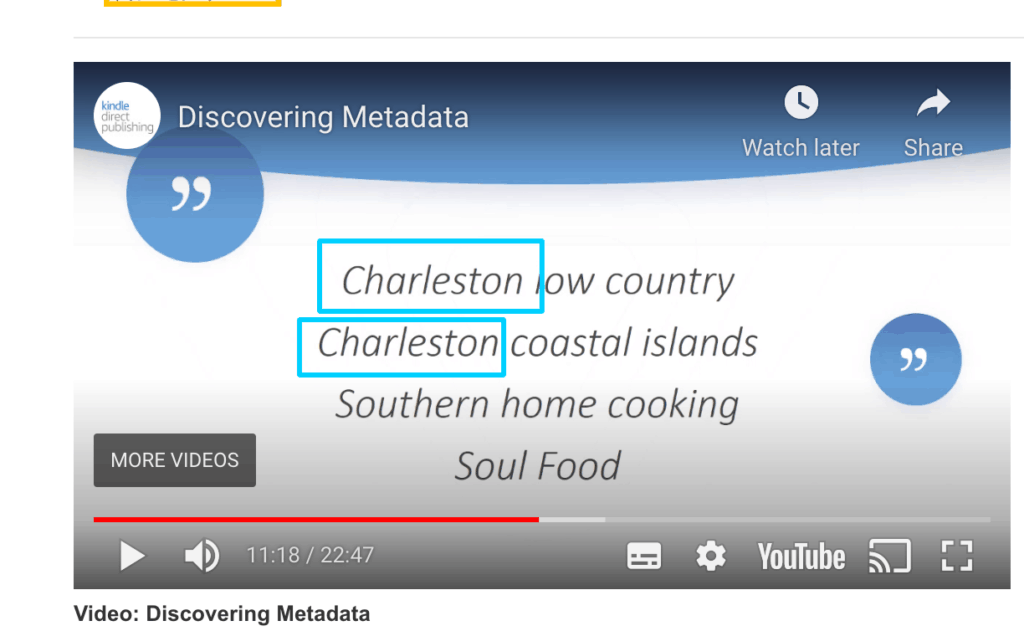 Some More Take Aways….
I found this video really helpful when considering how to input your keywords.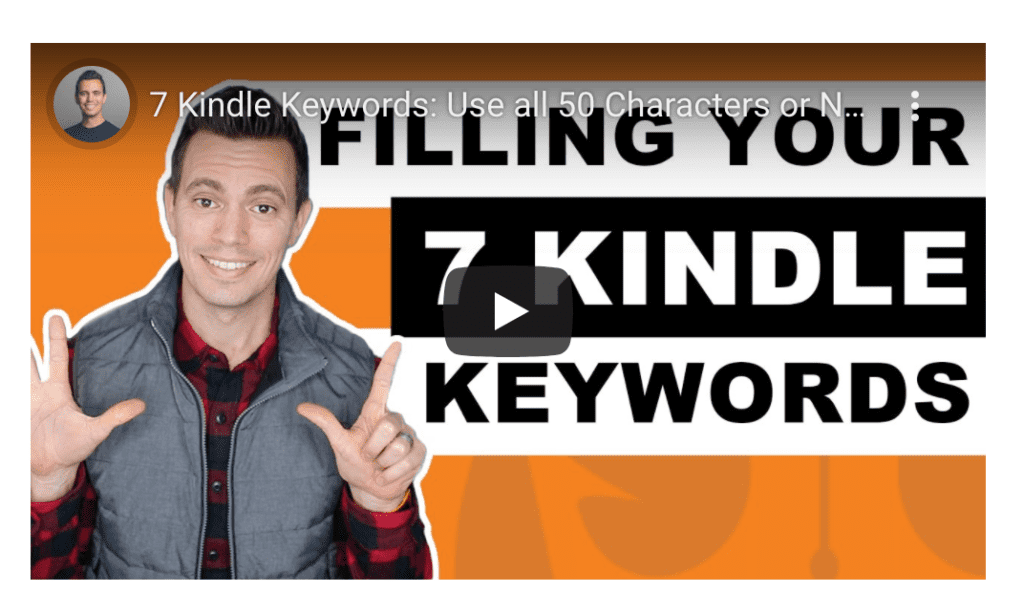 Key points I took from this video….
The more individual keywords that were in the 7 slots in their experiments, the worse rankings the books had. I think this comes down to RELEVANCY. You need the keywords to be super relevant to your book. There is no point just putting a tonne of words in there and hoping they will rank. If you're not sure it's completely relevant to your book – DO NOT USE IT.
A book during their experiment that didn't rank at all, had inputted the wrong keywords. They had added in keywords for an entirely different book. Again, this points to exactly the same thing as above – RELEVANCY.
It doesn't HURT to repeat keywords and it doesn't BENEFIT you either. Amazon talks about not repeating keywords that are already in your title, subtitle and description … but this is just more advice than a warning. It won't hurt you to repeat words, so don't worry if you do. However, it doesn't help either.
I feel this gives more additional weight to the second method of keyword input that I outlined in this post.
This is because, using this method definitely makes you think hard about the relevancy of the phrases you're putting in.
You aren't just inputting single words, but are largely inputting phrases and therefore, you do need to be more selective.
Some of my most successful books now rank for a large number of keyword combinations that I have input into the individual slots – and more.
This assures me that the keywords I chose initially made sense and were highly relevant for my book.
An Argument For Method One?
Many people say that is does not matter where you input the words or phrases, Amazon will pick up on all the words in every keyword slot and put them together in every combination that makes sense.
While this may be true, I think there could be more of a temptation to stuff in as many keywords as possible if you're not thinking in terms of highly relevant key phrases that a customer may be searching for when looking for your book.
My feeling is that less could mean more – unless you are confident that every keyword you are entering is going to be highly relevant and convert well.
I also find this to be the case when it comes to Ads. Some people will tell you to put in hundreds of keywords… But actually you're better of targeting highly relevant keywords that are going to be more likely to convert to sales.
If you input too many keywords – you will find yourself spending more money and taking a long time switching off poorly converting keywords and optimising your Ad.
But that's a post for another day!
Concluding Remarks:
I've pretty much stuck to the same keyword method since day one, (method two) and it's worked for me. But similarly, many people use method one and it works just fine for them as well.
I think where people go wrong is just adding in too many variables to try and strike it lucky.
For example…."wife, girlfriend, boyfriend, husband, sister, uncle, boy girl, child, teen, adult, gift, Christmas, holidays, birthday, valentines…" and so on!
You've probably heard it many times when it comes to marketing……..Try and appeal to everyone and you appeal to no one?
I think this is certainly true when it comes to keywords and niche selection.
Go into your book creation with a specific audience in mind.
Also, consider that if you are not selling many books, this may have nothing to do with the keywords you are choosing.
In my experience, not getting sales comes down to a couple of issues and keywords isn't the main one…. I go into detail about this over here.
How do you fill your keyword slots? Let me know in the comments!
Pin Me For Later!