Minecraft is a sandbox game that has seen a number of adaptive and creative uses for both recreation and commercial purposes.
As a result, hosting a Minecraft server has become very popular. But running and managing your own servers can get a little expensive.
If you're a huge Minecraft fan, of course you're going to want to enjoy the best game possible.
Even if you know the tricks of the game, a high-quality server can take your gaming experience to the next level.
Minecraft is super easy to download and you can play it and have fun without needing to understand about the extensive features of Minecraft coding.
Many people love to play Minecraft because of how it allows them to be a part of another world that is truly theirs – something they have built from the ground up.
It's very easy to get started and appeals to all ages – many can enjoy playing it casually, without looking at the deeper aspects of Minecraft.
But for some….. Minecraft can become an all absorbing obsession. This intense interest can potentially lead to an online income!
10 Legit Ways To Make Money From Minecraft:
1. Teach Others To Play it & To Build:
If you become a Minecraft expert, there are people willing to pay to be tutored in this.
In addition, Minecraft is even taught in some schools – such as in groups during breaks and schools and other clubs may hire tutors to teach.
There are also things such as Minecraft summer camps, that will require people with high quality Minecraft knowledge.
However, you'll probably make the most by offering services yourself online and being a personal tutor.
This way, you could potentially teach students from around the globe.
2. Getting Paid Via Ads Via A Blog Or Your Minecraft Server.
If you do have a Minecraft server, which becomes popular and you get a following, you can earn via advertising and your server could pay for itself, as well as generate profit on top.
Something like Adsense is one option, but you do need a LOT of views daily to make any significant money.
On the plus side, Adsense is very simple to set up on a website. However, you could also check out some other Adsense alternatives that may pay better.
Not all advertising networks will be suitable, so you'd have to contact them directly, or at least check out their T&Cs before applying.
Alternatively, if you set up a Minecraft related gamer blog, you can also place Ads on your site. The more visitors you get the bigger the earning potential.
3. Build Stuff On Minecraft For Profit:
As well as teach other people to play Minecraft, there are also many other additional services you could provide as a freelancer.
For example; there are many sellers on Fiverr who will build anything you want on Minecraft for a certain amount.

While basic gigs start from the $5/£5 mark, many sellers will charge significantly more than this for their work.
There are many other ways you can sell Minecraft related products and services as a freelancer and I also mention some of these below……
4. Minecraft Banners Or YouTube Images:
Some of the best Minecraft videos uploaded on YouTube will have an emblem, banner or picture on them.
They 're going to have to come from somewhere and not everyone has the graphic design skills to pull this off… So, what about you?
If you consider a breeze to use image editing software such as "Gimp" "Photoshop," or even a simple platform like CANVA.
You may be able to provide a service that provides a price for opening or closing credit banners/videos on Youtube. This could be a good way at making some extra cash.
Again, somewhere like Fiverr.com, would be many peoples first port of call.
5. Minecraft Servers Again — This Time Setting Them Up!
Some people get intimidated by technical stuff and may just not want to figure up how to set up a Minecraft server.
If you do, (or you're willing to learn) then you could set up a service doing so!
Maybe you find it really easy – well, that's good for you, but some people are going to be happier just paying someone else to deal with it.
Essentially, anything you can offer that has some learning curve associated with it, (especially when it comes to technical know-how) can be a profitable pursuit!
6. Make MONEY on your Minecraft server:
Minecraft servers cost money to run, that much is true…. But if you're smart, you could make your Minecraft server pay for itself and more.
There is a way you can do this within the Minecraft rules and t&cs – or not. Obviously, the best route is to do it inline with the Minecraft guidence.
But how do you make money?
Well, here are a few legitimate ways to get you thinking….
Selling bonuses within the game, but not ones that effect gameplay. For example; clothing items, pets and effects.
Users can pay a fee to enter your server.
You can earn money from advertising and sponsorships.
Some of the biggest & best Minecraft servers out there make six or seven figures per year – yep this stuff could potentially make you a millionaire.
But even if you don't make the big league, you can certainly still make a supplementary income.
7. Minecraft Animation: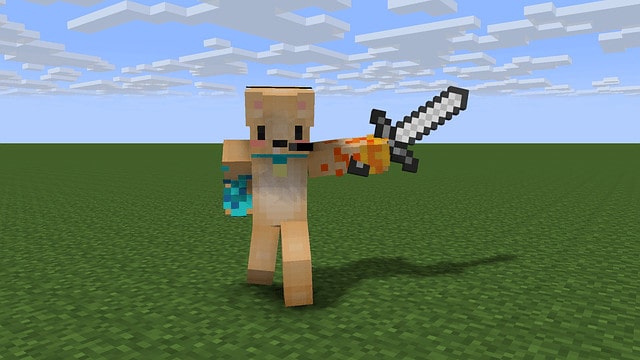 I'm unsure of the copyright issues with this but, there are people who make Minecraft animations, films and shorts.
You can create custom made animations for individual clients, or perhaps businesses and groups.
For example; a small business may want to create a Minecraft inspired promotional video to share on YouTube or their social media channels.
8. Minecraft YouTube Videos:
People are always looking for Minecraft tips and tutorials.
If you already have a Minecraft related blog, using YouTube as well can increase your blog traffic and add an additional income stream.
Create useful videos that can help people with their Minecraft problems and queries and you can earn in a number of ways.
By eventually participating in the YouTube partner program and earn from Ads.
Earn from affiliate marketing, by recommending products and services in your description.
Also linking to your blog, where you may provide a freebie to get people on your email list and then recommend products or services to them. You may also have advertising on your blog.
9. Gift Donations!
If you have your own server – People can and do donate money if they enjoy playing your games.
If your server has a large community, you can accept contributions from players.
You can also have in-game donation bonuses which can be offered to server hosts.
You may be surprised at the donations that some hosts can receive, (more on potential donations below!).
10. Twitch:
If you're already on YouTube, then you have probably already considered Twitch as well.
This is where you can live stream your gaming – but big twitch players can also earn a lot from affiliate marketing and paid advertising.
It's worth mentioning donations again too – as some big fans of Twitch followers also make BIG donations.
I have seen Twitch gamers receive thousands of dollars in gifts, from a single donation!
Yes, of course these are in the minority and you need to have a big following… But perhaps this is worth persuing.
You'd also have to be comfortable receiving large sums of money from people who could be a complete mystery to you — some people may be uncomfortable about that.
Making Money From Minecraft – What Would You Do?
Are there some other ways you can think of to make of to make money with Minecraft?
Maybe there is some way that I haven't mentioned, that you are using right now! If so, please feel free to let me know in the comments.
Pin Me For Later! 🙂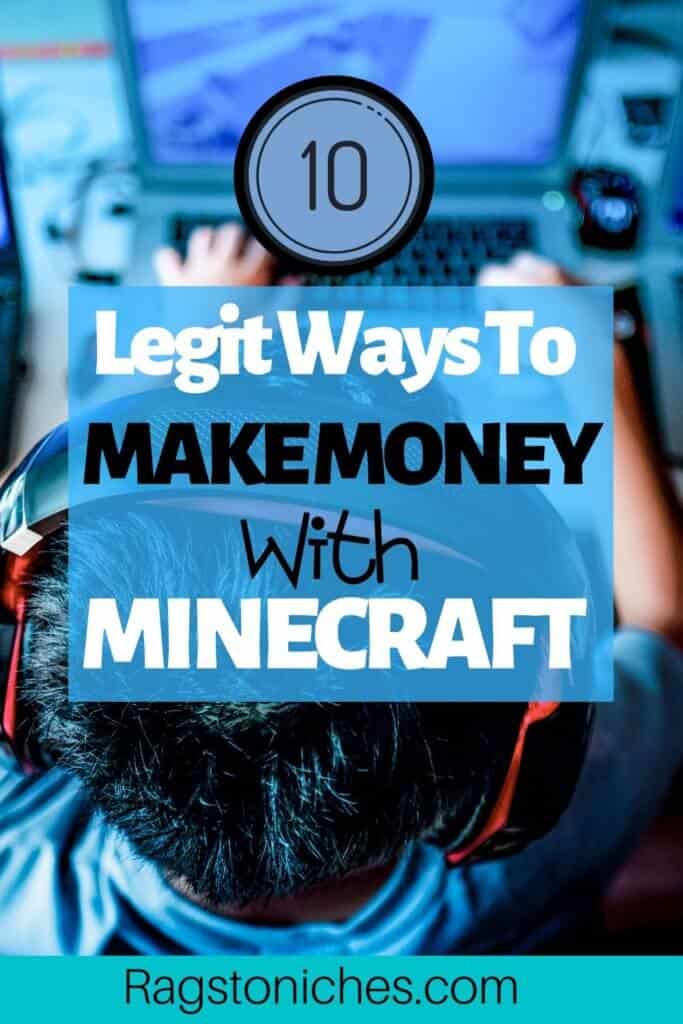 Making Money In The Long Term…. Building Multiple Income Streams!
My primary goal long term, is essentially to earn a full time income from several different income streams.
I've learnt the hard way that if you only rely on ONE income stream, you run the risk of that stream drying up.
If you're earning from different ways, you know you can still have an income coming in from another source.
So, if you're just focusing on Minecraft you could build up income streams in a multitude of ways, via….
Having a blog – where you could earn from affiliate marketing – paid advertising, sponsorships and email marketing.
Having a YouTube channel that focuses on Minecraft or gaming – link to your blog – earn via affiliate marketing, sponsorships & Ads.
Selling Minecraft related products via Fiverr.
Potentially tutoring others to play Minecraft.
Setting up a Minecraft Server… and more.
Of course, you want to focus on one thing at a time initially.
If you try and do ALL THE THINGS in one go, you will just get overwhelmed and probably quit before you've made any money at all.
Work on generating some income from one source first ideally, before you start on another and if you can, outsource some of the more mundane or time consuming tasks to someone else!
For example; I sometimes pay a freelancer to write content for me, so that I can focus on my other side hustles!
If you've had any success selling Minecraft related services – I'd love to hear about it in the comments below!