I discovered the Lucky Scratch App on my chromebook while trying to find the Lucky Day App.
Lucky Day used to be on the App store, but was withdrawn sometime ago, (apparently due back for months!).
I don't have an android phone, but I do have google play on my Chromebook…. However, I can't see Lucky Day there either!!
(Let me know if you have it!).
ANYWAY, instead of that, I did find Lucky Scratch. Which seems very similar to Lucky Day, but with lower prizes.
You can sign up quickly with Facebook or your email address simply enough and it's completely free to join………… But what is it like?
Tip – if you want to make 100's or 1000's of dollars per month, Apps won't work!  You can learn to make more here.
What Is Lucky Scratch App?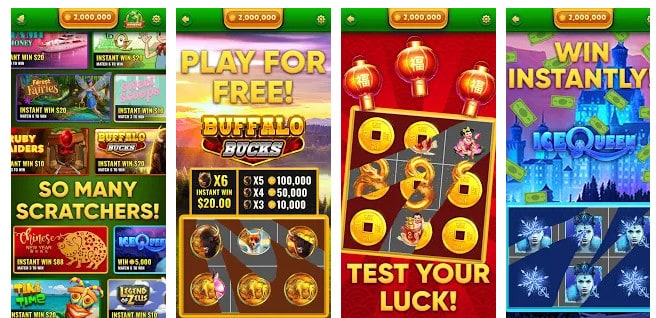 This app is pretty much, exactly what you'd expect it to be.
Mainly, there are lots of free scratchcards you can do, with a small chance of winning real money, or coins, (more about coins in a sec!).
Of course, your odds of winning are going to be extremely small… So, largely, this is going to be for entertainment value!
Annoyingly, I couldn't do a screen shot of the App while playing on my chromebook.
So, I had to take a picture of my screen with my iphone…. so, apologies for grainy some of the grainy images here!
When I first arrived, this is the main screen where there are a bunch of different scratch cards you can do….
Just scroll down the list and take your pick!
If you like regular scratch cards in real life, (or online), but are maybe spending too much money on them, doing something like this could possibly be a free alternative.
Personally, I sometimes buy scratchcards and I actually still find this quite fun.
The somewhat annoying thing here is, every time you do a scratch card, you then have to sit through an Ad.
Of course, this is how the App makes their money and is able to give away prizes for free.
So, for each scratchcard you do, there is a potential prize you can win.
If you don't win the prize, you will win coins instead.
For example; one of my first scratchcards was a donut one, where I could win $1.
I didn't win the dollar, but I did win 500 coins.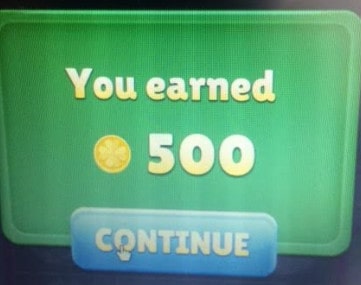 What Are Coins Used For?
For the majority, you're going to be winning coins – not cash!
Cash wins are going to be in the minority ultimately.
You can use your coins to enter the various sweepstakes on the website.
Unfortunately, these sweepstakes aren't for huge wins either – but they're for things like, a $50 PayPal voucher!
What prizes you see may vary depending on where you are in the world, I'm in the UK and only saw a few sweepstakes available.
So, the potential prizes were a bit of a disappointment!
Bingo Games:
One fun aspect of this App, is that you can also play lucky scratch Bingo!
If you manage to get on to a game, (they don't run constantly) there are very quick rounds, where you have to scratch off numbers at the bottom of your screen.
You then have to click on the corresponding numbers on your Bingo card.
However, you have to be super quick to click the numbers off – you only have 10 seconds per round!!!
If you do manage to win, you can earn a certain number of coins.
Every number you daub on your bingo card, also gets you a sweep entry into a Bingo sweepstakes.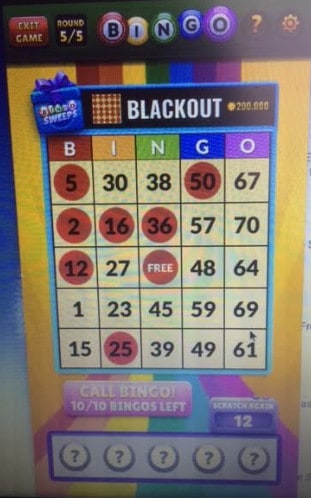 How Do You Win Money With Lucky Scratch?
Of course the most obvious way to win, is via the scratchcards, although your chances are slim.
While I was playing, I could see scratchcard wins in the following amounts…
$1, $5, $7 $10, $20, $25, $50 and $100.
There were also many scratchers for coins, up to 100,000.
I won the 100,000 the first time I tried it, as you can see below.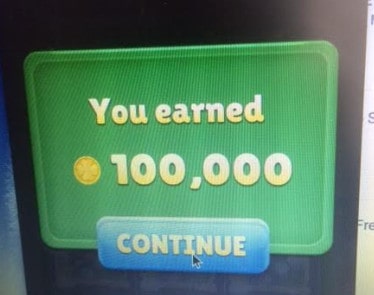 The other way you win, is by using the coins you accumulate, to win sweepstakes and prizes.
Some of the sweepstake prizes are listed below:
$50 PayPal Sweepstakes,
$20 Dominos Sweepstakes,
$20 Amazon Bingo Sweepstakes.
You can also potentially win $100 for using your referral code to recommend the App to friends and family.
For every friend or family member you recommend, you get an entry into a $100 draw, (but likely the odds are going to be low!).
What Do People Say About Lucky Scratch? Reviews Online.
Lucky Scratch isn't available on App Store presently, but currently has 4.5 stars on Google Play right now.

It looks like there have been a lot of one star reviews recently.
Many people feel that the prizes are just not worth it… But, like I said, this App is free ultimately – it's for fun!
If you want a good chance of actually making or winning decent cash, playing Apps like this aren't a good way of doing it.
Other people also feel that something odd is going on with Bingo, as it seems that there are winners too early on in the game.
Another person mentioned that one particular person won several times in a row, which seems odd.
Some people also complain about glitches and the screen freezing, I haven't currently experienced this myself though.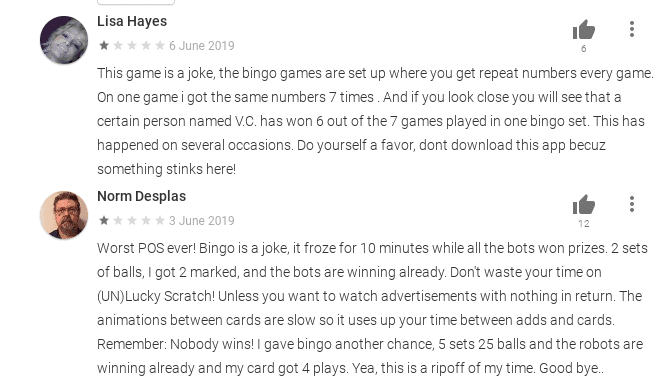 I see a lot of complaints from people who give it one star because, they've never won a cash prize.
But the odds of winning any cash prize is really low…. Even if you're playing every single day for years, you may never win a decent prize.
It doesn't mean no one ever does, but the odds are slim.
So, unless you're playing it for entertainment value, (and a minor chance of ever winning) then there is really no point!
Perhaps Apps like Lucky Scratch should really make the odds of winning much more clear and be less vague about it.
What I Liked About Lucky Scratch:
I have to be honest, I really enjoyed playing this App! I found it more entertaining than the Lucky Day App actually.
Some of the animations on the little scratch cards were cute and I found myself feeling a bit of a thrill, even though the scratch card might only be to win coins!
Another difference that I enjoyed, was the Bingo! I liked the fast pace nature of the games.
I guess these kinds of Apps can give you a bit of a thrill of winning something, even when the prize isn't that significant.
What I didn't Like About Lucky Scratch?
Constantly having to sit through adverts can get annoying.
Although, in my case, I do enjoy discovering and writing about different Apps – so, the Ads for me personally was more like doing research!
It's just, getting an Ad after practically everything you do, does get grating.
Another thing I don't like, is that the money prizes are really low!
I hope that means that they give out more prizes to people, but I couldn't find the true odds of winning.
The only I found, was on their website – you can see that response below:

The other thing I don't like, is that you only get entries into a sweepstakes for referring people.
Really, it would be better to earn a large amount of coins, or maybe a small cash amount, (like $1 per referral).
Lastly, you can't just join bingo games all the time. Once you've played, you may have to wait for several hours.
Right now, the next Bingo game I can play is in over an hour – another is in 2 hours and another in 6 hours!
Lucky Scratch Review – Is It Legit? Concluding Thoughts.
If you're downloading Apps like this because you really want to win money, or you're desperate for some cash or anything like that… This will not help you!
This App is for entertainment value and a very…. VERY tiny chance of winning a small cash prize or gift card.
If you're trying to cut down playing real scratch cards, or perhaps gambling online, then perhaps this could help, (I have heard this mentioned before by others…).
Or maybe you just enjoy playing the App and aren't that concerned about whether you win.
From what I can see so far, this is a legit App, but unfortunately there are not many prizes.
You also cannot redeem your coins for gift cards or gifts at this time, only sweepstakes entries, (and no information about how many people are entered… So, anyone's guess!).
I enjoyed playing it myself, just for the fun of it. But I doubt I will be wasting my time with it long-term.
Beyond Apps…. The Long Haul Method.
If you want to make money long-term, consider learning some skills that will actually help you earn a decent income online!
That's what I tried to do in 2015 and it's how this website eventually came about.
I make money now from things like, affiliate marketing, side hustles and paid advertising.
If you'd like to make more online in the long term…. I recommend the free training here!
I hope you found this Lucky Scratch Review helpful, let me know what you think of this App in the comments!
All the best!