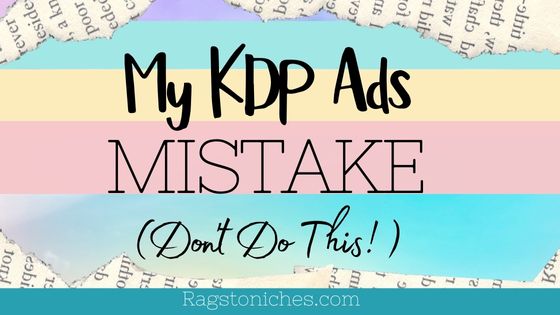 When I was setting up a new Ad recently on the Amazon.com Ads platform, I noticed a feature on the main dashboard I hadn't seen there before.
I'm not sure if this is something they added after switching up the dashboard a bit a while back.
This just goes to demonstrate that, I do certainly still feel like a beginner 2 years on when it comes to Ads.
I've been plodding along doing my own thing, but there is a lot of information out there that you can consume if you really want to learn more.
Even though much of of the advice out there is based on FBA selling, (when looking on YouTube in particular) there are still many great tips you can take away.
ANYWAY
I don't know what I was thinking honestly….. But I decided not only try this unknown feature, but to do it in a fairly reckless way.
Learn from my mistakes here, so you don't have to do the same.
You may have noticed they have switched things around recently on the Amazon Ads platform so, it all looks a bit back-to-front by comparison.
Maybe that's why I didn't recognise it.
You can see what this feature looks like below…. It's known as the ADJUST BIDS BY PLACEMENT feature.

So, I think the thing that really caught my eye was the little info note they put at the top.
* ADVERTISERS WHO ADJUSTED THEIR TOP OF SEARCH BIDS DURING THE LAST HOLIDAY SEASON SAW AN 87% INCREASE IN CONVERSIONS, COMPARED TO THOSE WHO DID NOT.
It was this new message that caught my eye. But I am sure this message was larger when I saw it the very first time!!!
Maybe that's just how I remember it, but I was totally sold by this enticing information.
So, all you do is choose how much Amazon can raise your bid in certain scenarios that may benefit you – such as being the top of the first page.
What NOT To Do…. If You Don't Want To Blow Your Budget:
This is what I did.
I actually went for close to Amazon's suggested bid for this campaign – which wasn't huge, but larger than I'd normally start out.
30 something cents, (much higher than I'd normally go for an auto campaign).
But in addition to going with Amazon's suggested bid… I also changed the percentages to 70% for both top of search AND product pages.
So, if I wanted a top of the search result… That would be Amazon's bid PLUS the 70% additional fee per click.
Interestingly, you can raise this to as high as 900%!!!!
But I didn't stop there.
On top of that….. I put in a $27 a day budget.
Usually, Ads I set up do seem to take some time. So, I didn't rush back to check on it.
However, I thought I better had check back around 12 hours later I'd guess….
And of course…. The the $27 was already gone.
Sadly, it also was only showing ONE SALE!!!
Some others filtered through later, but not enough to justify that very quick spend.
What You SHOULD DO – before you ever consider using this feature:
First of all, if you have JUST started with Ads, I would not use this feature whatsoever.
Learn the basics first and foremost.
Get familiar with the Ads dashboard, figure out what all the different types of Ads are and check them out.
Get familiar with all the Ad terms and jargon.
Also, become familiar with a feature available for you to check out called PLACEMENTS.
This is where you can check out where you are getting the most sales.
Because, NOT ALL BOOKS OR PRODUCTS perform best at the top of the search.
In the Placement section in the backend of your Amazon Ads dashboard, you see whether your books perform the best at the top of the search, on product pages, or via the rest of the search, (anywhere else basically).

(I show you exactly where this is in the YouTube video found on this page).
If you check this info and your ACOS is crazy high for the top of search already, then it's not going to be worth you paying for this space either.
Start Off With A Successful Ad Campaign:
I would also always suggest that, before you start messing around with bids for the top of search or product pages, that you ALREADY have a tried and tested regular campaign working out.
You can then check whether it's worth your while increasing the bid for the top of search and so on.
I had tried out this campaign already, but that was in the UK.
And I've said it myself before, you can't assume that an Ad in one country is going to work out well in another, it's often a completely different scenario.
Therefore, I SHOULD have set up a standard campaign there first and then decided what to do after I had enough data to back up the next decision.
But I was jumping ahead in this case and just not taking the time required.
So, What Did I Do Then?
First and foremost, I went in and just reduced my base bid to very low and also reduced my daily budget.
Then I waited a few days and went in to check my PLACEMENT settings.
This revealed that the top of search spot in this case wasn't converting well in this Ad. It was on 86%!
So, I switched the percentage from 70% right to zero and will monitor it.
The product pages were far lower, but still high on 40-something percent – so, I think I switched that right down to 10% and will just monitor that too.
The great thing is, you can adjust this whenever you like, in the placement settings.
There is no need to go in blind with this decision when you're setting up an Ad campaign.
Since writing this.… This campaign is now running smoothly with a good ACOS.
Take Aways From This:
If you are curious about this feature then I would recommend already having an Ad that is converting well for you and bringing you in sales.
You can then actually just adjust your percentages from the backend of the Ads Platform under PLACEMENTS, (depending how well your Ad is performing for each place in the search).
Always keep track of every change you make and note down the date you did it.
Don't set up this sort of campaign without already having some idea about whether it's even right for you to have your book at the top of the search – because it's not always going to be the optimal position.
Have you tried this feature? Have you found it's worked for you?
Let me know in the comments.
PIN ME FOR LATER