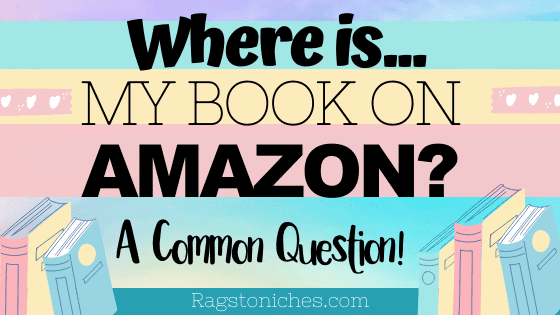 "Why Can't I Find My Book When I Search On Amazon!?!?!"
This is a common problem and an issue that I have been asked about on multiple occasions. Therefore, I thought would outline the reasons here for those who are not sure and feeling frustrated.
It's totally understandable…
You've gone learnt the whole process of creating a low content book and publishing it on Amazon KDP, but now you can't seem to find it AT ALL when you search for it in the search bar.
You try multiple keywords. You put your exact title and subtitle in the search bar… But you can't see your book anywhere.
Why is this and how can you resolve the issue? Has your book even been published?
Well, there can actually be a number of things going on and so, via the process of elimination – you can work it out.
Let's start with the simplest solution first and foremost.
1. Check Your Location When You're Searching On AMAZON.
This is the case whatever Amazon platform you're on – you want to have an address that matches the location.
So, in the US, you want a USA zip code. In the UK, you want a UK pode code and so on.
You can find this using a random generator tool. For a zip code, simply google, "random zip code generator."
As an additional thing, ensure you do your searches on Amazon in incognito mode.
This won't effect whether you see your book – it's just good practice, as your search results won't be influenced by your prior search results.
Often times, this could be the only thing that is wrong.
This is because, if your book cannot be shipped outside the US, (for example) then it will not come up in the search unless you're searching with a US zip code.
This is something I have to input again every time I go on to Amazon.com
This is something I often STILL forget to do, so it's very easily done.
2. Your Book Will Not Rank For Every Keyword:
Depending on what you've chosen, it may not rank for any!
Which is why it's important to choose a variety of keywords which are high, medium and low competitive wise.
The reason being, you're not going to rank for a highly competitive term right away.
Amazon needs your book to prove itself and its relevance for a particular keyword first of all.
So, it may be that you rank for a keyword initially that is not very competitive and has a low search volume.
This means your book won't have much visibility at first, but if you start generating sales at this point, your book can go up in the rankings and you can start ranking for more competitive terms.
New books can get an initial boost up in the algorithm as well – which means your book may be temporarily visible for more competitive terms but sink very fast in the search results if it doesn't make sales quickly.
Obviously, the less competitive the niche, the slower your book will sink in the search results.
So, for example; I still have books ranking on page 1 for certain terms a couple of years later – even when they have only made a few sales ever.
This is because there just isn't much competition for those terms.
By contrast, I have some that are many many pages into the search results, because they are in competitive niches and did not make sales early on.
EXAMPLE…
Let's say the title of your book is simply: PRAYER JOURNAL
You search on Amazon and find it no where at all.
Well, the reason for this is simple enough… This is a highly competitive term.
If you search for this under books on Amazon, there are 60,000 results under this keyword.

However, if you used a longer tail keyword, you may discover your book more easily.
"Mother & Son Prayer Journal," for example; has 3000 search results.
This is still a competitive number, but far less than that first term.
Prayer Journals in general is a competitive niche – so, in reality, it's probably best you niche down further than this if you're looking to make sales organically, (without Ads).
This is also not a niche I've gone into myself. So, just to be clear, I'm using this as an example only. Not as a suggestion to go into this area.
Also, it's worth noting that you should ONLY use keywords in your title/subtitle and backend keyword slots that are completely relevant to your book.
So, you would only be using, "mother and son prayer journal," if that made sense for your book. Not just as a potential keyword you could use to gain more visibility. I hope that makes sense!
If you use keywords that are not relevant, Amazon can deem this as a misleading customer experience and then could either block your book; or your account entirely.
It's Not All About Search Results:
While I use the search results in my examples above, that's not the only way to figure out if the keyword your using is over saturated.
Sometimes a certain keyword may have tonnes of results, but actually still NOT be a bad choice.
What really seals the deal for me – is looking on those first couple of pages at the books which are showing up for the keyword.
If all the books on the first and second pages are very well established, have been published for years and have a lot of reviews…. That's a clear sign this keyword isn't a good choice.
By contrast, if you see some books ranking that have been published in the last year, are selling and don't have a crazy amount of reviews – then this shows potential.
If you want to learn more about this method; check out this post.
3. Check Your Book Is Live On Amazon:
You can double check that your book is really visible on Amazon by putting in the ISBN of your book into the search bar.
If it shows up, then your book is definitely there on the Amazon platform.
Give it some time if your book has literally only just been published though.
If the problem persists, contact Amazon directly via the help section on KDP and they will be able to look into why your book isn't showing.
If You Don't Rank For Your Keywords:
At times, I have chosen to switch keywords for others when I have a book that just isn't ranking for many of the keywords I have chosen and not getting sales.
So, you can do this by searching for the keywords one by one and seeing what comes up.
Most of my sales are on both the US and UK platforms and so, I will search both of these.
Sometimes, you will find you rank much better on one platform and not another.
To be on the cautious side, I'd recommend changing one core keyword at a time and see how it goes.
Also, if you find that you ARE ranking for many keywords, but still have zero sales, then the lack of sales may be due to other reasons.
Such as;
Lack of search volume for the keywords used.
A poor cover design.
A poor sales page – maybe with spelling mistakes and grammatical errors.
For example; I have some books that do rank well for their keywords but only make maybe a sale or two every now and again because it's in a micro niche with a low search volume on Amazon.
What Do You Struggle With When It Comes To Keywords?
Keyword and niche research can be difficult concepts to get your head around when it's something completely new to you.
The good news is, that it really does get simpler over time.
Many people struggle with how to fill their backend slots, if that's the case for you check out this post.
If you'd like a simple way to validate a niche; I give you a really simple method here.
If you have any questions, or would like to share how you select keywords – let me know in the comments below!
Pin Me For Later: