If you'd like to compare how I did last November 2021, you can check out that blog post and video here.
November was a little surprising to me.
Considering the last two months have been lower than the previous year, I thought that trend might continue into this month.
However, the difference between this year and last year, is I have invested a lot more on Ads this month.
Had I not invested that money into Ads, I think this month may have been slightly lower than the previous year, but still very similar.
I know some people have had quite different experiences this Q4… With some seeing it as quite a bit lower than previous years & others having their best months yet.
How was it for you? Let me know in the comments.
November KDP Income Report 2022
Check out the video below, where I share my results for this month.
November 2022 Income From KDP: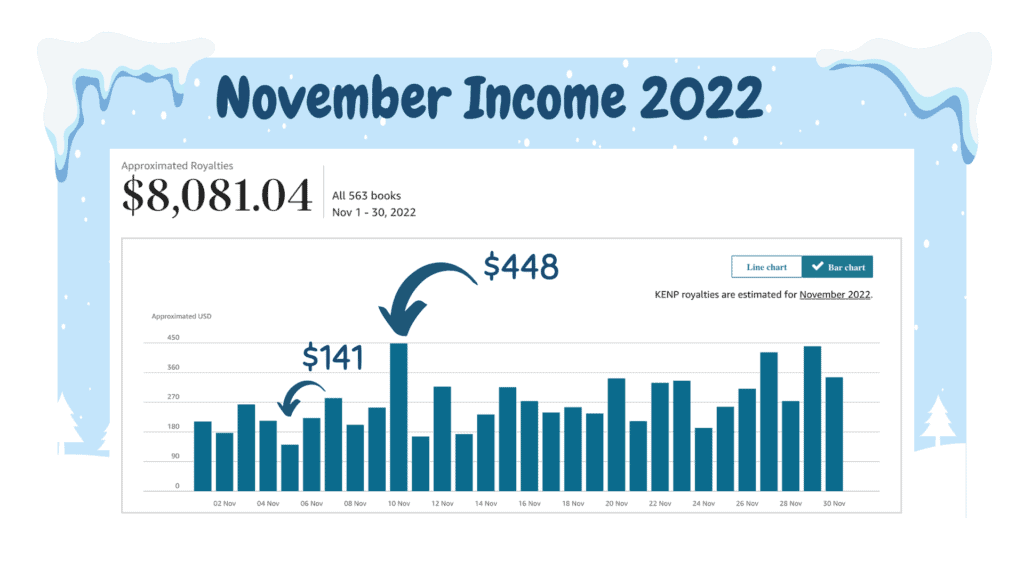 I was really pleased to reach over $8,000 this year in November.
My highest day was on November 10th, at $448. My lowest day was Nov 5th with $141. There were some other pretty high $400+ days as well and many around the $300+ mark.
November 2021 Income By Comparison:
Considering I did spend $300 more on Ads this year, I guess you could say the result was pretty similar. Had I spent less on Ads…. Would the result have been more like 2021?!
I think it may have been less actually.
In this case, I do think the Ads really helped my overall organic sales and I've also been getting some sales on some brand new books that I recently published.
November 2022 AD Spend Vs November 2021 Ad Spend:
I thought it was important to show that the result this year was not from luck alone, but I feel partly due to the added investment into advertising.
That being said, you can see by these numbers that a huge amount of my sales are still organic, (meaning not from Ads directly).
That said, many of these Ads are for my best selling books and I believe this does lead to organic sales, as well as ones directly via the Ad.
November 2022 Ad Spend:
Amazon UK Ads.

Amazon USA Ads.

Amazon Canada Ads.
Aside from the USA, which was slightly unprofitable – an ACOS of 19% is decent and seeing as my aim is to break even, (or be slightly above/below) these numbers are fine by me.
The aim is not to generate big profits from Ads alone – it is the combination of organic sales and Ads that make up your real numbers.
When you make sales from Ads, this is also helping your natural organic listing ranking, (your unsponsored listing).
While natural sales help your ranking in the search the most – sales from Ads also effect your organic listing in the search results.
So, my total Ad spend when switched to dollars was….. $589.43.
When you add the 20% VAT on top, that comes to $707.31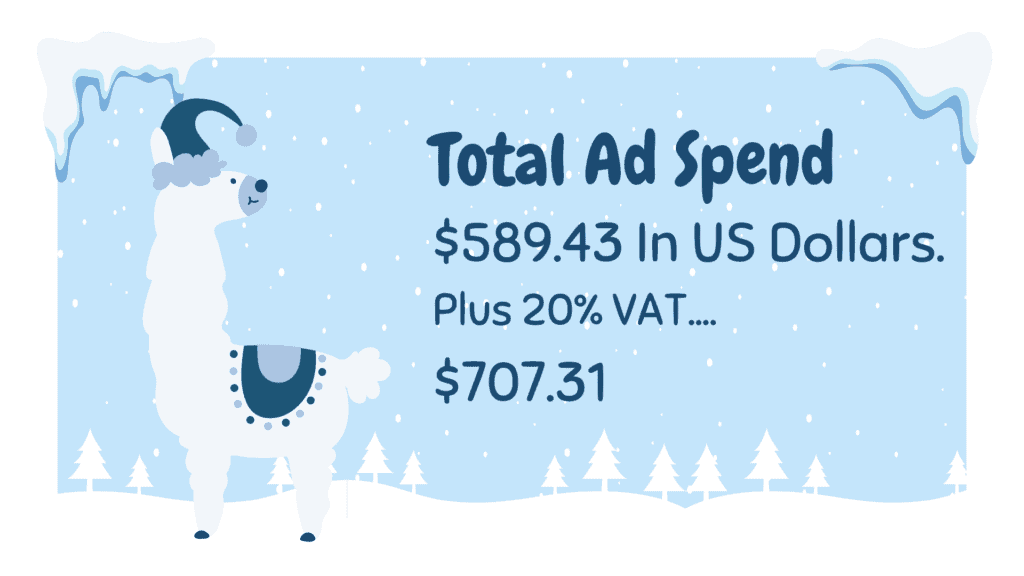 November 2021 Ad spend by comparison:
I had actually not even anticipated it had been over $400 last year, so it was less than a difference to what I initially thought.
However, that difference of a few hundred dollars seems to have improved overall sales and I feel has helped my organic ranking in the search.
This year has really flown by for me!!!
What I LOVE About Q4:
While Q4 technically starts in October, for me it certainly doesn't start ramping up until mid to late November.
What I love is when random books start to sell, which typically don't the rest of the year.
Or you might find that a book starts selling out of the blue and after Q4, starts to become one of your best sellers.
That's because, when I book sells, it gets a boost in the Amazon algorithm and because there are SO many more people searching this time of year, people are more likely to see your book during this algorithm boost and buy it.
This will boost the book back up AGAIN in the algorithm and so on….
It's a bit like free advertising and thank goodness for that!
Because, for example; I have a book I published this year which I can't advertise due to a word on the cover.
It HAD started getting the odd sale here and there before Q4, but because there are now many more people searching – sales have gone up.
This should hopefully lead to more reviews for the book, which leads to more sales and so forth.
It's also interesting that even books without any reviews start selling. Which is great, since this will often lead to reviews and this can lead to more sales next year.
How Has November Been For You?
Let me know in the comments.
Pin Me For Later!