Paytime.top Review: Is this a legit App… What is Paytime.top really about?
Paytime.top is an app that, like many  pay-to-do websites out there, will pay you a certain amount for completing various tasks online.
It's free to sign up and create an account with this company and by signing up; they say they'll give you a $10 bonus.
However, there are some big red flags here; that suggest to me that this company could potentially be a scam and I'll explain why in a moment.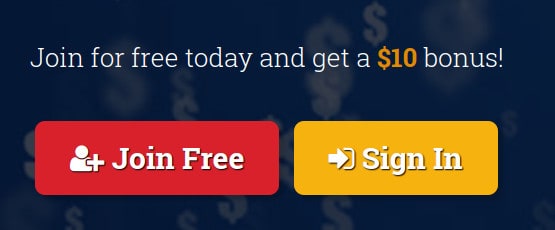 Once you've set up your account, you can earn money from completing mini tasks that shouldn't take you more than five minutes each time.
However, you'll need to earn $50 or more before you're able to withdraw any money.
This is very high for these kinds of reward websites. 
Try My Top Rewards Site – For A $5 Sign Up Bonus!
The $50 withdrawal threshold was the initial thing that rang alarm bells for me – but it wasn't the only thing that did!
Paytime.top – what sort of tasks earn you money?
The sort of tasks you're expected to do, do not require special skills and are similar to many other survey-related websites or apps out there today.  With some additional affiliate marketing opportunities thrown in.
You may be paid a set amount for:
Downloading various apps, (between $2-$20).
Completing online surveys, (between $5-$200)
Sharing posts on Facebook, ($0.50 per post).
Promoting products and courses with an affiliate link, ($25-$150) Although; there are no products or courses that are there when you sign up.
Promoting movies, ($15 if referral signs up to their movie service)
Referring friends, ($1 for each referral).
All these tasks aren't too unusual.  What was unusual, is the amounts that they claim you can earn from completing a majority of these tasks.
I've never been paid more than $2.00 for a survey and a vast majority were under $1.00.  Being paid $200 is off in the realms of fantasy land.
For downloading apps – $2 doesn't seem ridiculously high, but $20 is certainly unrealistic.
On the affiliate marketing side, (promoting products and courses) these aren't unrealistic claims, as plenty of programs and courses do pay high commissions.
(Don't know what affiliate marketing is?  This post explains it).
That being said; when you sign up there aren't these products available.  Perhaps they are there sometimes, but I can't be certain of that.
However, more alarm bells rang for me when I scrolled down to the bottom of their main homepage and saw a "featured by," section, (see below).
After googling the company, I certainly find a lot of negative feedback – but I cannot find them featured in Entrepreneur, Forbes, or the Huffington post!
While, of course, there are thousands of legitimate companies and blogs who have a "featured in," section – many scams also do this; as a way of appearing more legitimate to anyone landing on their website homepage.
I also scanned the website for an "about us," or "privacy policy," page.  Neither of which I could find.
This is another warning sign; if you can't see who owns the website or any real information about the company – it's not a good sign.
Paytime.top Reviews Online – Complaints:
I didn't need to venture far to find plenty of negative feedback towards this company.

(image source – beermoneyforum.com)

Have you been paid by Paytime.top?  Please share your experiences in the comment section below!
Paytime.top – Similar to another scam?
After scrolling through feedback, I've noticed several people claim that this app is very similar to a previous app, (which was exposed as a scam) called "1 dollar tasks."
It could be that the same people simply closed 1dollartasks and started back up again under this name.
This is very common with scams.  One scam is exposed; they shut up shop and simply restart again with another name…. until that's exposed… and so it goes on!
So, it looks from what I can see that no one is being paid and I assume only a matter of time before it disappears altogether.
But if it's free to join – how are they making money?
Remember, they are still using you to freely promote their business, but also as an affiliate to promote products and services for them – such as the movie service they're promoting.
They'll also receive commissions for offers/surveys you sign up with from third parties.  So, they can earn a decent chunk off you in a variety of ways.
For all the reasons I've outlined here, I cannot recommend this App as a legitimate way to make money.  However,  leave a comment if you have any info about this company that you'd like to share.
To just outline the red flags again… these are some things I thought were  negative signs:
No information about the company, (about us/privacy policy).
Negative reviews online; with  no real payment proof.
A fake "featured in," section on their homepage.
Some unrealisitc earning claims.
Paytime.top Review: Scam Or Legit App?
For the reasons I've discussed here today; I don't believe that this is a company that you can trust and I wouldn't recommend wasting your time here.
There are certainly many red flags pointing towards it being a scam and the feedback from others so far, also seems to suggest the same.
You can certainly make money from completing mini tasks online and completing surveys; but it's not an easy or quick way to make money and at best you're looking at an opportunity to make pocket money at best.
Often people ask online whether all survey sites are just scams and I tackled that question over at this post.
Affiliate marketing is also a legitimate way that some people make money online. 
That's one of the ways I make the most money online at the moment.
It's not an easy and quick; but it is pretty simple to learn the basics and cheap to get started.
You Can Learn How To Make More Online Here! 🙂
If you have any questions at all, or some info you'd like to share about Paytime.top – I'd love to hear from you!
Leave a comment below and I will get right back to you.
All the best,