I cannot believe I have only just discovered this, being someone who has now been listening eagerly to Podcasts for several years now.
Yes, you did read the title correctly – this App rewards you to listen to podcasts!
Which is why I wanted to promptly write you this Podcoin review, so you can check it out for yourself.
But how exactly does Podcoin work and how do you really make money?
And if you can make money, or exchange points for gift cards… how easy is it to do so? I downloaded the App to check it out.
So, How Does Podcoin Work?
When I first heard about Podcoin, I presumed that you could only earn rewards for listening to specific Podcasts.
I thought that, maybe there wouldn't be much choice for me.
Not so! In fact, you can earn rewards for listening to just about any Podcast out there right now.
So, how?
Well, first of all, simply download the App – which is available on both the App Store and Google Play right now.
You will need your name, email and password to get started.
Once you do that, you will immediately get 10 Podcoins in your account…..
Podcoins are their virtual currency and you can save them up as you listen to Podcasts and then exchange them for rewards later on.
Discovering Podcasts:
Podcoin have a list of some of the most popular podcasts being listened to right now – so, you can see what people are listening to most at the moment.
You can find these podcasts under the tab labelled, "top" on your dashboard.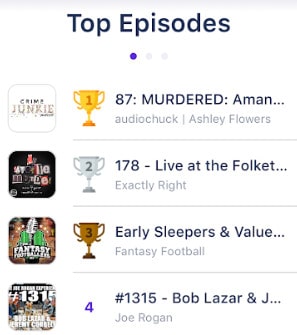 There is also a "discover," tab and this really looks just like the regular search feature on the Podcast App on App Store.
You can search for podcasts in the search bar at the top here and when you subscribe to them, they will be added to your virtual library on your Podcoin dashboard.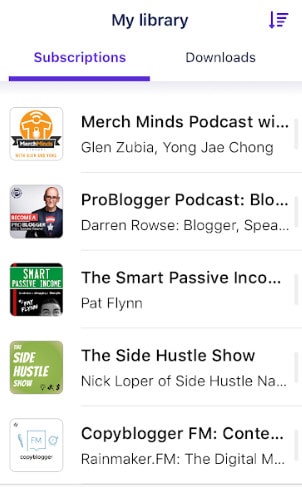 How Many Podcoins Can You Make And What Are They Worth?
You will earn 1 Podcoin, for every 10 minutes of listening to a Podcast.
However, you can boost your earning by listening frequently, (which I will explain in a second).
You can earn Podcoin for a maximum of 6 hours a day….
And apparently you can't just keep the podcasts running on autopilot, they say there is some way they will know you're cheating.
If Podcoin figure out that you're not really listening to Podcasts, you'll be thrown off the platform.
But there is a way to earn more than one Podcoin per 10 minutes….
If you listen for at least 10 minutes per day, for three days, you can earn TWO Podcoins per 10 minutes of listening time.
In addition to this, there are certain bonus Podcasts you can listen to for extra – at the time of writing, this is 1.5 Podcoins per 10mins.
This can increase to 2.5 after three days of listening each day too, so it's worth seeking those out and you may just discover a new favorite Podcast.
Just about any podcast out there can be counted, you just have to search it up via the App.
However, one down side I discovered is, that you cannot earn Podcoin for Podcasts you've already listened to.
If you earn your own Podcast, you can ALSO earn too!
You can make 1 Podcoin every time someone listens to your Podcast for 10 minutes.
This will be an added incentive for Podcast owners to stick with Podcoin, once they start charging.
This all sounds great, but how many Podcoins do you actually need to earn any rewards?
Podcoin And Rewards:
You will need to do a LOT of listening before you make any rewards here and I was a little disappointed by just how many points you do need to claim rewards.
So, here are some examples:
1,200 Podcoin for a $2 Amazon voucher.
2,000 Podcoin for a $5 Starbucks voucher.
6,000 Podcoin for a $20 Amazon voucher.
6,000 Podcoin for a £11 Amazon UK voucher.
6,000 Podcoin for a £11 Nero UK voucher.
The most rewards are available to US residents, there are also some for Canadian residents.
I'm in the UK and unfortunately, there don't seem to be lower value vouchers available below £11 right now.
As well as redeeming gifts for yourself, you can also donate to charity.
I had also previously read that you could earn extra Podcoin for recommending/referring others to join…
However, I can't find any info about this on the App right now! So, I'm not sure if their referral program has gone, or what the situation is there.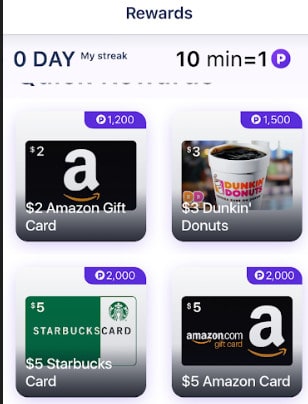 How Does Podcoin Pay YOU For Listening To Podcasts?
You may be wondering how it's possible for Podcoin to give points to listeners and basically give away free gifts.
There isn't any obvious advertising, like their is on other Apps.
Well, their plan is that once they have enough users on their platform, they will charge Podcast owners to be on their platform.
The idea is that it will be worth it for the podcast owners, as they will get the opportunity to reach many more people than they normally would.
They will also be able to earn Podcoin points, when people listen to their podcast.
Personally, I found all my favorite podcasts when I took a look, I guess this could change when they do start charging Podcast owners to participate.
What Do Other People Say About Podcoin?
Right now, Podcoin has some really great feedback online.
It currently has nearly 3k ratings on Google Play, with a 4.5 rating on average.

On the plus side, people are saying that if you listen to Podcasts ANYWAY, then why not use this App?
By not listening to podcasts on this App, sure – it's not like you're going to miss out on much!
But you can earn small rewards over time.
From a negative perspective, there are people saying that it's just a waste of time because, the amount of time you need to be listening before you actually earn anything is so vast.
Some people have also mentioned that they've had issues with glitching on the App.
Podcoin also has 4.6 stars on the App Store – although with far fewer reviews right now, (less than 200 when I wrote this).
So, while you definitely cant make much at all with this App, it seems many people are enjoying using it nevertheless.
Personally, I can relate to some of the negative feedback – because I wasn't expecting the results to be quite so hard to achieve.
PROS VS CONS:
PROS:
You can listen to most Podcasts available.
You can join via both App Store And Google Play.
Get some reward for doing something you'd be doing anyway – listening to Podcasts.
Good feedback online.
CONS:
You will hardly earn any Podcoins for your time.
Some feel it's not worth bothering with.
Some people have complained of glitches.
Podcoin Review – Is Podcoin Worth It?
If you already listen to Podcasts ALL the time anyway, then it may make some sense to you to simply listen to them this way and earn some rewards…
(Albeit small ones!).
However, if you don't really listen to Podcasts that much, or if an extra $5-$20 once in a blue moon, doesn't give you enough incentive to stick with something, then this probably isn't for you!
If you're interested in discovering new Podcasts, then it might be something you want to check out for yourself and see how you get on.
Considering I need so many points to reach my £11… I'm not sure I will stick with it for now.
I have so many Apps on my phone and I'm not sure this will be worth the memory!
That's why I'm rating Podcoin as average right now, as the amount you actually get vs listening time seems too small to me.
The app is smooth and easy to navigate and I love the actual idea…
But even though I consider myself Podcast enthusiast, I probably only listen to Podcasts for 2-3 hours per week in total.
Anyway, it's completely free to try out and totally legit – so, there is no harm in checking it out for yourself.
Do you have experience with Podcoin? What do you think? Let me know in the comments!
Beyond Apps…. How Do I Make Money Online?
I mainly play on and review apps, because I enjoy it.
But, most of the time, I find the make/save money apps available just don't pay well enough for them to be worthwhile bothering with for me long-term.
I make the most online right now, from having my own website and creating different income streams.
If you'd like to learn how to make money from a simple website, you can start learning for free here.
All the best,