I've reviewed a lot of survey sites, so it's actually quite refreshing to look at some of the smaller sites, rather than the major players in the online survey world!
What Is SURVEY GOO PANEL?
Survey Goo panel is an online survey related site, where you can answer surveys in exchange for rewards.
As a business owner you can also create/have surveys created for you – with the aim of conducting market research for your business.
Survey goo don't just offer surveys either – you can also opt in to be a part of focus groups, telephone interviews or webcam interviews.
Payment from survey goo panel is simply via paypal or Amazon vouchers.
First Impressions Of Survey Goo Panel…

The sign up page for this website was fairly basic, but nicely enough set out.
There's no giant bells and whistles or incentives to sign up, as is the case with some survey sites, but it looked inviting enough.
If you want more information from the get go, you'll need to check at the top of their page, where there are some information tabs such as: "get paid for surveys," to find out more.
On closer inspection, I noticed that survey goo claims something quite unique….  They claim that, (unlike most of survey sites) you will qualify for a majority of surveys they send you.
This is a major perk, as this is just not the case for most other survey sites in existence and a significant problem in the online survey world.
The issue is that you normally get screened out of a survey after already answering several questions, (sometimes MANY questions) – and then you don't get rewarded for your time either.
The regularity with which this happens to people have led many believing survey sites are merely scamming them for information.
The length of time that some surveys keep you answering questions before screening you out, has seemed unnecessarily long and so, this is understandable!
When I tired my first survey at survey goo… guess what?  I was NOT screened out and it was only two minutes long.
Rewards Available:
You can earn reward points for each survey that you do – once you've accumulated enough points, you can claim rewards.
Once you reach £8, you can withdraw via paypal.  Or £10 if you want to be paid in Amazon vouchers.
This pay out threshold is low in comparison to many survey sites – although many are reducing their payment thresholds slowly.
First – Fill Out Your Profile:
After registration, you should fill out and complete your profile fully so that you will be eligible for more surveys and will be offered more.
Your profile questions will be related to things such as your education, occupation and health – to name a few.
Once you have completed your full profile – you then need to wait to be sent surveys and this may take some time.
You will be emailed the surveys, so they are not there for you to complete on the platform itself.
Account Settings: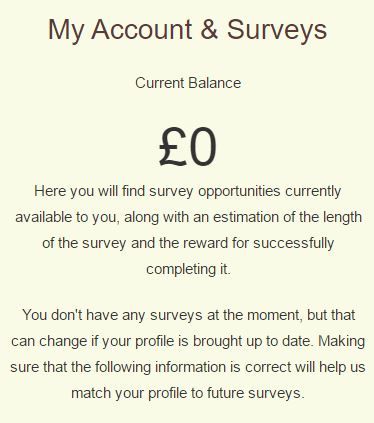 You can choose how many surveys you're actually offered, so make sure you amend this in your account settings.
You can opt in from between 2-3 surveys per month, up to 20+ surveys per month.
Only time will tell if you get 20+ per month actually sent to you – but it's good to be able to request this as an option – and also to limit them if that's what you'd prefer.
Length Of Surveys:
You'll be pleased to know that the length of surveys are relatively short, with many only being 5 minutes long.
Survey goo claim that no survey goes over 25 minutes – unless it's a special survey that you have specifically opted in for, such as a telephone survey or webcam.
Limited Information:
There is limited information as far as customer reviews and experiences of survey goo…
Do you have any experience with Survey Goo – good or bad?  Leave me a comment at the end of this post!
Survey Goo promotional video

Is Survey Goo A Panel For You?
I've reviewed a lot of survey sites and some of the biggest ones have actually appeared the most corrupt – as far as having a mass of negative reviews and complaints.
So, it's nice for a change to visit a site that's just simple and straight forward!
Survey goo is incredibly easy to sign up to and if you're already signed up to a few sites, then at least this one has a low payout threshold and may be worth giving a go.
The downside is, you may be waiting for surveys – but if you're signed up for others as well – this shouldn't be a problem for you.
You can sign up for survey goo here.
Ultimately, my favourite survey related site is swagbucks – simply because you can earn points by just surfing the net, as well as getting cashback and other simple methods.
Realistically…
Taking part in online surveys can be an OK way to pass the time occasionally, but they're never going to create any significant additional income.
It's true that there are plenty of scams online promising to make you rich overnight and plenty of scammy survey sites too!
But actually there are plenty of legitimate ways to make money online, if you're prepared for a little bit of work!
I highly recommend this training!
It's also free to sign up.
How do you get on with survey sites – do you have a favourite?
Let me know in the comments!
All the best…. 🙂