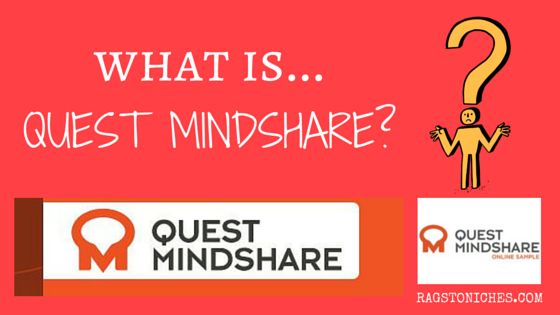 Is Quest Mindshare a survey site a cut above the rest, is there any reason you should join this above any other?  Let's take a look…
Company: Quest Mindshare (www.questmindshare.com)
Money making opportunity: peanuts/pocket money
Overall score: 40/100
Review In Brief: Despite some reasonably paid surveys, you will have a hard time qualifying for any! A whole host of negative reviews, poor customer service and relentless disqualification brings the score down.
Quest Mindshare Review: What Is Quest Mindshare?
This is another survey site to add to a bunch of hundreds of other similar related sites.
The idea is, you sign up for free, you complete some surveys on various topics and you walk away with a small amount of money for your time.  

Quest Mindshare isn't a great deal different than a large amount of other survey sites out there.
The actual site itself is very basic, you have to fill out your information and profiling surveys – but then they just email you the surveys as they arise, or you can access a list on the site as they become available.
You can also see on the site roughly how long each survey will take and the amount of money you can make for that survey.
I feel it's a good additional feature for survey sites to have a forum – then you can interact with other members and understand how well other people are doing, (or not).  Quest Mindshare do not have this, or any other features to make it stand out.
This wouldn't matter I guess, if you were able to access a decent amount of paying surveys using this site – but there are problems here too, which I will reveal in a moment.
Warning Signs Here:
Quest Mindshare claim on their main page, that some of their music rating surveys pay $90 a survey.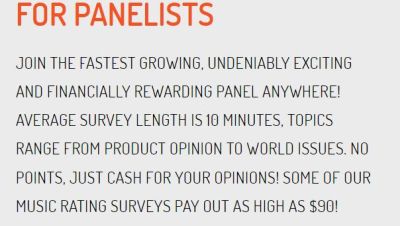 Now, while some music related surveys do pay more – this seems like total BS and I've never come across another site where this sum is paid out, not ever.
A majority of surveys tend to pay under $1.  The most I've gotten for a survey is about $2.
Please let me know if you actually have actually made $90 for a single survey!  Let me know in the comments section.
Either this claim is untrue or the existence of it is so rare, that next to no one would ever qualify to take it.
Putting this sort of claim on the front page is highly misleading, because it makes it appear like these sorts of earnings are regular and possible.
As a general rule, you may make between $1-$6 dollars per survey, (with between $1-$2 being more realistic).  Only if – you actually qualify!
Disqualification – Survey Mystery.
One of the biggest issues facing survey sites is that – very often – you'll answer a bunch of questions on a survey and then get thrown off, because you don't qualify.
Your time is completely wasted and you get no compensation for this time spent, (some sites have started giving something for your effort, most don't).
When you join a survey site, most have a profile section where you answer a bunch of questions that are supposed to improve your rate for qualifying for surveys.
Unfortunately, I haven't experienced that this is the case.
From my view, it just looks like an excuse to get a lot of your personal info, (for free) without paying for it.
Upon sign up to Quest Mindshare, it claims that by filling out 15 different profiling surveys you'll get a better chance of not being disqualified.  Hmmm
These surveys take a great deal of time to complete and you get nothing for them.
Questions relate to pretty much every aspect of your life, (so, think about all of that useful information they're getting from you – for free).
While many survey sites have a similar profiling method, this one is the longest I've seen.
How you'll get paid:
You're paid either via PayPal, or amazon gift cards.
It's a simple system, unlike some sites with large gift catalogues, but that's not necessarily a bad thing and it's good to have a straight up cash paypal option.
In the US, you need $12.50 to withdraw – which is a reasonable limit, considering some sites are much higher than this.
Survey Site Popularity:
Survey sites are extremely popular and having signed up to and reviewed a whole bunch of them, I also know that despite their popularity, complaints raging against survey sites is huge.
People hope to make a little money in their spare time and think survey sites will be an easy low-effort way of doing it.
but no survey site will get you any sort of reasonable side income.  They take up a lot of time and rewards are minimal.
That said, if you're totally set on survey sites, some have marginal advantages over others and I will recommend some later in this post.
Complaints Against Quest Mindshare:
There are a great deal of complaints against this survey site and many appear to have been more frequent in recent times.
Alarmingly, one person claims that money has been repeatedly taken from their account.

Other complaints resolve around customer service and delayed payment – sometimes with emails not being answered despite multiple attempts.

Poor customer service is an extremely common complaint with survey sites.  It seems that often, just not enough staff are taken on to deal with the sheer volume of complaints or queries that come in.
Naturally, many complaints also surround the high volume of surveys that you can't qualify for – and also the lack of surveys available.
Pros Vs Cons:
PROS
Easy sign up, free to join.
IF you happen to qualify, some surveys pay more than many sites.
PayPal and Amazon payment options.
Low Payout Threshold.
CONS
Disqualification rates are high.
Unreasonably long profiling section, (that I'm dubious does any good!).
No compensation for not qualifying for surveys.
Many complaints relating to: poor customer service/lack of or slow payout/not-qualifying for surveys.
Survey Sites And Scams:
There are a lot of survey site scams that actually charge you to sign up to their service, claiming you can make thousands of dollars per month just by entering surveys.
Then all they do is give you access to a database of surveys that are completely free to sign up to and find for yourself on the web.
Scammers know there is big money in survey sites – people want to get something for nothing.  If they can make you believe you'll get rich doing next to nothing, they'll make a great deal of money, (and do).
Some survey sites also try and capitalise on this idea, by claiming you can make a lot more than you really can.
Others are completely transparent about it and it still doesn't stop thousands of people flocking in to spend hours of their time for peanuts in pay.
Ultimately, survey sites are not a good way to generate anything more than a bit of pocket money on the side – and even then, the time spent and wasted can be huge.
If you still want to give some survey sites are go, there are a few that I prefer…
Swagbucks

– my top choice, because you can earn money just by using their search engine and many other extra ways.
Prolific – One of my new top recommendations survey wise because, they don't screen you out and pay much better than most!
Prize Rebel – Quite similar to Swagbucks in nature.
Other ways to make money online:
There are a lot of programs on the web that promise to teach you how to make money online – many have hyped up, over inflated income promises and overnight riches type claims.
None of the legitimate ways to make money online lead to overnight success – but if you gain the knowledge and have the right tools to make it work, it can certainly be done.
You can start learning for free here.
I hope you found this review useful – have you had much experience with Quest Mindshare?  
Leave me a comment below!
All the best….