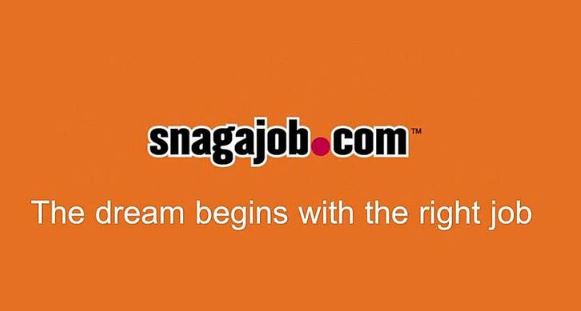 What Is Snagajob.com About?  A Scam, Or Legit Company?
Fake jobs are everywhere on the internet.
If you keep a look out, you'll often see things pop up all the time – jobs advertising that you can earn thousands from home, for example.
There are many job listings online that are a scam.  Sometimes they may just be after your personal details, at times they will ask you to pay a fee for something and at times, it could even be a case of identity theft.
HOWEVER, this isn't what we're looking at with snagajob.com
…and while some people have claimed it's a scam, I don't believe it is, (I will explain why as we go on…).
Just because it may not be a scam though, it doesn't mean this company doesn't face it's fair share of problems and there are also some things you should be aware of, before you consider signing up.
So, read on and I'll dig in…
>> Have you considered making money online?  Try out this community free.
What Is Snagajob.com?
Snagajob was created in 2000 by Shawn Boyer.  This website is for people job seeking in the US and also for employers to advertise for employees.
Snagajob has millions of registered users and what's more, hundreds of thousands of jobs get posted every single month.
So, this company has already been around for a good stint of time and of course, with a company that's been around this long, you're bound to get some negative feedback.
What's more, with hundreds of thousands of jobs being posted every month, that's a lot of jobs to keep track of – so, it's understandable that some dodgy companies or posts may get in there as well.
This may be something they need to improve on.
Even though there will be complaints, it's certainly worthwhile checking out the nature of those complaints, so that you're aware of what potential problems you may face.
How Does Snagajob Work?
Snagajob works just the same way as any other job searching website – where both workers and employers can be matched with relevant jobs close to them.
If you're an employer, you will create an Ad regarding the job in question and you'll pay a fee for your Ads.
The person seeking employment can create a profile and then search for relevant positions to apply for.
The employer can also search the job boards themselves, for employers that may be a potentially good match.
The price employers must pay to advertise ranges from $89 for 1 Ad, to $375 for 5 ads.
However, this is a very sizeable website, so you're potentially getting your Ad seen by millions of job seekers.
That being said, because there are so many people on this site, it also means that the competition for jobs is extremely high.
While there is a wide variety of jobs on offer, they appear to be on the lower end of the pay scale.
Snagajob.com Complaints
When I checking out snagajob.com, I discovered that it was not accredited by the BBB, (Better Business Bureaus) – it was given a D- score on the website.
They'd only received 1.2 stars and there had been no responses towards 5 different complaints against the business, at the time of writing.
Because Snagajob.com has an affiliate program, some have suggested that affiliates try and get people to sign up by suggesting that there is a suitable job post for them available…
Only to find out – that no such job post exists.
See a snip from a complaint below.
Common Complaints:
Having sifted through various sources, the same sort of complaints come up time and again.
Some of these include:
That many have applied for all sorts of roles that they felt they were more than qualified for, (sometimes hundreds) and had zero luck.
Some people had suddenly had an increase in SPAM since signing up, from various sources.  Some have suggested snagajob could sell on your details to third parties.  Spam has included telemarketing calls.
Some jobs have been discovered to be outdated, fake, scams, or simply to not actually exist.
Advertising for non-existent jobs, (e.g) long after a business had already closed down.
Many of these issues seem to boil down to issues that Snagajob have ensuring that all the jobs are real and above board, (which would be a difficult task with so many posted) and also organising the board to ensure it's up to date.
Employers claim that one of the biggest problems of all is the market itself, the job market is too over saturated.
Employers have said they get thousands of applicants PER job.  
So, it's little wonder that so many people don't get any response.
Still, some people do claim to have applied to hundreds of jobs and understandably this would feel like a massive waste of their time.
This can be a problem with job sites in general now – the bigger the reach a job has, the more people are going to apply.
So, What Should You Do?
If you go an check out the individual companies for yourself, you may have a much better chance of landing a job.
For example, my husband saw a job posted online a couple of years ago and rather than applying online – he found out about the company and called them up directly.
He then proceeded to tell them why he thought was the ideal candidate for the job!  He was offered an interview the very next day and hired right away.
The point of my telling you this, is that sometimes you just have to push the boundaries to get what you want.
You don't need to apply directly through snagajob, you can contact the relevant companies and apply direct – call them up and sell yourself.
There will be times that it won't be possible – some companies will only accept applications directly through these job boards, but you can find out.
Snagajob certainly has some problems, but their responses to customers suggest to me that they are really trying to improve their website and overall user experience.
What I would say is that it's probably best not to rely on it as your ONLY job search method.
Overall, there are mixed reviews.  I don't think snagajob.com is a scam but that certainly doesn't mean you won't find scam jobs posted on there.
It's best to tread cautiously and check out the companies you're going for prior to applying – and don't expect it to be quick!
What's been your experience with snagajob.com?  Let me know in the comments!
All the best….