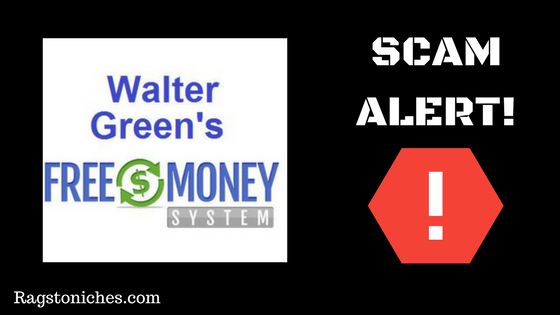 What Is The Free Money System By Walter Green? – Just Another Trading Binary Options Scam?
Walter green's free money system, is also known as free millionaire blueprint.
He claims in the introduction video to have created 152 millionaires, with this done-for-you, hands-off system.
I like how he added the extra "2" on the end there, to make it that bit more believable.  As though, 150 would somehow not sound legit!
Right away, on come the testimonials from paid actors telling you how quickly they became millionaires with the free money system.
You better hurry though, there are only just a few spots left….
Of course, you can come back whenever you like, they'll still only be those few spots remaining, they just want you to feel there is a rush to sign up.
In this review, I'm just going to make you aware of the reality behind this system. Then, at least you can go in with your eyes open.
Program:  free money system or free millionaire blueprint.
What is it:  Trading binary options.
Cost: As usual with these systems, it's "free," to join, but you actually need to deposit $200 to start. Plus additional costs.
Creator: "Walter Green," (an actor).
Overall score: 0/100
I've seen a lot of programs just like this one – they try and appeal to people who have been scammed before and tug at your heart strings.
"Walter," talks about how you've probably signed up with other programs in the past and now his heart goes out to you, because clearly you've been led on a wild goose chase so far…
To have any inkling of what all this is about, you'll need to watch this entire video, which is packed to the brim of enticing promises.
It seems like the solutions to all your problems in one swoop.
The video is around half an hour long, it's certainly shorter than some similar videos I've seen, (one I saw a while back was almost an hour…).
However, the content of the video itself is very simlar to other similar programs.
The guy speaking in the video is the apparent creator, who has generated $189 million in pure profit in just the last 90 days…
So, he's proclaiming to be someone you certainly want to pay attention to if you're after quick cash – because he claims you can make millions just by clicking a few buttons, with no experience…
Sound familiar at all?
You'll be greeted with quotes like the one below…
this is standard stuff, they try and reel you in and relate to your hardship and then do exactly what they're talking about, scam you out of your money.
All the people in this video are actors.  The video is a work of complete fiction.
It's understandable for some people who are perhaps desperate to make money, that they can fall for these videos and sadly they do, every day.
I struggle how some of these actors can bring themselves to front a clear scam.
If you want to know this for sure, you can just click on the disclaimer at the bottom of the screen… it's in the small print underneath the video.

But they're hoping no one actually reads the disclaimer an since the video is claiming you can become rich for free, people may think it's worth it – what's to lose?
It's not actually for free though.
Once you've actually given them your email address, (which will be sold on, so you'll be bombarded with more get-rich-quick schemes) you'll learn that you need to deposit at least $200.
That won't be the only fee you pay either, that's just to get started.
Trading binary options is not a scam in itself, but a mass amount of scams have swomped the internet using trading binary options as a front for their scams.
In simple terms, trading binary options is concerned with predicting the value of stocks and shares – essentially where you predict whether stocks or shares will rise or fall and there is a high risk element involved.
Well, the free money system even openly declares it's a risk in their disclaimer…

Always read the disclaimer before you sign up to these programs – because you are bound by it if you sign up.
Walter green claims to give you $500 if you're the first of lucky 7 to sign up… but that's a lie and you won't be getting any of your money back if you lose it, it says in the disclaimer to not spend any money you can't afford to lose.
You can also find "more info," if you scroll down to the bottom of the screen.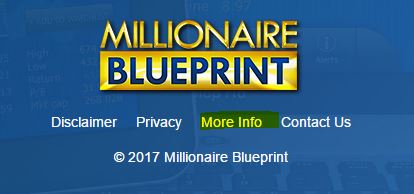 In the "more info," you can find that they tell you they bet the average person  doesn't have any success with automated systems or any how-to related online trading courses.
A pretty different story being told from the video, isn't it?
Ultimately, with trading binary options – you make a prediction for a certain amount and if you're right, you'll win.
If you lose, you lose your money – and that's that.
While you can make an educated guess, if you have some experience, but it's still going to be a gamble and you don't want to be playing with money that you can't afford to lose.
There are automated programs that can do the predicting for you and this automation, is often what these scams tap into- unfortunately, binary options trading robots are not the gateway to overnight millions either.
When You Join The Free Money System:
When you get access into the free money system, you are able to choose which binary options brokers you'd like to sign up to – this includes XB24, anyoption, or GTOptions.
Whilst these are legitimate online brokers, they will also have an affiliate program which will pay a commission to people bringing in new sign ups…
so, the free money system creators will benefit from any money you hand over to the brokers.
They will get more money, every time you make a deposit. Therefore, they're going to be making considerable profit from anyone who signs up.
But because the free money system targets people that have no idea about trading binary options, they're going to need help.
Walter green calls his team of experts his "dream team," who he says have been trained in the system and making millions and that these people will maintain your account and do all the work.
Because… apparently he can't sleep at night if people are losing money with his system!!!!
Remember, it makes no difference to them if you win money or lose your investment – THEY will still be making money from you regardless.
It's also mentioned that there is a 95% win ratio… this is complete BS! You can never make those claims about trading binary options.
Be careful because they will also suggest it'd be better if you invest considerably more than your $200.
Your chances of becoming a millionaire with this program in the next 90 days – with $200 – is zero.
There is a far higher probability that you will lose your $200 and feel encouraged to invest more. This is just gambling, pure and simple.
Scammers online target people desperate for money, they will absolutely play on your own insecurities, fears, worries – and hopes!
Keep your $200 and move on.
---
So, What Should You Do?
If you're desperate for money today, looking to make money online is definitely not the answer.
Depending on how you do it, making money online takes time and work – and it's rarely quick.
If you do want to make money online, get your finances in order first – get a regular job, or a part time job and look to making money on the side.
It can come your full time occupation one day, but it's not something to go into when you're desperate – then you just end up losing more money and making the wrong choices.
Take the pressure off first by bringing some income in – and then start to work on it. That's the best advice I can give on that front!
I make most the most money online right now via affiliate marketing – and I learnt all about that over here.
Do you have any experience with this FREE money system? I'd love to hear from you!
Please leave me a comment below.
All the best…