What is too damn easy – a scam? Is it even legal?
I will strive to answer these questions and more in my "too damn easy" review… is it really so damn easy?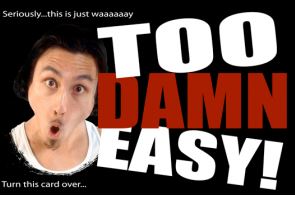 Product: Too Damn Easy!
Creator: umm… Q?
Price: $2000-$18000… whoa.
Overall Rating: 0/100
Review In Brief: In a previous post, I talked all about cash gifting and whether they are scam programs.  In my opinion, they're nothing more than pyramid schemes – their legality therefore is completely questionable and the idea that some of the cash you make is "tax free" is also extremely dubious. There are sustainable ways to make money online – this isn't one of them.
So, what is so damn easy anyway?
So damn easy is a cash gifting program that relies on you trying to get people to send you a gift of cash.
You initially have to send the person who invited you a cash gift, you then need to invite people under you, who give you cash gifts and so on and so on…
Ways that you may be trying to get this cash will include things such as – sending out "so damn easy" postcards with your personal referral link on!
What would you make of a postcard like this dropping through your door… would you be scrambling to give away your cash?
The buy ins range from $2000-$18000.  So, before you have made a single penny, you have to give a minimum of $2000 to who ever referred you and hope you can get people on board.
When you first go to this site, the initial video shows you the mysterious creator of this program, (who never shows his face) called Q….
The head title claims that it has "yearly salaries delivered daily – by courier…"
He claims to have made $80,000 in his first ever month of doing it and has since made over $400,000 in a single month.
He also boasts that his cash system is unlike many others, (that are failing) because he has 19 years worth of experience and has made millions of dollars….
…ok…  it certainly looks a standard cash gifting scheme to me!
He's counting his big wads of money for you and this is meant to entice you in here to believing making masses of money is oh so simple.
Why It's Not So Damn Easy…
Do you think regular people have $2000-$18000 just laying about ready to give to you in cash?
Who are you going to try and recruit – people you don't know?
As one of the alternatives to recruiting people you already know, there is a postcard system.
These postcards have details of the program on it and you can get them to send in the mail to random people, with your referral number on it.
How many people are going to trust and unknown person sending them a dubious looking postcard in the mail?
What about… your friends and family?
You know, these days people are far more cautious and clued up about scams.  That doesn't mean people don't fall for them, they clearly do or else they wouldn't exist at all, but generally a lot of people are cautious.
It will be extremely difficult to convince anyone at all to take a leap of faith and just hand you over $2000.
You may also have been tempted initially to pay more – because the higher you pay, the higher percentage you get for recruiting others on to the program.
Ultimately, however if you want to make money on your own – whether that's through an MLM – building an online business using affiliate marketing  – or maybe selling your own products –  you need to work damn hard at it.
Even in the case of cash gifting schemes, it's the same thing.  It would not be easy to make money with this, not by a long shot.
If you're going to have to work your butt off to get anywhere, you'd be a lot better off putting your effort into something that is legitimate and ethical- as well as sustainable.
Video Of Cash Opening in too damn easy….  "cash proof"
note: I do not recommend this program whatsoever!!
Who does Too Damn Easy target?
In my mind, I imagine too damn easy will be primarily attractive to a couple of types of people.
The way they market themselves would definitely appeal to young people – some younger people may never have heard about a pyramid scheme and be less aware of scams.
They could easily be susceptible for falling for this sort of program – the promise of "EASY CASH" would be a big draw for many.
The second type of person would be someone who is in a dire financial situation – perhaps someone really badly in debt, someone who has lost their job, a single mother who needs to support her kids – someone who is just desperate to support their family in general.
This program will appeal to vulnerable individuals and sometimes people can be so blinded by the hope of receiving large amounts of money that they fail to see the risk – until it's too late.
What Do You Get With Too Damn Easy?
When you sign up, you'll need to read an ebook that's sent to you and you can listen to some instructional audio.
You're basically informed how cash gifting works and how their postcard element works.
The ebook is 25 pages long and will explain their compensation plan.  There is no product or service that you will be selling here, you're literally going to have to fork out cold hard cash and work at getting people to do the same for you.
Do you honestly think people will gladly hand out that sort of cash – with no promise of getting anything back?
Some people somewhere have got to have done this, but it's not going to be an easy sell is it!  Is this really how you'd like to make money?
Giving $2000 away in cash to a complete stranger, is quite a stretch for the imagination – but $18,000?!  What person in their right mind would do that?
PROS VS CONS
PROS
I can't think of one single PRO to joining a program like this.
CONS
Clearly all the signs of a blatant scam.
Will potentially cost you thousands of dollars.
Will not be "damn easy" at all – it will be "damn hard."
Do not think any cash you do make is classed as tax free because it's a "gift.."  – a cash gift can only be considered so if you expect nothing in return.
The owner doesn't show you who he really is, the mysterious "Q" is just a voice with no information about the man behind this voice.
Conclusion:  Is Too Damn Easy A Scam?
Too damn easy is really nothing short of a pyramid scheme – pyramid schemes are illegal in many countries around the world.
"cash gifting" is meant to some how side step certain legalities by claiming you're giving "cash gifts" and that therefore any money you receive is tax free, (up to a certain amount around 12k – even though Q clearly claims you can make considerably more than this…)
but since these are in no way a cash gifts in the traditional sense, it's not true that this is tax free money.
By participating in the program, you are in some sense conducting a business, you are trying to get people to give you money – you are not giving selfless gifts with no hope of receiving anything in return.
You could really land yourself in hot water if you do start making money with this sort of system and do not declare your earnings.
Although, your chances of actually making any money at all doing this is very low – in all probability you will simply lose your investment.
In my opinion, it's a scam of a very basic kind that's been around in various forms for many years.
There are various ways you can start your own business or start making money online without placing your hope in scams and get-rich-quick schemes.
You'll need to work for it – but that's just the reality of starting any business.  Click here for my #1 rated training program.
Have you had any experience with "too damn easy?"… leave me a comment below!
All the best… 🙂