Wouldn't it be wonderful to get paid to eat? Well, if you're dedicated to the cause, you kind of can get paid to eat in various ways.
They're not all things you can just waltz into, but with some planning, you may just be able to get paid to do what you love and sample all kinds of delicious delights.
Let's dig into 10 different ways you can get paid to eat!
1/ Eat for cash on YouTube?
There are lots of food related channels that you can create and not only can you get freebies sent to you by companies, (when you have a popular channel) but you can also get paid in other ways.
I do recommend that you have a blog in addition to YouTube, because this can open up much more income opportunities.
You can also drive visitors to your website via YouTube, by linking to it in your videos, or your description.
As well as the obvious ways people create food channels, such as by cooking, sharing recipes, sharing what they're eating, or reviewing food-related products…
There is also a craze in Korea where people eat food in front of an audience! The YouTuber in the video below doesn't have far off a million followers….!!!!
There is so much food there… And while it makes me feel quite sick, hey… Some people are clearly really into this kind of stuff!!!
YouTube is owned by currently by Google and you can also run Google Ads on YouTube, which is how many big channels make money….
But it's not the only way and you do need many thousands of views to make good money off Ads alone.
In addition to Ads, many YouTubers need to boost their income in other ways, such as via sponsored videos and affiliate links to products they recommend, (where they can earn a commission if you buy).
2/ Food Studies:
perhaps not as glamorous as some options… However, food studies are being conducted all the time and for a variety of reasons.
For example; some studies will be conducted about certain benefits, or pitfalls of eating certain foods regularly.
These sorts of studies are usually going to be found via Universities and Colleges.
Contact local universities to you and find out about how you can participate in particular research they may be doing.
Again, this isn't going to be a high paying opportunity, but University studies will normally at least pay for your expenses.
My family once participated in a University study and we were able to take our family out for a meal, including drinks and had a night in a very nice hotel – all included.
We were also given money for expenses, such as our travel expenses AND you can feel good about the fact you're participating in useful research!
3/ Be A Chocolate Taster:
You might think that to be a Chocolate Taster, you need some professional experience.
Well, yes often that can be the case – but not always and it may be worth keeping a look out for opportunities.
For example; Cadbury were looking for part-time chocolate tasters to give their opinion on a new product.
They were looking for regular people, like you or I, not professional tasters!
That particular job naturally came with some restrictions…
For example; You needed to be able to get to Wokingham, (a town in the UK, around an hour from London) and they didn't want to take on people with allergies – as potentially nuts, gluten, etc, would be present.
But that's it! No specific experience required.
PIN ME FOR LATER 🙂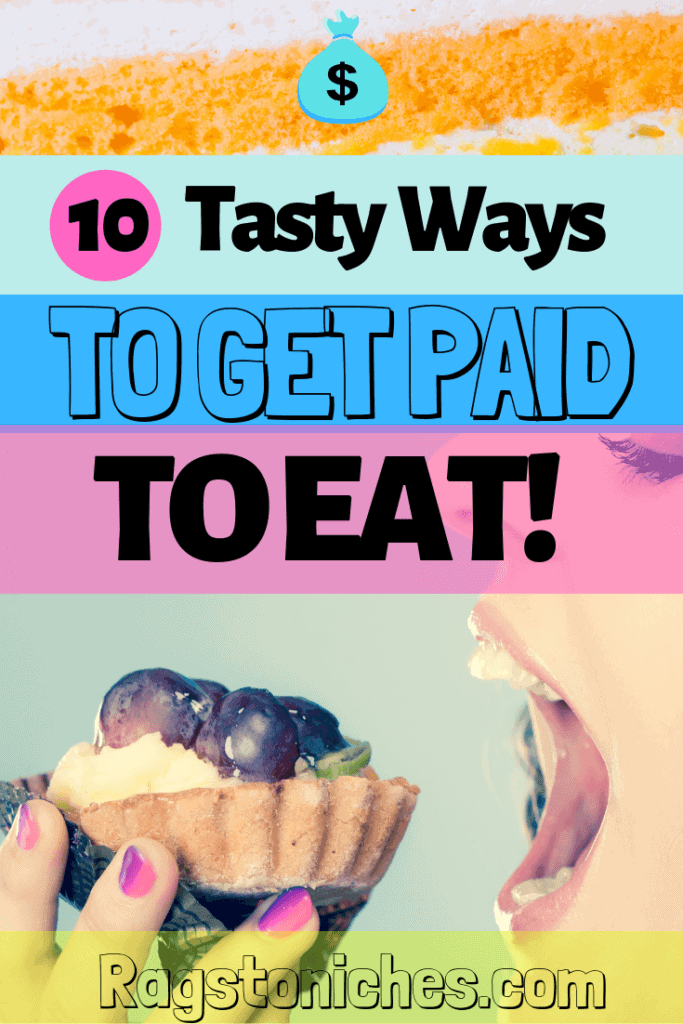 4/ Become A Food Tester:
You will need to have particular skills for this one, such as having a good pallet and much like the chocolate tasting job, allergies are going to be a no-no as well.
You can get some "taste testing," opportunities from companies, but this will often involve freebies rather than cash.
Most fully fledged food testing jobs are going to be on a full-time basis – there are rarely casual opportunities in this line of work.
Many food tasters will have an education in Food Science, or could also have worked as Chefs previously.
Did you know… You can even become a Pet Food taster... yes, humans need to taste the food and apparently, it pays pretty well.
But, I'm guessing that's not the type of food tasting YOU want to do!
To become food taster, starting off with a food related degree is common, whether that be nutrition, food science or similar.
You could consider an after degree certificate program more closely related to the field; if you haven't taken food science, or a closely related topic.
Just be aware that food tasting isn't always all it's cracked up to be!
Many food tasters actually spit out the food instead of eating it all & you can get bored very quickly, if you're continuously eating the same type of products.
5/ Mystery… Eater?
We all know about Mystery Shoppers. But did you also know that some people are paid to visit restaurants and report back on what they find, much like Mystery Shoppers do?
How much opportunity there is for this, is going to vary considerably on where you live.
It goes without saying, big cities are going to be your best bet here. Also, you need to be careful, because there are lots of scam sites online claiming to provide "Mystery Shopping," related work, or even people giving away freebies.
But, many are trying to get hold of your personal details, to sell on to third parties and this will lead to a vast amount of SPAM.
What you actually get is going to depend on the company… It may be that you just get your meal, drinks and expenses paid for, In other cases, you may get a fee on top of this.
To learn more about Mystery Shopping in the US, you should check out MSPA Americas.
If you're in the UK, US, or Canada, A great company I have just discovered, (and signed up for myself) is Mystery Dining by HGEM.
They operate in various locations; but you should be able to join from many locations in the US and you can also join from many locations in the UK as well. Your best bet is just to go and see if you can join.
If you're in the US, Canada, or UK – you may also want to check out some regular Mystery Shopping companies, where you may able to also get some restaurant-related missions.
6/ Eat Out, (Or In) And Get Cashback:
this may not exactly getting paid to eat, but you can get a discount on what you ARE eating, which I think is certainly worth taking note of.
This may only be a small percentage, but it all adds up. In the US, Ibotta is a popular cashback App.
The Cashback website & App I use most frequently, is Swagbucks, (get a $5 sign-up bonus here) and I always get Swagbucks when I order food, via Just Eat.
By saving up Swagbucks, you can also redeem your points for various food & drink establishments – so, then you can really eat for free.
You can also check online for vouchercodes, which will usually have some really good deals happening – such as 50% off, or 2 for 1.
Another good place to look for restaurant deals, is Groupon – where you can often get big discounts on set meals, in a variety of restaurants.
7/ Restaurant Critic/Reviewer:
While you don't just walk into being a restaurant critic, there is a way you could put yourself in the right position to be one!
One way of doing so, is to set up your own blog/website and start writing reviews for restaurants in your local area.
Once you have a bulk of work to showcase, you can approach newspapers and magazines with your work and potentially do Freelance work for them.
You would also have a good amount of work in your portfolio, to start pitching for writing jobs online.
You could approach other foodie blogs that could be potentially looking for content writers, or pitch for jobs on platforms like up work.
Check out 10 ways you can start a freelance writing career.
8/ Start Your Own Food business:
While this may involve a lot of making and selling food. Inevitably, you're going to get to do a LOT of tasting too! 🙂
While you could certainly eat plenty of food being a Chef, or a caterer, I'm thinking of a slightly different situation.
I'm talking more about becoming self-employed and starting your own food stall, or portable food business.
More and more people who have aspired to having their own restaurants, have decided to go down this alternative road, as they overheads are so much smaller and therefore, your profit margin can be higher.
You wouldn't need to pay the large rent you'd need to lay down for a restaurant space….. And you also don't have to pay for a large number of staff.
In addition, if you had a portable vehicle – you will also have the chance to change locations.
This would additionally provide you with a lot more freedom in your business & in your life!!
During the week you may be at one location and during the weekend, you may be at a music or food festival!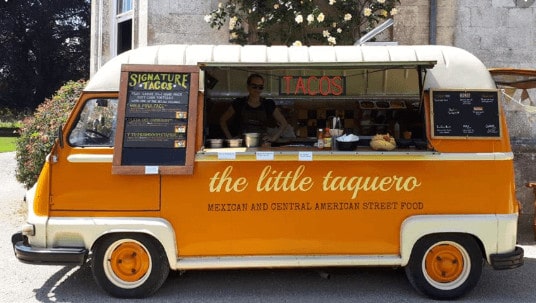 9/ Extreme Couponing:
Again, this isn't exactly being paid to eat – although it can mean that you can eat a lot of things entirely for free.
How effective this can be for you, is also going to vary depending on your location.
This does take a lot of dedication and work, as will involve spending hours seeking out coupons from magazines, newspapers, online and so on and using them in the best way you possibly can.
This was idea was brought more to the forefront by a US TV program aptly named: "Extreme Couponing."
The series showed how some extreme coupon crazy fans, could walk away with hundreds of dollars worth of shopping, for next to nothing!
If you would like to start seeing if you could make money in this way and get some freebies, there is plenty of help online to steer you in the right direction.
10/ Food Blogging:
I mentioned blogging above, but having a food blog can come in so many shapes and sizes now.
Rather than having a general food blog, (which will make it VERY hard to stick out these days) niche down into something more specific.
For example; a particular type of cuisine, a special diet, or appealing to a particular type of lifestyle… (diets for runners, or weight lifters; for example).
This type of work is going to involve plenty of eating, as you'll no doubt be adding recipes to your blog.
But once your blog is established, you can get a lot of freebies in this line of work; as well as doing sponsored posts.
For example; a company could pay you to visit their restaurant and write an article on your blog.
They may ask you to taste test their products and write a review of them on your blog.
There are many other ways you can earn from a blog too, as well as paid advertising, affiliate marketing, email marketing and your own products.
What Other Ways Can You Get Paid To Eat?
If you have any other ideas, I'd love to hear them! Let me know in the comments below.
While I don't get paid to eat, I do make money online & that pays for my food bills and plenty more. I first got started here!
All the best,