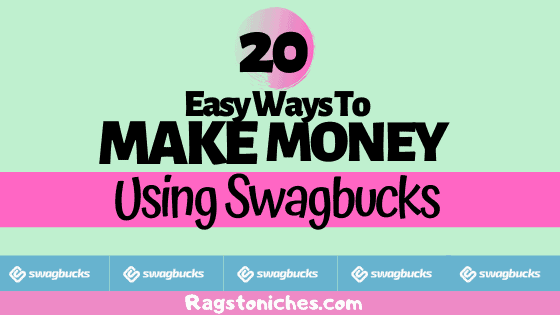 I've been with Swagbucks for several years now and it continues to be one of the best rewards sites out there.
Swagbucks is a website that allows you to earn points, (called "Swagbucks,") when you complete various activities.
Some of these include things like…. shopping, browsing the internet, watching videos, playing games, etc.
Each point is approximately one penny; thus, 100 Swagbucks are equivalent to $1.
At the top corner of your Swagbucks homepage, there is a counter that indicates your overall points.
Unlike many rewards sites, the points you acquired do not expire for two years, (some sites only allow you you save points for a few months).
Swagbucks has been in operations since 2008, and over this period, it has paid millions of dollars to its users.
Signing up is entirely free and you can even get a $5 sign up bonus for joining here.
Let's dig into 20 simple ways that you can make money with Swagbucks
1- Use their search engine:
One of the easiest ways to earn from Swagbucks is to use this site as your default search engine.
Instead of using Google, Yahoo, or Bing, switch to Swagbucks and earn some points as you browse.
Yahoo supports this site; thus, you don't have to worry about the quality of the search results – they're pretty similar to Google.
How many SB you make is totally random and you won't win SB EVERY time.
However, it's a great hassle-free way of collecting Swagbucks, without even trying.
2 – Watch videos:

Imagine earning some bucks while just watching videos?
Ok, it's not like you're sitting down to watch a blockbuster and earning tonnes of SB…
But you can make a small amount of Swagbucks watching mini videos on the website.
The type of content to view varies depending on what has been uploaded on the site.
For example, you may get some viral clips, adverts, news content, etc.
If you find some of these videos uninteresting, you can keep them playing in the background as you handle other stuff on the site.
You can expect to take home 2-3 SB points after watching each playlist, which ranges from 15-30 minutes.
The maximum SB one can make by watching videos is a maximum of 150 SB per day, so this isn't a big earner, but it is easy.
3 – Download Apps:
You can also earn by downloading some free apps from Swagbucks.
Many of the Apps you can download are mobile games and in order to get the SB, you'll have to reach a certain level in the game, or have the app installed for a period of time.
You will only get rewarded after you've successfully installed these apps on your mobile phone and completed the given tasks correctly.
After you've received the SB points, you can go ahead and delete the app if you don't need them, but the points you've earned will not vanish.
If you're someone who likes to discover new apps and play games on your phone – then this is a great choice!
Playing games on your mobile can hardly be considered, "hard work…"
4 – Playing mobile and online games:
If you consider playing games on your phone a hobby, you can get paid to play Swagbucks games both online and on your mobile.
You can play the dedicated Swagbucks games, but these only give you 10SB each.
There are then some others you can download for more, but then, (as above) have to reach a certain level.
For example; you can download a dedicated Swagbucks game app such as Swagbucks Live, Which is a quiz app that allows you to earn Swagbucks by competing on live trivia games.
If you make it to the end, you get the chance to share the final prize that is about $500, but you'll be eliminated if you get any go the questions wrong.
Since some of these questions can be difficult, it is not easy to get to the final round, but fortunately, you can buy your way back into the game using your own SB's.
5 – Surveys and polls:
Another excellent way you can utilize to earn via Swagbucks is by filling out a few surveys and polls.
This is a task you can do each day and it doesn't take much time to accomplish, in about 3-20 minutes you can fill out a survey that can earn you 40-100 SB.
The daily polls, on the other hand, usually take about 2 seconds to complete, earning you some extra SB.
There is a large number of surveys to choose from and this is probably one of the most popular ways to make money – not just on Swagbucks – but online in general.
The problem with survey panels, is it can be more difficult for some people to qualify than others.
If you do get accepted on to a survey, just be very careful not to give contradictory answers – this can be a sure way of getting thrown off.
6 – Signing up for subscriptions:
You can also decide to sign up for a range of subscription offers to make money.
These offers include free video, music, or online gaming subscriptions; only subscribe to offers you consider relevant.
Although most of these subscriptions are free, you may also subscribe to paid versions.
When signing up for these subscriptions, avoid the costly ones or offers you may have on interest in.
Be cautious if you sign up to any free trials, as you will need to cancel your subscription before you get charged and it's easy to forget.
Signing up for subscriptions is one way to make the most Swagbucks on the platform – especially when some deals involve making a deposit.
Obviously, it's pointless to sign up for something you don't really want just for SB's…. But if there IS something you want, go for it!
7 – Refer friends and family:
Swagbucks offers a referral system that enables users to earn some SBs by referring their friends or relatives.
This is an easy way of making money from Swagbucks without even having to spend much time on the site.
After referring a friend, you're guaranteed to earn 300 SBs if the individual makes 300SBs before a second month begins.
Additionally, regardless of whether the person you've referred reaches their target or not, you're guaranteed to get 10% of the SBs they'll earn in their lifetime.
Generally, you do need to get a lot of referrals to make any reasonable SB's this way – because most people do not remain active for long.
However, I have found that MORE people remain active on Swagbucks, in comparison to some other reward site referral programs I've used before.
8 – Read their blog and watch out for competitions Swagbucks:
Swagbucks keep on updating their blog frequently, which is good to see.
They post news, updates, offers, and other relevant information on their website that will enable you to know of their latest promotions.
Thus if you want to earn more from Swagbucks, it's essential to visit their blog regular and learn of the newest way you can make some bucks.
Every time you visit the website, check the contest category for details on the latest promotions.
9 – Download the chrome extension:
The chrome extension is awesome – so, if you want to use Swagbucks, don't skip downloading the extension when you sign up.
By installing the SwagButton browser extension, you'll get 50SB as well… So, it's a double win.
Additionally, the extension will enable you to get instant notifications about Swagcodes.
The swag codes are phrases or codewords that the company releases periodically to generate hype in the site and get the user to the site's homepage.
The notifications you'll get on your browser notifications will direct you to where you'll get the code.
The swag codes may be on the Facebook / Twitter page or the Swagbucks blog.
Once you locate the Swag code, you'll input it in a box, usually on the left side of the page to earn instant SB points.
10 – Answer daily polls Each day:
on the Swagbucks site, there is a daily poll.
Answering this poll is one of the easiest ways of earning from the site, but you won't make very much for it!
For each poll you participate in, you will only earn 1 SB; thus, if you answer the poll daily, you will have 30 SBs at the end of each month from this task.
11 – Complete your daily tasks:
When you log in each day, you'll find a sit of various categories that have new tasks that you are required to accomplish in the day.
Besides earning points by doing the tasks, you'll also earn extra points if you've completed all the tasks for the particular day.
Additionally, activate your Swagbucks "Daily Goals," button on the page's header and this will earn you extra points if you attain the set SB points for the day.
12 – Join their online sweepstakes:
Participating in sweepstakes on Swagbucks will increase your chance of earning SB points.
If you feel you're lucky to win the sweepstake sign up for the task.
But remember you'll require a few SB points to enroll in the competition; about 2-3 points.
When you enter the sweepstakes, you can be the lucky winner of headphones, smartphones, or even thousands of SB points.
13 – Check your Swagbucks inbox for offers and promos:
Regularly Swagbucks provides some offers and promotions right on your face making it one of the simplest ways to earn on the site.
Always visit your inbox to discover the lasts way of earning SBs n Swagbucks.
The mailbox icon features at the right upper corner of the page.
Every time you log into the site, visit your inbox and get to know what is on offer; remember most of these promos, and offers are time-bound.
14 – Check Swagbucks on a Friday:
Each Friday, the site offers what is referred to as the "Mega Swagbucks Friday."
On this day, the chances of making more SB points are higher.
For example, 1SB becomes 3SBs via the search engine.
This is to say, if you have limited time in the week to watch videos, take surveys, or polls, then Friday is one of the best ways to earn from Swagbucks.
Pin Me For Later 🙂
15 – Use Their Printable Coupons:
Although this is not a commonly used method of earning via Swagbucks, you can get some SB points by printing grocery coupons.
Once on the site, search for the discovery tab, then click on the "Grocery Coupons," to get access to the specific offers.
The maximum payout per day is 100SB, which translates to $0.01 for each coupon printed.
16 – Shop online and earn cashback:
If you're planning to purchase anything online, you can use Swagbucks and earn some points.
Some of the online sites that you can visit and earn points via Swagbucks include Tesco, Carphone, Argos, PC World, Tui, Hotels.com, and Warehouse.
(These will vary depending on your location!)
When doing your shopping online, consider if the vendor is a participating Swagbuck earner.
For example, if you want to book a holiday via a Secret Escape, you can easily access the site via Swagbucks and earn 5 SB for each £1 spent.
Since a holiday will be worth a considerable amount of bucks, you can make decent points that you can later convert into cash or rewards.
17 – Birthday Bonus Once each year:
on your birthday, you'll receive 55 SB discount on gift card redemption.
This discount is redeemable within 30 days of your birthday, thus consider this offer during your birthday and ensure you redeem the offer before it expires.
18 – Play Swago Game:
Swago is a bingo-like game whereby you complete various actions via activating a specific square.
You'll earn bonus points after completing multiple patterns on the board.
By visiting all the sites on the board right now, you can make over 100 SB's.
Most of the tasks simply involve you clicking a link to a website and then activating a Swagbucks banner, by clicking it.
19 – Donate Via Swagbucks!
If you love participating in charity, you can make your donations via Swagbucks and earn some significant points.
For example, if you donate to Mercy Corps, a non-governmental organization that works in alleviating childhood hunger, you'll be earning 4250 points if you give $18 or higher!
A great way to both give to charity & get some additional Swagbucks at the same time!
20 – Go On Daily!
Yep… One of the easiest ways to ensure you make money on Swagbucks… Is to GO ON SWAGBUCKS.
If you make an effort to do some small tasks daily, the Swagbucks will soon add up.
This is made EVEN easier if you have the browser extension installed – that way you can quickly be alerted to any swagcodes and use their search engine without having to visit the site at all.
Make The Most Of Swagbucks:
The bottom line As you have seen, there are many ways you can earn from Swagbucks.
But you must note some methods earn more points than others; thus, you must be cautious when choosing the best ways to make money on this platform.
Since your main aim is to get a few gift cards or some cashback, you should not engage in activities that consume much time yet earn only a few points.
For example, using the search engine is one of the best and easiest ways to earn from Swagbucks, you can also use the site when shopping online to make some considerable savings.
The referral program is also an excellent way of earning SB points; for example – as well as getting 10% of your referral earnings, they also regularl have referral bonuses.
Donating via Swagbucks will also result in awesome rewards – simply by ensuring you donate via their website.
Choose your methods carefully and you'll be exchanging SB for gift cards in no time!
So that about concludes my post for today… Let me know what you think of Swagbucks here.