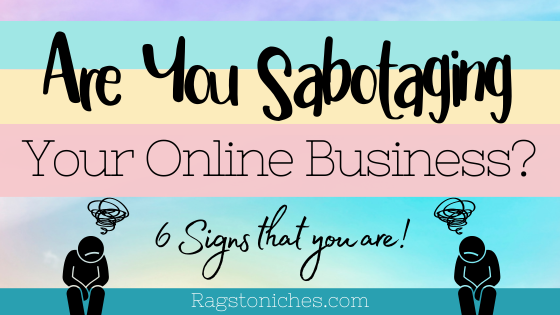 Do you think you might be suffering with self sabotage and potentially sabotaging your online business?
I'm talking specifically KDP here because that is my main source of income these days; but what I discuss here could relate to practically anything in your life that you're trying to achieve.
For me, self-sabotage has been present throughout my online journey and is still very much present today.
It's almost as though, the better I do, the more I have to fight it.
But what is it?
Self Sabotage is basically where you undermine your own success in some form, despite your wish for the opposite and there can be a whole host of reasons why we do this.
In this post, I'm going to outline 6 signs of self sabotage that I am most familiar with. Let me know in the comments if this is something you have had to deal with.
1. Giving Up Before You've Given Things Enough Time
This happens again and again on KDP – but I've seen it in every aspect of online business that I've been involved in.
I've also experienced this myself.
I have given up multiple ventures that I started and quit before I gave it enough time to really see success.
Or I would sometimes take some action or other unconsciously, which would basically mess things up and that I couldn't seem to resolve.
Another thing will be shiny object syndrome, where you let yourself get distracted by something else that seems interesting and let the thing that WAS working really well for you to slide.
2. Getting Stuck in the learning phase
You spend hours and hours looking at blog posts, doing courses, watching YouTube…
Everything you watch seems to lead on to something else.
The more you actually learn, the less capable or knowledgable you feel.
You start to doubt whether you're even capable of doing this at all.
What makes you think you can actually create a book worth buying, (for example;)…. You're not a designer, you're not particularly artistic… why should you of all people be doing this?
Its very easy to get locked in a loop.
Or you can get stuck into the mindset that e.g WHEN you complete such and such a course, THEN you will be ready to start.
Really, you need to learn as you go with KDP.
The best time to start is now and you will only get better with practice and time.
3. Perfectionism & Self Doubt
Do you constantly put yourself down, doubt your efforts and find reasons why you shouldn't be doing what you're doing?
Being a perfectionist can REALLY stand in the way when you're trying to create any type of online business.
The plain fact is, you will not get everything right and you will fail and multiple things. It can be painful and difficult at times to get over.
However, you have to overcome this hurdle.
You have to win the battle with yourself on this one and quite literally force yourself to put things out there into the world that you may not be 100% happy with.
Let's face it… As a perfectionist, will you ever be 100% happy with something you've done?
I can get into the flow of putting things out into the world without overthinking it too much – but every now and again, something small can make me retreat back into the perfectionist mindset.
This is often down to trying to reach other peoples expectations, as well as my own.
Or just over worrying what other people think, rather than doing what I want to do personally.
Then there are the times that you just get STUCK.
Spending weeks or months trying to perfect a project, but never actually putting it out there.
In the case of KDP – we are talking maybe spending weeks on your cover or interior and then perhaps not even using it and starting over.
Or spending weeks on niche research – only to decide a niche is too oversaturated anyway and not bothering to go for it?
I have now got BETTER about putting things out there into the world without being 100% happy with them.
Because the fact is, I will never be 100% happy with anything I put there and I have to get comfortable with that.
Or if not comfortable, I have to at least to cope with it.
And that's really what you need to do.
You might be afraid, you might be full of doubt – but you have to force yourself to go outside your comfort zone anyway.
Because it only through doing this that you learn and grow.
As a very recent example of perfectionism and self doubt – it got in the way of me publishing this very post.
I actually filmed a YouTube video for this post & started writing this post six months ago.
I wasn't happy with the video and let I let it slide.
Then – after six months – I decided to edit the video. I edited it for the best part of a week. But when it came to posting………
Again, I wasn't happy with it.
SO, I decided to just post this blog post for now instead.
There were some technical issues with the last video so, maybe I will just start over anyway. In which case, this post COULD have a video attached in the future.
4. Procrastination
Do you usually wait until the LAST minute to actually get things done?
The problem with this when it comes to online business or working for yourself in general, is there often isn't that deadline looming.
The only ones you probably have, are ones you have set for yourself.
You may have a whole week of plans laid out in your planner – but by the end of the week, you may have got barely anything done.
I can't tell you how many times THIS has been me for the last several months and many times in the past as well.
Procrastination has played a major roll on me simply feeling like I'm hitting a brick wall most days and not seeing the progress I want.
I am always putting things off until the last minute, even when I don't intend to.
I also very much procrastinate around ANYTHING that is out of my comfort zone.
5. You Take On Too Much At Once
Most people are great at focussing on one main task at a time.
So, let's say you're just starting to build your portfolio of books on KDP….
But at the same time, you're trying to start a YouTube channel, grow several social media channels, create a course, start a blog, open an Etsy shop….
(Yes, several of those do relate to me).
There is a high chance you could end up only doing one… two… or none of these things because you get so overwhelmed by amount you need to do.
Because you cannot dedicate enough time to each venture, the progress on any of them becomes painfully slow and you could end up on giving up in a majority of those areas anyway.
I need to learn from my own mistakes here but it really is best to solely focus on one MAIN goal at a time.
What I personally did was concentrate primarily on KDP until I had a good income coming in.
Once you have some books selling well for you…. Perhaps take a break from this and SOLEY focus then on some other task, (such as setting up Etsy, or getting Pinterest set up).
But I would avoid starting anything else until you're getting the results you want from the first thing.
The issue I struggle with now is sticking to just one thing outside of KDP… I am still trying to dedicate time to multiple things, (etsy, creative fabrica, youtube, my blog, updating my free course etc…).
6. You Struggle With Imposter Syndrome….
Let's say you HAVE reached some success in your business, but you feel like it was a fluke.
Surely, this was pure luck.
It's not because of any talent and work that you actually put in……?
The more this type of thought seems to ingrain itself in your mind, the less work you actually do because on some level you're worried you won't see that same success in the future.
Maybe you even feel like your efforts will be a waste of time.
Imposter syndrome tends to effect over achievers and these people often really struggle to feel responsible for their own achievements.
This is something I really struggle with and am presently struggling with as I write this.
In recent months, it's almost like I have hit a brick wall in terms of progress.
No matter how much work I plan to do, it seems that certain tasks are almost never achieved,
It feels as though there is never enough time in the day to do the things I need to get done.
In reality, I will often get distracted and procrastinate on small tasks that will not help me reach the goals I need.
I'm also not prioritising the time I do have.
Edit: This was originally written months ago, but not completed. I since went through a period of taking MASSIVE action, opening my Etsy shop and so on.
But unfortunately, this was swiftly followed by more mental blocks and even not uploading to Etsy in almost a month.
This is just a common pattern for me and something I have to accept will happen from time to time.
I feel like I'm just about to turn a corner again with this and have already increased my productivity. For me, sometimes getting out of the house to work can have a big impact.
Do you feel like you've been sabotaging your success? Do you relate to any of these topics I've discussed? Let me know in the comments!