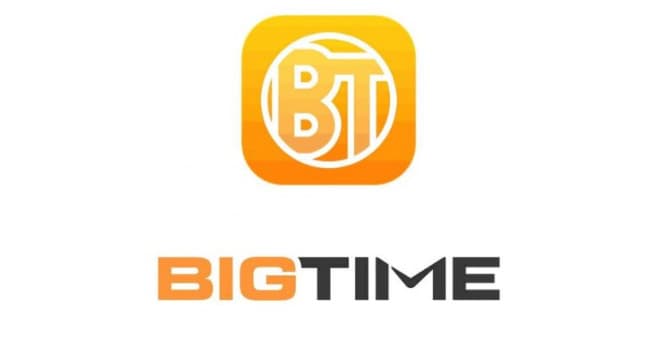 What Is Big Time Cash?  Legit Free Prize Draw Cash?
This app promises to give you the opportunity to make money for free.  But how does it work?  Is this really a way to make extra cash from an App?
Is Big Time Cash Legit?  Or should you give this one a miss…..
Review In Brief:
Download App:  Download from Itunes or Google play. 
Money making opportunity: win cash/just for fun.  Refer friends/family for extra tickets & cash.
Cost: Free to download and play.
Overall Rating:  Legit!  (and fun). This app can pay you for playing video games on your phone. 
There is lots of positive feedback online for this app, (which I will discuss during this review) and you can potentially make money, while having fun at the time. 
What have you got to lose?  This all fine for a bit of fun.  It's unlikely you'll win, but there is always a small chance.
For an extra 2,500 chances to win: use code: MSTTT.
Tip – if you want to make 100's or 1000's of dollars per month, Apps won't work!  You can learn to make more here.
How Does Big Time Cash Work & How Do You Play?
You can sign up quickly via linking Facebook, or by entering your email. 
After this, it runs through how you can win.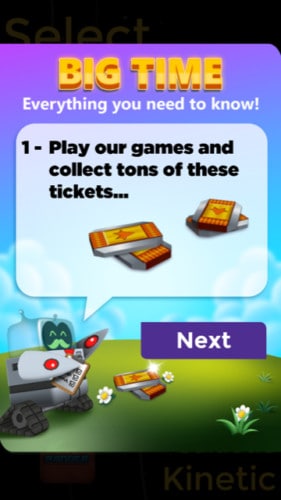 1/You play their games and for doing so, you collect tickets.
2/ for every ticket you collect, you get an entry into their cash prize draw.  At the time of me joining, that cash prize stood at $1675.
3/ How do you win money?  Big Time Cash are simply sharing some of their own revenue with you. 
That money goes into the pot for the cash prize.
Getting Started:
Once you've gone through the intro, you need to select a game.  Some of these games will be locked and some you can play immediately.
As you progress, some of the other games will become unlocked.
I decided to play "Galactic Gateways…"
It was quite a fun game actually, that I was pretty lame at, (I will get better! ;).
I also noticed that they mention, on average, how many tickets each user has into the draw.
Most of the time, when you lose a game and then go back in, you will be shown an Ad.  This is going to be how this App makes some of their money.
So, they will be sharing part of the money they get from advertising, with you in the form of a prize draw payment.
Although, I found I could close the Ad without watching it sometimes.  Other times, you seem to have to wait for a number of seconds. 
It's slightly annoying, but you do also get to see other Apps that you may be interested in.
Tip: Want Extra Rewards? Try Swagbucks!!
Homepage:
If you go to their main homepage, there are a number of options.
You are able to check out some of the past winners, as you can see below.  Prizes seem to be around the $1500 mark.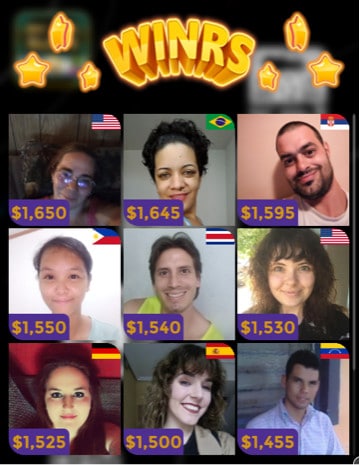 You get the chance to earn tonnes more tickets by performing certain actions.  For example; trying out other games, inviting your friends and watching videos.
Some of the extra tickets are as much as 100,000 tickets + for completing certain offers – so possibly this could up your chances quite a bit.
Although, the one I saw for that amount, was a paid offer, (not free).
Paid offers will obviously pay you many more tickets, but some are free too.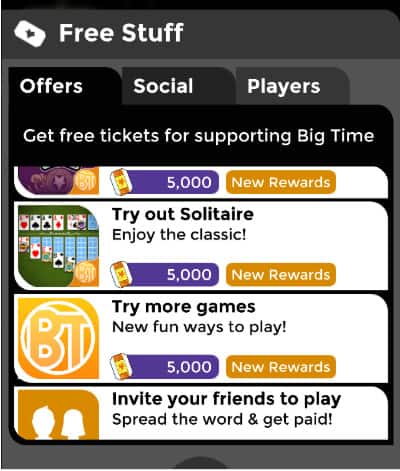 Things like downloading a casino app and adding a certain amount as a deposit, will be highest paying.
Others will be free, such as downloading other game apps and playing to a certain level.
Some will give you thousands for really simple tasks – such as downloading an app and simply completing a tutorial.
For example, I downloaded Angry Birds Evolution for 6,000 tickets and you simply need to install and complete the tutorial, easy peasy.
This can also be a way of discovering and trying new apps, that you may never have heard of otherwise.
I haven't played angry birds for years, but thought this is one that my sons may like to download.
If you have many thousands of tickets, you may choose to save them for a future draw.
There is a little safe where you can deposit your tickets and withdraw them.  Any tickets deposited will NOT go into the daily draw.
You will find this section on the homepage under a ticket icon.
By inviting your friends and family to sign up, both you AND them can get 2,500 tickets and an additional $0.10 per friend.
Yes, unless you have hundreds of friends, you won't make much actual money.  But you can earn extra tickets and that is more tickets into the draw.
On the other hand, if you have a popular YouTube channel, social media platform, or blog.  Then this could be something you could share with your readers and potentially get more entries that way.
Daily Bonus!
When I logged in for a second time today, I was taken to a special bonus page – which you can see below:
I found this a nice little surprise and gives you an additional way to get some extra points, such as more free entries into the draw and various other things.
I actually missed what the bonuses were – they flashed up really quickly, but I will find out again next time and update this post.
What Do Other People Say About Big Time Cash?
There are lots of positive reviews so far about this App.
On Itunes currently, they have 4.5 out of 5 and over 1.2k ratings!!
While people enjoy this App, some reviews are enlightening about the chances of you winning.
In the review below, the guy mentioned how he had a million tickets in the draw at one point. 
The guy that won had a couple of thousand.  So, while you have to be in it to win it – know that even having a million tickets won't guarantee you a win.
Also, this guy has played regularly for three years.  So, don't simply play because you're hoping to win the money. 
If you enjoy the app though, at least you have SOME chance of winning, (albeit slim).
Despite not winning anything, the reviewer below still gave the app five stars and clearly enjoys it.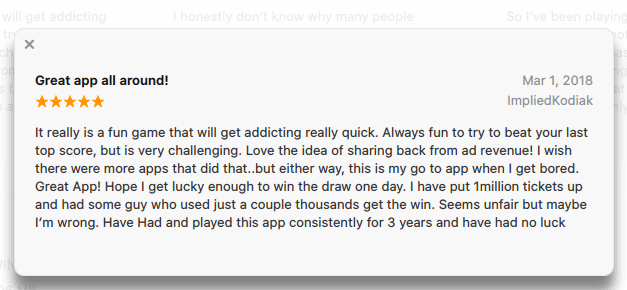 On Google Play, this App currently has 4.6 stars and over 135,000 ratings!!!!  That's an insane amount, especially to be rated so highly.

Get An Extra 2,500 tickets into the draw by using my code: MSTTT.
So, What Is Big Time Cash? Legit Or Scam?
Big Time Cash is a legit app, where you have a slim chance of winning some decent money. 
It is unlikely that you will, but if you enjoy the apps and the games, it's better to have SOME chance than none, right?
This app currently has good feedback online, many people love it. 
The good thing is, it's completely free to try and if you don't like it – you can just delete it.  Easy.
This is one app I will be keeping on my phone for now, because I'm enjoying it. 
If I win some day, I will be sure to let you all know too.  🙂
I hope you found my Big time cash review useful…. Have you won big on Big Time Cash?  I'd love to hear from you!  Let me know in the comments!
Beyond Luck & Apps – Making Money Long-Term?
Many people downloading apps & trying to find ways to make extra money,  don't understand that there is more money to be made online and it's not just by relying on luck.
I relied on luck to some point for many years, as I used to enter thousands of competitions online every month to win prizes & cash and I did really well considering the odds!
But it's not something that I could rely on in the long time and it just wasn't sustainable.
When I stopped entering so many competitions – the wins naturally dried up. 
I wanted to do something whereby I wouldn't have to work all the time and would STILL make money. 
That would truly be making passive income.
Personally I do it by having my own websites online and earning via paid advertising and affiliate marketing.
The great thing about it is, the work you put in NOW, pays you in the future.
I can go away for several weeks if I want, I know I will still make money while I'm gone, even though I'm not doing any work.
I'm not a technical person and didn't have a clue what I was doing when I started, (not at ALL!…)
So, it's something that most people are entirely able to do.
If you're interested in how you could make money in the long-term, you can start learning free here.