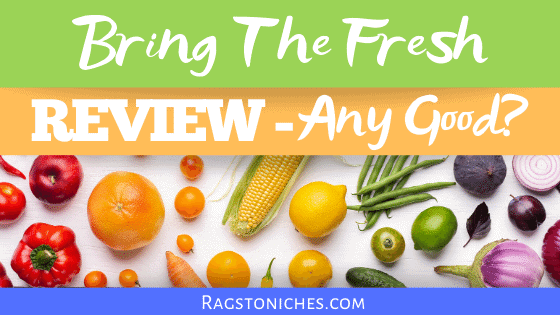 Bring The Fresh is no longer available.  🙁
When I last reviewed this program back in 2016, it had become dated, (as you can see if you read on).  Perhaps there will be an updated Bring the fresh in the future!
Bring The Fresh Review.
Bring the fresh certainly seems to have a bit of controversy surrounding it in more recent times and I'd like to discuss some of this during my Bring the fresh review.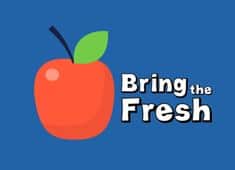 I hope you will then get a decent understanding of the pros and cons to this program and you can then determine whether Bring the fresh is a scam – or a legitimate training program. 
On the one hand,  it should be noted that plenty of people have been very pleased with Bring the fresh, (BTF).
Some have said it's been the first program they tried that actually delivered what it promised – to start making money online.
There was certainly a point where BTF was considered to be an awesome product, regularly updated and full of great information for internet marketers of all levels to get stuck into.
More recently though, there people claiming to have been sold very highly priced upsells, into the hundreds of dollars, only to find the products are inadequate and some claiming they were never refunded.
Later the upsells were said to have gone, but a different price introduced.
Prices seem to have gone up and down significantly – there was a $7 initial trial week option, followed by $37, (which gone by the way) and then there was no $7, but a lifetime membership $197 with no upsells.
And NOW it's gone way back down once more: no longer a $7 intro trial deal, but now $47 lifetime membership.
Are there still no upsells?  I felt compelled to find out.
Please note: Bring The Fresh prices and offers are subject to change, but this is the situation at the time of writing.
Bring The Fresh Review In Brief:
Product: Bring The Fresh
Creator: Kelly Felix
Price: $47
Rank: 75/100
Mini Review:  Bring the fresh is a legitimate and quality product that has a good deal of decent information and advice – however, the focus on some black hat methods, (such as building a private blog network) are risky tactics in my opinion.
Bring the fresh is certainly not a scam, but some aspects are in need of updating.  That said, there is still plenty to take away from this, considering the price tag.
What is Bring the Fresh?
Bring the Fresh (BTF) is a step-by-step training system, which includes both video tutorials, a forum and a PDF document.
BTF teaches you to create websites quickly, that will rank highly in google.
You are then taught how you can monetise that site and start earning an online income through affiliate marketing.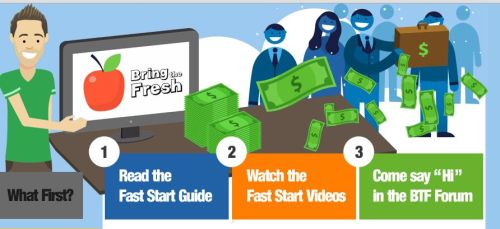 When you first arrive at the BTF main website, you watch an introduction video – the video is animated and very engaging.
It's very easy to relate to if you're a person who has had a hard time so far within internet marketing, perhaps someone who has been scammed or bought into multiple programs with little success.
It would appeal to those who are frustrated which what they have achieved so far, (or haven't!).  Although, there is a little bit of hype involved.
Kelly Felix is known to be somewhat of an SEO master and used to provide regular updates to BTF and was said to keep the program up to date.
However, some aspects clearly had not been updated when I visited, which I will touch on in a bit.
What's the training like?
You are  taught via reading a PDF file that you download, and through video.
The material covers SEO tactics in order to rank in Google, keyword research, alt descriptions on images, H1 tags title tags and their descriptions and a step-by-step run through of how you can build a website from the scratch – including how to set up WordPress and various plugins.
There's plenty of reasonable, solid advice and info here.
The price of $47 seems actually very reasonable for what you get initially, despite having no trial access for a lower amount or for free, (there used to be a trial price for the first week, so it may return).
However, you do get a 60 day money back guarantee.
Still, forking out the initial $47 with really no clue what this system is, won't make you feel overly confident
On Arrival To Bring The Fresh:
When you first arrive, you're meant to access a PDF guide that you can download, which is called "the guide to everything."
Upon arriving to Bring the fresh, you're told you should read the PDF file completely, before attempting to watch the video tutorials, (which basically just support the PDF).

The PDF contains all you need to know, (kelly says) to make an online income.
It does cover plenty of ground, with plenty of info that a newbie online marketer will need to get started.
For example. keyword research, SEO, domain name set up and hosting, niches, ranking videos on you tube, setting up wordpress and a bunch more.
My problem with the training….
The PDF focuses a lot on how you should build backlinks – albeit ones that Google should find to be relevant; but involves some risky tactics, in my opinion.
(some people will not agree with me on that point…  But honestly, you can rank high on page 1 without needing to go down a dodgy backlink route).
The primary way he suggests you will rank your sites, is by using specific backlinking techniques.
Whilst he does say there are other ways to rank your website if you want, (via low-competition keyword research for example) this is his favoured method, as he believes it to be the fastest.
Since Google changed its algorithm, relying on backlinking as your primary route to getting to the top of the search engine would be considered an unwise tactic by many marketers.
Personally, I'd rather attempt to work with google, than work against it.
One reason the problem the whole Google shake up happened in the first place, was due to people trying to pull the wool over Google's all-seeing eyes and cheat the system.
Considering how that turned out, perhaps it's time to acknowledge that there isn't a quick short cut to success – or if you have found it, you probably won't have it for long.
Nevertheless, the prime method suggested for ranking well in Google is based on getting backlinks and creating a private blog network (PBN).
A PBN often involves buying recently expired domains, (that already have some authority/backlinks) and hosting multiple accounts on various IP's and private domains, (so that Google doesn't see that you are the owner of all of them).
The idea is, you make these "other" sites in your network relevant to your niche and can link back to your main money site.
I've read several cases recently of people having there PBN sites de-indexed. Since September 2014, Google has started targetting PBN's and penalising them, so while PBNs CAN achieve fast results, you are also taking a risk.
Setting up a PBN can be costly and also, it's risky.  Going to all that effort, only to have your sites all de-indexed would be devastating.
In my opinion, avoiding these sort of tactics and focusing other, legitimate ways that you can rank your website, is your best bet for ranking your website safely and effectively.
PBN's aside – Since the Google updates, backlinks should be treated with caution.
Many internet marketers now prefer to build up natural backlinks, via social media for example, to avoid being penalised by Google.
Just any old backlink is not going to do your site any good anyway and may well cause harm.  
Kelly suggests buying specific backlinking packages, which I'll go on to in a minute.
I should also mention that some of the links on the downloadable PDF go to pages that no longer exist, which doesn't look very professional…  the website is in need of serious update in my opinion.
What about the Upsells?
Despite the issues I've raised, the general training still holds plenty of solid advice to be taken on board.
As the guide goes on, there were far fewer upsells than I expected.
Most were suggestions to certain products, some free and some paid for, but no pressure to buy them.
They felt more like suggestions to products or services that could help either save you time or help you out with technical stuff that you might not know how to do – rather than things you absolutely had to have right now.
One of the key upsells was for backlinking packages, ranging up to $350 monthly.  
Whoa…you'd better have a lot of faith in those packages to be paying $350 a month!
Now, as I mentioned a moment ago, in order for backlinks to actually help your sites rank, they need to be incredibly relevant.
If they are not, these will do your site more harm than good.
So, in these expensive backlink packages, where are all these highly relevant links to come from?
Can it really be that all these backlinks, to every single customer who purchases them, will be from both quality websites that Google trusts and highly relevant sources?
I had also previously heard of people being sent emails from BTF with upsells, I personally haven't received a single email from BTF since my registration.
Either those emails aren't getting lost, or they have stopped doing that.
What else do you get at Bring The Fresh?
An Extensive Forum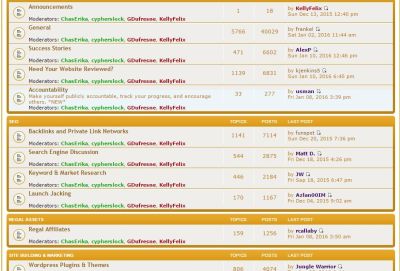 In addition to the PDF and videos, you get a forum which offers a broad scope of information, including some inspiring stories of success.
The forum covers information such as, search engines, keyword and market research, social media, content, copywriting and conversion and many more…
Upon reading a couple of success stories, the recent ones I read attributed their success to quality content and keyword research, which is worth taking on board.
If you participate in the forum and read through some of the threads, you're bound to gain some interesting insights and some decent knowledge.
Make sure you take note of the date of the thread you're reading – many are years old, but have comments going on for all that time, so if you read some of it as current you'll be getting out of date info.
Video Interviews – Some Video Gold!
One of the best things about Bring the fresh for me was the video interviews.
There is a series of several interviews with some highly successful entrepreneurs and their tales of how they made it and the general discussions are pretty fascinating, as well as inspiring.
What Else?
There is something called "Bring the fresh gold," but it's been sold out since 2014.
It says there is a waiting list, however the link I went to went to a page that doesn't exist.
In addition, there is also a private mastermind group, you either need to make 6 figures to join the group, or there is an application form you can fill in – but you'd have to buy your way into the group, (not sure what the going rate there is!).
PROS VS CONS
PROS
large PDF containing plenty of worthwhile and legitimate information.
Easy to follow video tutorials.
A forum full of lots of worthwhile information and in depth discussions.
from other marketers, that you can learn from.
A great set of video interviews for inspiration
CONS
Some upsells or "suggestions" for products, but you can ignore them, they're not necessary to take up in order to complete the program.
Focus on creating backlinking and other potentially risky methods to rank in google, (such as PBN's).
Some out of date links on the PDF file.
All in all, Bring the fresh is a legit product, with some very good information and training available and further sources of information available through the forum.
However, the focus on risky tactics and the fact the material needs updating, brings the overall score down a bit.
That said, for $47 is pretty cheap, (as long as you avoid the upsells and backlink advice).
So, if you're short of cash, you will still learn something by purchasing this product.
I always enjoy their promotional sales video, which is well done.
See the Bring the fresh video below…
An Alternative To Bring The Fresh:
If you're interested in some really awesome in depth training, which will teach you everything you need to get started online, (and where you can also get started for free) check out this training platform.
If you're serious about creating an online business and learning to make money online, it's a great place to get started – it's the same training that I followed myself.
While it is a membership program, (with a monthly or yearly fee if you upgrade from your free membership) – it's a platform with a wealth of information, training and support that is constantly being updated and improved.
I hope you found my Bring the fresh review useful  – have you ever been a member, or are you thinking of joining?  Leave a comment below, I'd love to know.
All the best… 🙂