Having recently looked at another App, (Clawee!) where you can win toys playing REAL claw machines remotely, I have discovered there are other similar Apps out there!
One example of one I checked out; is appropriately called "Claw Toys."
There are lots of similarities with Clawee & Claw Toys App, but which did I prefer?
In my Claw Toys App review today, I will explain how you can start winning prizes with this App, how much it costs and how it compares to the Clawee App.
Have you had much experience with Claw Machine Apps? Let me know in the comments!
Get 20 Extra Free Coins With My Claw Toys Code: 2539210
Getting Started With Claw Toys:
You can download this App for free via the App Store or Google Play and you can login by connecting either via Google or Facebook.
If you join via Facebook, they won't randomly start posting things on your wall or anything.
When you first get in, you get five initial free plays to try and win a toy.
I decided to try and win a Pokemon money box.
Unlike many of the Clawee machines, you don't actually play to pick up the prize you're going for.
That's not always the case with Clawee, but you do usually play to pick up the soft plushie toys, as far as I can tell.
With Claw Toys, there are about three different teddies that you play to pick up with the claw — no matter WHAT prize you're actually trying to win.
There is a large selection of prizes though & some very cute plush toys.
My First Attempts To Win:
So, when you join you do get 5 free attempts to win your first prize. I figured this was a good amount.
However, this is very much like a traditional claw machine and isn't so easy.
Unlike the Clawee Claw, this claw is much like you'd expect at a regular claw machine in an arcade.
AND just like in an arcade, these claws respond the same way.
So, they will not pick up the toy until they've had a certain number of people play and you won't know what that number is.
For me, it took four plays to win my first toy, (in contrast to winning on the very first go with Clawee).
You may be able to increase your chance of winning by figuring out the most popular games & therefore the ones that are played most frequently.
One good thing about these claw machines is you CAN move in all directions, (unlike Clawee, where you can only move in two directions and ONLY have two moves).
However, they also have a little laser that shines down from the claw as you play and can help you get into the right position.
This is quite important because you are unable to switch camera position here….
Unfortunately, the laser didn't really help me at all!
I didn't even see it at first and once I did see it – it wasn't always visible when I required it to be.
There was sometimes also a bit of a lag while playing, which took some getting used to.
In any case, after four attempts, I was pleased to win my Pikachu money box……. But how could I get it sent?
Want to stop relying on luck & freebies? Learn how to build an online income – like I have!
What About Shipping?
After I won my first prize, I only had one try left after this, which I then lost immediately playing another game.
I then went to check out how I could get this prize sent to me.
Well, I discovered that shipping is ALWAYS free but you can ONLY request it when you have a minimum of two prizes, (not including any bonus prizes).
Therefore, I was stuck.
I had no more goes left and would unable to get the item shipped to me, without purchasing coins.
The thing is, I really wanted this moneybox for my son, who I know would love it.
So, I went online to find out how much I could buy it for.
The cheapest I could buy it for was around $12 on Aliexpress, with free shipping.
Since I could purchase 55 coins for $3, it would be cheaper for me to do this, AS LONG as I'd win another prize with that.
Then I'd get TWO prizes shipped to me, for only $3.
There's no guarantee that I'd win a prize with only 55 coins, but even if I'd need to purchase another 55 coins, it would still be cheaper than buying myself.
My point here is that, if there is a toy you particularly want, maybe you should find out how much it is to buy first and then weigh up whether it's worth investing in some coins.
As an additional incentive, They will also give you 30 coins every time they ship you a prize, which is pretty good!
Get 20 Extra Free Coins With My Claw Toys Code: 2539210
Daily Lottery & Daily Login Bonus:
You can also get more coins for logging in regularly.
Each day that you log in, you get a chance to win a special bonus via the lottery.
This could be coins, coupons, or even a toy.
You also get a small amount of coins when you login each day – it's only a small amount, but you sometimes also get additional bonuses, like coupons.
How Much Do Coins Cost?
If you decide you actually love the App and want to invest more than just $3, how much do coins cost?
Well, you can see in the image below how much a bundle will cost you: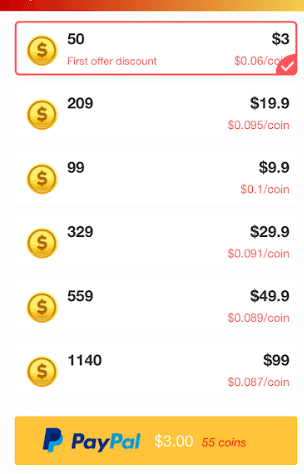 So you can get coins for a variety of different prices – with it working out cheapest at 0.087 per coin when you spend $99.
But then, it's only $0.095 per coin when you purchase 209 coins for $19.90…
So, the bonus of spending much more money, isn't so significant.
Many of the prizes I was looking at were between 25 and 35 coins, some were more and some in the sale, were slightly less.
Considering you may need multiple goes on a machine before you win anything at all, you can see how this could easily get extremely expensive.
Claw Toys Vs Clawee…. Which Do I Prefer?
I actually have enjoyed both these Apps.
However, due to actually quite wanting the prize, Claw Toys will be the first app I'm going to purchase coins from and hopefully ship my prizes.
Clawee is a better looking App, it's cuter and just looks overall of higher quality.
I also like the fact that it seems much easier to win prizes with Clawee, because of the way the claw is.
I also don't like the fact that the prize you're trying to win, isn't in the machine with Claw Toys & they don't have machines just for winning coins.
Claw Toys has a more traditional claw. So, it's harder to win, but really – part of the fun is also in the challenge?
I also like how you can move in multiple directions with Claw Toys and aren't stuck with only two moves, like you are with Clawee.
Both Apps are expensive when it comes to purchasing coins – but you may need to purchase less with Clawee, because the prizes are easier to win.
People have said that Claw Toys are pretty good when it comes to delivery – whereas Clawee has had tonnes of complaints, claiming deliveries can take months.
As you can see, both Apps have their Pros and Cons and frankly, if you enjoy playing Claw Machines, you'll most likely enjoy them both!
Try them both for free and whichever toys you prefer, will most likely make the decision for you!
Is Claw Toys App Legit? Concluding thoughts….
I like the way these Apps give you some free tries so that you can try it out for yourself.
Plus, the initial amount that you have to pay – just a few dollars – means you can potentially get a couple of prizes shipped out to you for next to nothing.
It's only after this point, that things start to get expensive, if you want to continue playing.
Ultimately, this is a legit App where you can most likely get a couple of initial prizes for low-cost.
Every time you get a prize shipped,you also get 30 extra coins, which gives you an additional incentive to keep going.
I enjoyed playing this App, but it's not something I'd want to spend money on regularly.
Beyond Apps – And Winning Prizes…
There are an ever increasing number of Apps that can claim they can help you either make money, win money, or win prizes…
But for the most part, you just end up making pocket money at best and winning prizes can end up meaning spending a lot of money instead.
Some ways that I've attempted to make money online over the years, I've talked about over here.
However, still the most profitable for me has been having my own website, (that you can earn from in multiple different ways).
I first discovered how to create & earn money from a simple website – by checking out the free training here. 
That wraps up my Claw Toys review for today – feel free to ask any questions, or leave a comment below!