Welcome to a DOUBLE income report this month.
Yes, I had a break from YouTube and work for several weeks and it was actually not a planned break, I just got overwhelmed by a bunch of stuff happening in life and didn't get anything done!
I am probably going to do a video about this soon because I'm sure that some of the things I struggle with, many others do as well and I could share some of the things that help me when I'm in that situation.
Personally, I do have to have a routine in place and for work to be a habit. If I fall out of that habit and the work load starts to pile up, it can be a real struggle to get back to things again and stay consistent!
I generally feel that you do have to be pretty disciplined when you work online. That is, if you want to get anything significant done!
For me, the six week school holidays in the summer is always a time I get entirely off track and then have to claw my was back into working again.
Note: Funnily enough, I've just seen I combined my August & September income reports LAST YEAR … The only time I seemed to do that, so it's clear the time of year I'm distracted!!
So, How Were September & August?
So I don't make this post TOOOO long, I want to try and combine things where I can.
So, September and August were not too far apart!
This is interesting as, last year July & August were my lowest months. But so far this year, it's been August & September that have been my lowest!
Back in September 2021 — I had a better month overall too. I had one massive sales day and then on average, the days were higher than this year.
This is actually the second month this year that has been slightly lower than the previous year. But time will tell if this trend continues into Q4 … Or if Q4 is better than last year.
Last October was slightly higher than September last year and so, I'm interested to see how they will relate to each other this year, (Oct 2021 $6,130 Vs September 2021 $5840).
Not that I have many Halloween themed books at all.
I have ONE Halloween activity book and that now does have some 5 star reviews, so I may try and run some Ads to that this year.
Ad wise.. the UK has been really bad for Ads this month in comparison to the other two marketplaces and this seems to be a continuing trend over recent months.
I set up a couple of campaigns that were just spending too much without many sales at all. One I switched off entirely.
By contrast, Canada has been performing better – but I only have a few campaigns running over there. One being the Lotto campaign.
A+ Content:
I FINALLY managed to produce A+ content for a new books that I'd been putting off for the last month or so.
So, now I am able to advertise it. I published over a month ago and because it has no look inside feature, I wanted A+ content before I advertised.
Even though this is in one of the niches I sell the most in…. It hasn't sold at all.
I think this is due to the fact that this niche just has so many books being published in it now and the ones with hundreds of reviews, naturally get a majority of the sales.
I still believe in this particular book though. So, I will be advertising it as soon as I can to hopefully get some sales and reviews.
I won't be advertising to make a profit in this case, I will be advertising to get the book ranked.
I will now be creating A+ content with every new book that I create and I will be creating that at the same time as creating the book.
That way, I can publish that A+ content the second the book is live and get advertising.
Have I Started Publishing More Again?
This week I managed to create 6 new covers for 6 new books I'm creating in two different niches.
I also made a start on the interior and I think they're looking pretty good so far.
So, I really want to get some of those complete and published by the start of October.
One thing I really wanted to have done by the start of October, was some yearly planners! This has not happened, but I will attempt to get some out in the next couple of weeks.
Some New Books DID Start Selling Though:
One book I published in October 2021 sold 19 copies in August and 60 copies in September!!!
Yet, it still doesn't have a review yet! But the boost in sales, means it's just become much more visible on Amazon and people are buying it.
Another book I published in March 2022, hadn't sold a single copy and it's one I am unable to advertise.
However, it then sold 4 copies in September and another 2 so far in October. Again, all it can take is a couple of sales to boost your books visibility on Amazon and this can lead to more sales.
It just goes to show that some books can just randomly start to sell out of the blue, even when the book doesn't have reviews yet.
This has happened to me so many times, including my book which is now regularly my no.2 best selling book now.
It will be great if some of these books can take off further in Q4. Q4 is a great time to release more books, as more people are browsing on Amazon in general.
AUGUST KDP INCOME:
My highest day was: $320
My lowest day was: $96
It was only a couple of hundred dollars difference between this August and August in 2021. Although there was less variation day by day last year, in comparison.
September KDP Income: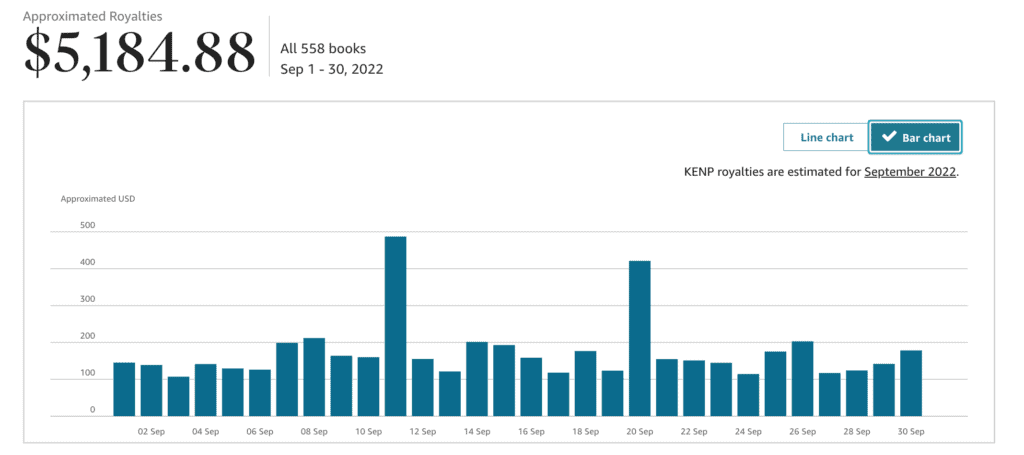 Highest Day: $487
Lowest Day: $107
A fairly big difference as you can see. But this was mainly due to a bulk order day for one particular book that sold a vast amount out of the blue.
It wasn't one of the typical ones that sold via a bulk order. That meant that one one day I made $769 and a large chunk of that was for one book.
KDP Amazon Ads For AUGUST:
I will just very briefly touch on Ads here today, it wasn't very interesting really.
My Canadian Ads:
My USA Ads:
My UK Ads:
If you're not sure about Ads or how they work, you might want to check out the brief intro I did on Ads here.
So, as per usual recently – the UK slightly unprofitable. The US was borderline and Canada was profitable again.
Once I exchange pounds and Canadian dollars into US dollars, my approx Ad spend was:
$219.50
Plus 20% VAT – $43.9
$263 Approx in total on Ads in August.
September Ads 2022:
Canadian Ads:

USA Ads:

United Kingdom Ads:
Same old story here at the moment.
Just about profitable in US and Canada – but I spent very little! Slightly unprofitable in the UK, where I spent more.
Everyone's break even point with ACOS is going to be different, so you'll need to work that one out. My break even ACOS is always higher, as I currently pay 20% VAT on top and if you're in the UK, this will also be charged to you.
It applies to other countries also, I'm unsure of them all.
Anyway, it brings my Ad total for September to:
$234.31 + 20% VAT
$46 VAT roughly.
234.31 + 46
$281 Approx on Ads in September.
Other Expenses:
My other expenses right now come from the same ones I've had in a long while and currently that comes in at around $100 at the present time.
You can see the tools I use here – some are ones I paid for out right and others are monthly subscriptions.
Total Profit AUGUST: $4615.82 – $100 (tools) – $263 = $4,252.82
Total Profit SEPTEMBER: $5184.88 – $100 (tools) – $281 = $4,803.88
Check Out My Mini Course Below — It's Free & For Beginners:
How Was Your August & September 2022?
If you've been publishing for over a year, how has 2022 been for you so far, in comparison to 2021?
Do you think that Q4 this year will be super busy, or less busy than last year? Let me know in the comments!
Pin Me For Later!