If you're just starting out building up your own website or blog and you don't have much knowledge about keyword research then you may have asked yourself…
"What is the Google Keyword Planner Tool?"
Well, it is actually a completely free tool that you can use, to help you find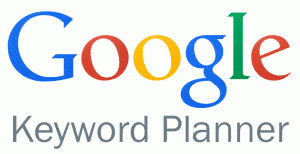 low-competition keywords.
Choosing the right keywords can mean the difference between finding and audience and not finding one.
If you can't rank high enough in the google search for targeted keywords, you're going to be very difficult to find in a sea of millions of competing websites.  
Finding low-competition keywords is the best free way generate organic traffic to your site and really you need to target one keyword per post or page you do on your site.
Before going for the plunge signing up to a paid keyword research tool, such as Jaaxy, (my personal choice).  Then you may want to start off using a free keyword tool to learn the basics.  
I will explain step-by-step here how to use the Keyword Planner…
The good thing is that Google Keyword planner, is still fairly efficient and can give you plenty of good information that can easily get you ranking well in Google if you're writing quality content and targeting the right keywords.
That being said, it's not that user friendly.  It tends to freeze a lot, you need to refresh the page.  Sometimes it will claim it has no suggestions for keywords available, this is usually a sign that you need to refresh the page again.
However, in order to use the Google keywords planner, you will need to create an Adwords account, it's free and simple to do.
So, first thing is first go and create a Google Adwords account now!
2.  Once you have created your account, you need to sign in.
Then go to "tools" which is on the top search bar- In the drop down menu, go to "keyword planner."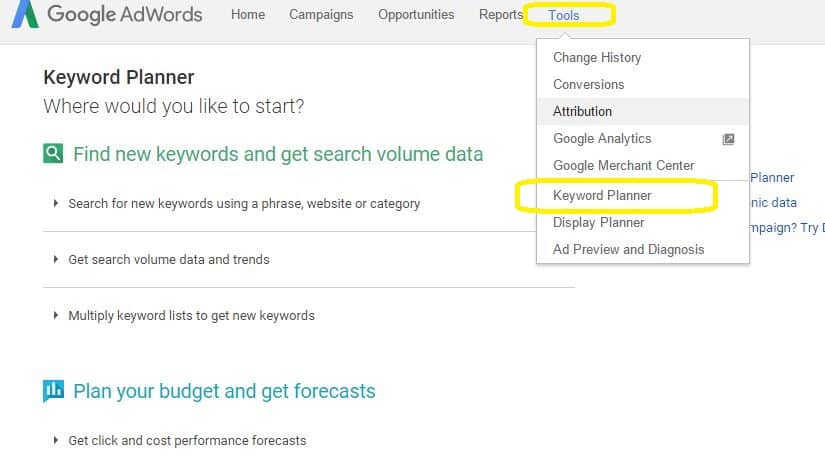 3. You now need to click on the highlighted section as shown below…
"search for new keywords using a phrase, website or category."
4. This is where you add your keyword…
Under "your product or service," you place your keyword – I decided on the keyword "GPS watch reviews."
If you're wanting to sell a product, whether your own product or as an affiliate, you'd do well to choose keywords that are in the right phase of the buyers cycle…that is, when someone is due to make a purchase.
When someone is looking at reviews, for example, they're looking to decide whether or not to make a purchase of some kind and if you're there to advise them on the best one, you could be the one to make that sale.
You also need to use a category, so for GPS watch reviews, I've added  "GPS devices" as the "product category" section.
I've also chosen "all locations" for this search in the highlighted "targeting section", but you can be country or even City specific, if you like.
Options I have not selected here:
Your landing page:  This is a good way to check out your competitors landing page and keywords they may be optimising.  In terms of just searching for new potential keywords however, you can leave this section  blank.
Date range:  You can specify a specific date range, by default Google's search is based on the last 12 months.  While you may want to adjust this later if you're analysing specific campaigns, for now you can leave it as is.
Keyword filters:  Here you can specify e.g. a certain amount of searches per month to show in your results.  Such as 2000 monthly searches monthly.  You can play with this feature later on.
Keyword options: varied way you can adapt your results, again you can leave this as it is for now.
Keywords to include: if you add your exact keyword here, it will ensure the results only include THAT keyword and not ones that google deems related or relevant.  Again, this can be useful, but for your initial introduction, you may as well see everything that Google chooses to show you, you can always narrow down your search from there.
5. You now click to "GET IDEAS"….  but you may come across this….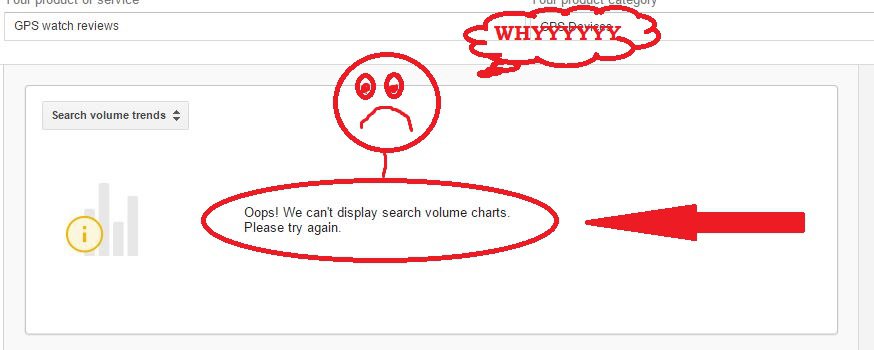 A couple of solutions tend to do the trick:  Either a) google does not like the product category you have chosen and you'll need to change it or b) you need to refresh the page.
More often that not, refreshing the page helps, as this often happens when you're searching for a new keyword and are already in the keyword planner.
In this case, I changed GPS devices, to "watches and watch accessories" and google seemed to prefer it and didn't freak out the next time…
Once the keywords came up, google first shows me "Ad group ideas."  Which are really lists of keywords that are related and they can be quite useful, although, be warned, Google can throw in plenty of random combo's!
 So, rather than Ad group ideas, it's best to check "keyword ideas" first, which will present you with a more tightly relevant search to your exact keyword.
So, go ahead and click on "Keyword Ideas"….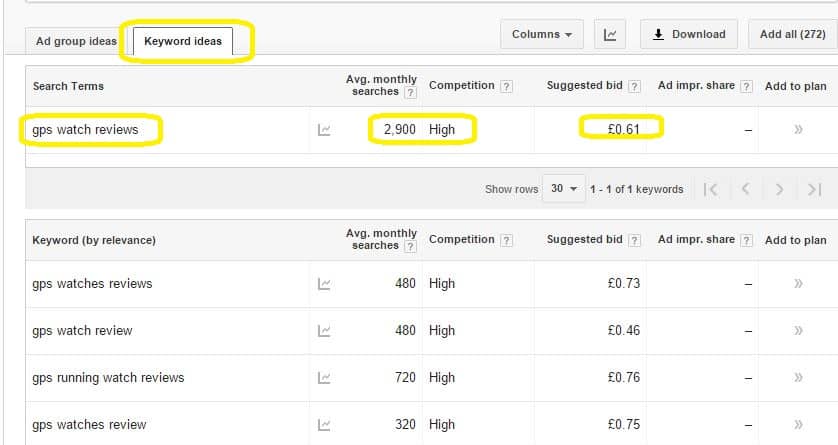 As you can see in the list above, the first results out under the "Keyword ideas tab" are very relevant to our
original search term.  To tighten this relationship further, you can go to "Keywords to include," (as mentioned earlier) on the left hand side of the page.  Type in your exact keyword there and Google will only contain results that include it this exact keyword only.
In the search results, Google gives you certain bits of data that you need to pay attention too…

The avg monthly searches – which is the exact amount of times someone has typed that exact phrase into Google.  In this case, 480.
competition – which relates how fierce the competition for this Keyword is in Adwords – however this isn't a direct relation to the competition that you will need to be considering in the organic results.  To be aware of this, you need to check the SERPS for your chosen keyword.
What are SERPS!?
SERPS simply means: "SEARCH ENGLINE RESULTS PAGES!"  …To get a real understanding of your competition for any keyword, what you should do, is go right to google and put your exact keyword in the search bar in quotations — ie; "GPS WATCH REVIEWS."  By putting in quotations, you're telling google that you want an exact match search.
What you then want to analyse then, is your competitors pages for this exact keyword on the first page of Google.  Take a look down all the top search results, check out the pages. If the first page is full only of big sites such as Amazon or other long-running authority sites, then it's a clear sign that you may want to adjust your keyword and start over.
One day you may want to stand up to the big boys, but at first, pick your battles!
You need to ask yourself if you can realistically compete with the search results you're presented with.  If the answer is no – it's better to choose a keyword that is showing lower competition on that first page.
Your aim is to reach the top page of Google, so you want it to be accessible.
Another thing you may want to take notice of in the Keyword Planner is TRENDS.
Checking out the little trend graph Google provides you with for the last 12 months, will let you assess if their is a certain seasonality to your keyword – is it a more popular search at a certain time of year?  This will be useful information to leverage with campaigns later on.
In a nutshell, that is the basics of the Google Keyword Planner tool!
Go and have a play with it, let me know how you get on.
If you're interested in testing out my own favourite keyword search tool for free, I recommend Jaaxy, where you can have 30 free searches right now. You can also check out my full review here
Alternatively, if you're interested in learning how to generate an income online, building  your own website or blog and learning all about internet marketing, I recommend you check out Wealthy Affiliate.  You can read my full review here.
How have you found using the Google Keyword Planner?  Leave me a comment and let me know!
All the best….