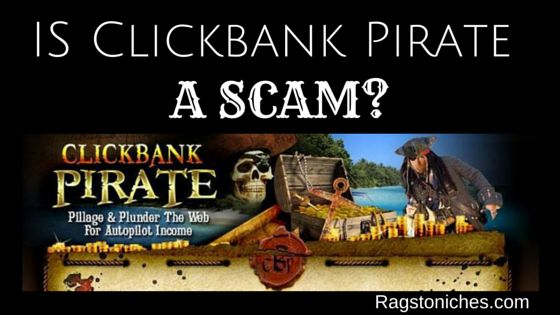 If you believe Clickbank Pirate, they claim they'll have you making $1000 a week if you follow their instructions – with no website or product of your own. Sound too good to be true?
Is Clickbank Pirate a scam – Clickbank Pirate Review!
Product: Clickbank Pirate
Price:  $67 and $37 monthly recurring membership fee.
Overall Rating: 20/100
Mini Review:  This product is aimed at newbies, but lacking the training needed to be successful.  Anyone can promote this product for free.  If you want to learn how to make money online, sign up to a better program!
What Is Clickbank Pirate About?
Clickbank Pirate sells itself as an automated, "turnkey" system that can generate you sales easily from a proven model already tried and tested.
There's a problem already here – because making money online is never a result of a turnkey system – that's just BS.
Whenever you see or here the words "turnkey," or "automated," you need to be cautious.
Once you're signed up to their program, you'll have access to a members area with a selection of squeeze pages promoting different freebies.
You then just need to take your affiliate link from any chosen product and get as many people as you can to go to it.
Well, here is problem no.2 – because getting traffic to these offers will be challenging, especially for a newbie.
The links will lead potential buyers to enticing freebie offers, such as reports or ebooks, which they will use to build an email list and sell to this list.
If your leads purchase something after becoming a subscriber, you get a commission.
There are several products available to promote – but they are all within the internet marketing niche.
As long as this program survives, they say you can generate commissions from your leads.
How Can You Promote These Links?
Well, if you already have a website, that wouldn't be a problem because you'd already have a platform to work from.
However, clickbank Pirate is really targeting people with no online experience and no website.
They have promotional material, such as banners, email swipes, blog posts and banners that you can use.
There is some limited training within the program to teach you about various traffic generating techniques such as:
Article marketing
Email marketing
Forum marketing
Traffic exchange marketing
PPC advertising, (paid Ads)
Classified Ads
…and a bunch more.
It's good that they give you some information about these methods, but the training isn't in depth enough for people  brand new to internet marketing.
What about SEO?
Another way they suggest you can get traffic, is by setting up a blog that they provide for you.
But you won't be able to rely on SEO techniques to rank it.  In fact, you will find it difficult to rank these blogs high enough in google to get the traffic you need…
Why?
Because they provide you to start off with 20 blog posts and more articles each month – but these posts are PLR articles.
PLR articles, (private label rights) are duplicate content.
Google won't rank spammy blogs that are filled with duplicate content and hold minimal value – therefore, the chances of your blog getting any traffic whatsoever, is low.
It's unlikely these blogs will even rank at all in Google.  One way in which they may is by ranking under very low competition keywords.
But in this case, there may be very limited traffic finding the sites at all.
Even if people do find them, they will be immediately put off by the content – which will look very badly written and nonsensical.
These sorts of low-value sites could have survived and been profitable in once upon a time…
But that is in the past, since Google's algorithm changed and stopped ranking what they deemed as thin or low-quality sites.   (See Google Panda)
So claiming you can generate organic traffic from blogs like this is outdated and wrong.
Just having this blog up and running is unlikely to generate you any (organic) traffic, because no one will find it in the search engine.
Your only hope is to try some of the other techniques they suggest,  – You could also attempt to get traffic via social media and you tube.
Autopilot?
Clickbank pirate claim their system can be set up to work on autopilot – but how is this so?
You'll have to continuously hustle in order to get traffic by various means, (as you couldn't rely on couldn't rely on SEO).
Or you could potentially end up having to spend a considerable amount on paid traffic.
If you have no experience with paid traffic, then going down that road would be a risky one.
You can lose a tonne of money very quickly if you're not sure what you're doing.
So, suggesting this is a simple system that takes little effort is completely misleading.
Clickbank Pirate, YouTube Explanation:
(note: I don't agree with what is said in this video, it's just for information)
If you're still interested: you can check out the sales page here.
PROS VS CONS
PROS
Pre-created landing pages.
Some traffic generation training.
WordPress sites ready to go.
Promotional material for you to use.
Free downloads/freebies for prospective buyers.
60 day money back guarantee.
CONS
You have to pay a monthly recurring fee – for working for them and making them commissions.
Weak training material, leaving out important SEO knowledge and general internet marketing knowledge.
You only get a fraction of the commission that the owners themselves will make for your efforts.
No community/forum to help if you're stuck.
No control over your own business: you could be promoting many products, (clickbank or otherwise, for free) without it being controlled by Clickbank Pirate.
You'd think that since they're trying to get people to successfully sell their own product, that they'd do a better job of getting these sites traffic.
But leaving this job completely up to the (probably newbie) marketer and not being able to rely on any organic traffic from google, (due to the low-quality nature of the site/PLR articles) makes it challenging for people who have no experience.
Conclusion:  Is Clickbank Pirate A Scam?
In my opinion, Clickbank Pirate is not a scam, but they are certainly dishonest and misleading about their program.
It's possible that, if you have some experience with internet marketing in general, then you could certainly make some money promoting it.
However, this program does not target experienced marketers.  Since most marketers could simply promote Clickbank Pirate and other clickbank products on their own websites, (if they wanted to!).
Anyone is free to get their own affiliate link, (for free) and promote Clickbank pirate with zero cost to them.
The fact this program is $67 to buy may seem cheap – but it's the recurring fee of $37 that can build up.
Remember, if you do take back this offer that there is a 60 day money back guarantee – so, at least if you don't make a penny you could potentially get your money back.
So, what do you do now?
While a lot of affiliate training programs are either scams, overpriced or both – there are not many that I recommend.
You can check out my review tab for the programs I do recommend.  Alternatively, view my #1 rated product here.
Generally, I like to see a combination of good value and quality – because so many people going into this aren't even sure yet whether this internet lifestyle thing is really for them!
So, spending hundreds, or even thousands of dollars into a program unnecessarily, is not something you need to do to get started.
On the flip side, there are programs that are very reasonable price wise but are just limited in content and full of fluff!
My advice is, choose a reasonable program and see it through, focus on that one thing and give it your all.
Have you had any experience with Clickbank Pirate?  Let me know in the comments below.
All the best,