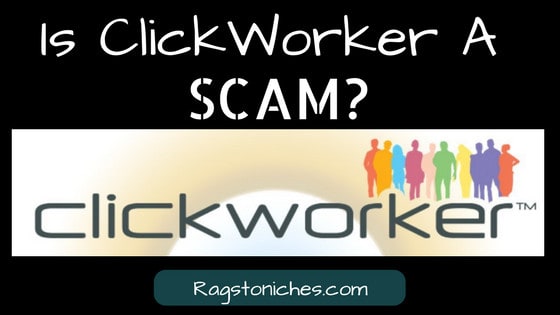 What Is Clickworker? A Scam…. Or Is This A Legit Freelancing Opportunity?
With Clickworker, you can register as a customer, or a worker.  
For the purposes of this review, I'm focusing on the make-money-online aspect and therefore, the position of the worker.
Clickworker provides the opportunity to make a small amount freelancing, by completing micro jobs and tasks.
Each job pays differently, depending on the time required to complete it, difficulty and skill level.
There are a range of potential jobs to do – including things such as editing, translation, creating text/product descriptions, completing searches online, surveys and categorising items, to name a few.
So, can you earn any reasonable money as a worker with Clickworker… or is this just a scam?

  Want Paid Surveys & Cashback? Get A $5 Bonus Here.
Signing Up With Clickworker:
In order to sign up, you need to first select your country of residence and fill in your basic info – you will then need to go and check your email for an activation email.
Once you've initially signed up, you will also need to fill out your profile.  This includes sharing your interests, skills and also options to add links to a personal blog and work examples.
You need to complete your profile before you're eligible for jobs and the more info you can provide, the more variety of micro jobs you could be offered.
You can then also complete assessments that will help Clickworker understand any skills you may have, send you appropriate work and also test out your basic reading/writing skills.

Clickworker – How Much Do You Earn?
While Clickworker has claimed that you can potentially make 10 Euros an hour – this seems like a bit of a wild over estimate.
There are many people online that are not happy with the earning potential with Clickworker.
Clickworker have said themselves that while people in some countries may find the payment too low; people from various countries in the world, will consider it worth their time and higher value.
They say they're happy to support people in other parts of the world make extra cash.
The reality of course, is the demand for cheap labour is in demand around the world and is highly sought after – it's not about helping anyone out.
People are also free to do freelance work from all around the world too and free to demand a higher fee than what most people will earn ever from Clickworker.
People online have said they've worked a couple of hours on Clickworker for only 2 or 3 Euros – which seems incredibly low and really not worth the effort.
Understandably, some people that are desperate to make money online, may go for this option.  Especially in some countries where other ways to make money online may not be possible.
But for the majority where a few Euros here and there won't be paying any bills, this isn't a good way to make money on the internet.
What Types Of Work Can You Do?
What jobs your offered will really vary from person to person and your skill set.
For example, I only speak English – so, I'm not going to be sent any translation work!
When I initially signed up and completed my own personal profile, the jobs available were limited to three jobs.
One of these was merely a survey from peanut labs… Peanut labs provides surveys to a whole host of different sites, so this is not unique.
As my profile is new, I will no doubt have to wait for more to become available or take some of the assessment tests.
Another job sounded straight forward – it was to search for a given term in google and then find the most relevant result for that search term.
I was given 15 minutes to complete each task like this, but realistically it took a few minutes.

The first task was simple and I was immediately credited with 0.03 Euro.  Another search related job popped up right after.
However, with the second job, I kept being told the URL I inputted was not valid, despite simply copying and pasting from Google.
Clickworker Payment:
You can sign up with Clickworker from most countries worldwide, but must ensure that you can either be paid via paypal, or into your bank account.
Bank account payments are only available in countries that are part of the single Euro payment area, (SEPA).
You can get paid after 7 days if your balance is over 5 Euro, or 10 Euro if you've opted for a direct bank payment.
Jobs through UHRS are paid after 21 days.
UHRS is a company that is partnered with Clickworker and where you can get more work – but you need to qualify by taking Clickworker assessments.
PROS VS CONS!
PROS
You can sign up from most counties – just ensure you can get paid via paypal, or directly into your bank.
5 Euro cashout via paypal, or 10 Euro for directly into your bank – which is not too high.
Simple to sign up and get started.
CONS
Very low pay for the most part and certainly from my own experience so far.
The jobs available are limited and depend on your location.
As freelancing goes, this is minimal pay.  Instead, it's a better idea to build your reputation independently, find private clients and earn considerably more.
Conclusion – Is Clickworker A Scam?
Clickworker is not a scam.  But the earning potential here is incredibly low and many of the jobs may be quite frustrating for some people to complete…
No doubt the opposite must also be true – and there will be some people out there who enjoy the tasks.
However, if you're wanting to make or save money online, you should be aiming for a reasonable return back on the time invested and also, the possibility that you can earn more over time.
The best way to build your income over time, is to have complete control over your own business.
One way to ensure that is by freelancing directly, but approaching clients, building relationships and creating a portfolio of work that you can share with potential clients.
If you're really serious about making a living from freelancing, I strongly recommend checking out the 30 days to freelance writing success course.
This is a course I have purchased myself and the creator went from zero-$4000 a month in just six months – while she still had a full time job!
As a freelancer, it's also a good idea to create an online presence for yourself right from the start, by having your own blog or website.
Once you build your website/blog over time, you can  potentially earn from it in the long-term in a variety of different ways.
I started to learn how to create websites and earn money from them in around 2015.
I am so relieved I took the time to learn how to do it, it wasn't as difficult I thought and you can learn so many valuable skills by having your own website.
Would you like to do the same? You can get started here.
Do you have much experience with Clickworker?  I'd love to hear from you – leave me a comment below!
All the best,