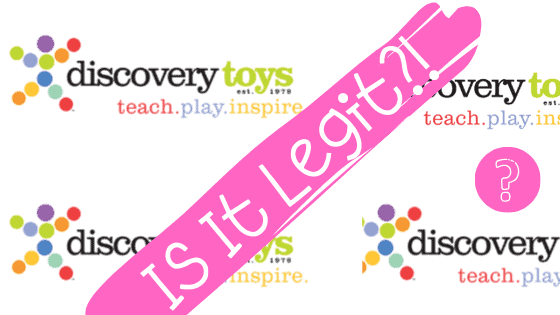 Are you wondering what it might be like to be a Discovery Toys Educational Consultant – and if it's a legitimate opportunity?
How much can a Discovery Toys Consultants actually make and is it really worth your time getting involved in this business opportunity.
I'm interested in checking out ways to make money both online & from home and finding the best opportunities that exist.
When it comes to multi-level-marketing, I find that the opportunities can vary greatly.
I find that the opportunities that focus more on the PRODUCTS, over the recruitment side, are the ones that are going to be far better to target,
(above those that are too over hyped and driven on you creating a sales team!).
So, What Is Discovery Toys?
Discovery Toys believe in learning through play and concentrate on creating toys that can also aid learning and creativity.
Their toys are intended to be multi-sensory, with multiple layers of learning potential.
In this day of modern technology – kids these days are spending a scary amount of time looking at screens, (this is coming from someone whose son is pretty obsessed with Roblox right now…).
Discovery Toys tries to combat this, by creating interesting toys that are both fun and educational.
So, perhaps there could be a chance your kids could take some time away from the TV, computer, games console, ipad and so on….
A majority of toys seem to be aimed at a younger age group – I'd love it if more companies spent time creating games for the 12+ age group!!
In any case, this company has a good ethos and I appreciate their motivation for creating these educational toys.
Having a son with Autism, I was also pleased to see they had products that could particularly help kids with ASD too and are used by teachers and professionals.
Discovery Toys Business Opportunity:
Take note: At the time of writing, you can only join this opportunity in the US and Canada.
There are two ways that you can make money with Discovery Toys.
1/ Most obviously, by selling toys to clients. You sell the toys for a particular price set by Discovery Toys and earn a percentage of the sale.
2/ The second way is what categorizes this opportunity as an MLM – and that is that you can also introduce other people into the business and will earn a percentage of their sales as well.
In addition, there will be other bonuses you can reach when you hit particular targets.
Unlike many hyped up multi-level marketing businesses, I noticed that in this video Discovery Toys talk about being able to make "EXTRA," money from home.
They aren't saying you can live the dream and make a fortune – for most people, this is going to be something they do part-time and can potentially mean they can stay home with their child.
Rather than going out and finding part-time work — or maybe to work part-time in another job and do this as a side hustle as well.
How Much Can You Make With Discovery Toys?
Discovery Toys say that you can earn between 25%-34% commission on your personal sales.
You can also earn up to 7% on team sales, (that's the sales that your team makes, if you do recruit other team members).
That might sound reasonable to you – but how much money would you say you made on a typical party?
Let's say you throw a house party and 8 people attend. Maybe they all spend $50.
So, you make $400 in sales. At the at the lower end of the scale, you make home $100 profit.
Also, there may be some expenses to cover if you're doing it in your home home and are proving drinks and snacks for example.
On the other hand, if you could throw a couple of parties a week, that's a reasonable amount of money.
But you must also factor in the amount of time you would need to spend actually making connections and organizing these events.
How much you make is going to depend on many variables – including how many people will join your parties and how much money they are willing to spend.

In addition to the profit you make on direct sales, you can also earn free and discounted rates on toys, depending on your volume of sales per party and if anyone signs up themselves to throw a party.
You can see some info about that in the table below.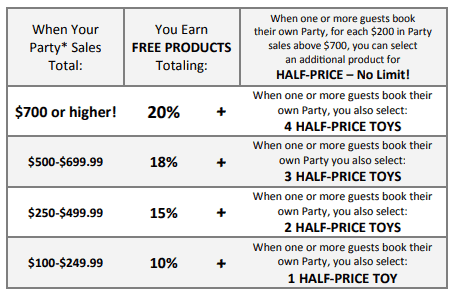 What About Online Sales & Marketing?
From my perspective, connecting with people online means that you'd have a much larger reach of people.
You are able to have a website with them…
You get the first two months free when you join with the DT starter pack, but looks as though you need to pay something after.
With more expensive start up packages, you get more additional free months with your website.
However, if you're online you and are willing to build up your own related YouTube channel, Facebook page, or even a blog in the toy or educational niche.
Then you could attract visitors to your platform and connect them to Discovery Toys that way.
Plus, by having a blog in this niche, you could also promote other educational toys via affiliate marketing – such as via the Amazon associates program, (or many other affiliate program options!).
What About The Competition?
You may be wondering about how competitively priced these products are.
In modern times, so many people just go straight on Amazon and try to purchase toys for their kids, (I know that's generally my go-to).
Well, while some of their toys do seem to be priced fairly high, they're not that over the top.
Yes, you could buy some similar products for less, but as a sales consultant, you're likely going to be introducing parents to toys they may not have even considered buying before…
As well as explaining the benefits of using them.
Furthermore, even though you CAN find some Discovery Toys on Amazon, many of those products are actually priced MORE HIGHLY!!
Also, the reviews for the products online are pretty good as well.
See More Reviews On Amazon.
How Much Does It Cost To Get Started?
Depending on how serious you are on getting started, there are various packages you can purchase depending on your budget.
DT NOW KIT: You can sign up for $89, (which includes one $140 in actual products).
DT STARTER KIT: You can join for $155. This one seems to include quite a bit more including first class training, catalogs, business center items and a free two months of a personal website. Of course, you also get a selection of DS products.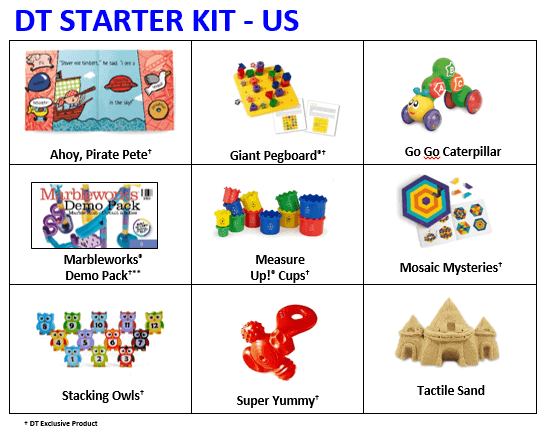 DT DELUXE KIT: $225 Includes more than 16 products – plus all the things in the STARTER kit, plus four months in total included with your website.
Even if you go for the mid-level package, it's not very expensive to get started and wouldn't take too much to recoup your investment there.
Can You Make Money With Discovery Toys!
Sure you can.
They create quality products – but these aren't just toys, they're toys you can also sell on the basis of being educational.
Not only is this obviously a really positive thing, it's also a brilliant selling point.
What parent doesn't want to buy their kids toys that can also help them learn and grow?!
OK, maybe parents may be able to find some cheaper alternative if they shop around….
But why would they want to do that when you're giving a fabulous presentation, sharing toys that you believe in and are passionate about.
However, while you may make a bit of money, hosting home parties can become more challenging over time.
You need to find a way to continue to increasing your reach and making connections, so that you can continue to do them long term.
A much better solution, is to grow a following of people online and then you have a way to make digital sales as well.
The commission is not bad at all, especially if you can increase your profit and reach online.
You can create simple websites here.
Is Working For Discovery Toys Really, "Having Your Own Business?!"…
It's easy to think about joining an MLM has having your own business, but in reality it's not very different to having a regular job.
That is, except you have no guarantee of a regular paycheck.
Because you are still very much reliant on the Discovery Toys succeeding, in order for you to continue your business.
So, while you could easily approach this as a fine way to make some extra money and have more time at home – what about having a long-term goal?
I would say that if you're really going to put your time and energy into a venture…
Your time could be better spent towards creating something entirely of your own & not relying solely on one particular business for your success.
By developing a presence online – for example, (I'm talking about blogging or YouTube in particular) you can still incorporate companies like Discovery Toys…. Without entirely relying on them alone.
If you want to build your own platform online, I recommend you check out the free training here.
If you have any comments, feel free to leave one below!
Pin Me For Later! 🙂