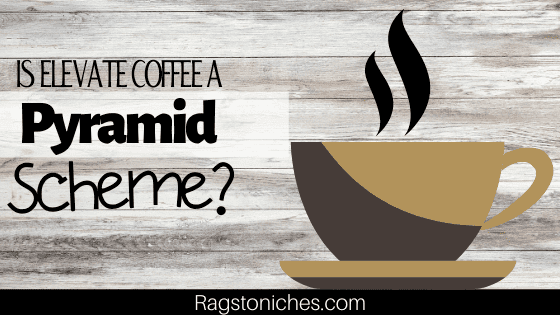 This info is based on what I found at the time of writing this post, please refer to their website for up to date information.
If you stumbled across this post, you're likely wondering about the Elevate coffee business opportunity and wondering if it's legit!
With so many multi-level marketing businesses being labelled as Pyramid schemes, it can be easy to become unsure about this sort of thing.
In reality, there are some fundamental issues with multi-level-marketing and that can often be what puts people off, (I will explain that in more depth in a moment).
There are many legitimate and lawful businesses out there that could be categorized as an "MLM," but even law-abiding ones come with their drawbacks.
Interestingly, Elevate Coffee seem to call their business opportunity an affiliate program as well.
However, the structure of the program entails that it should be described as an an MLM opportunity – more on that later!
So…. What is Elevate Coffee & How Can It Help You?
Elevate Coffee is considered a smart coffee manufactured from a combination of different ingredients including Kigelia Africana Extract, green tea, kigelia Africana extract, tonnes of caffeine and more – you can see the ingredients below.
.

It is one of the core products created by a company known as Elevacity and this is an instant coffee which promises various health benefits.
Their coffee contains at 13 different ingredients, including over 100mg of caffeine for any cup of the coffee served.
However, to put that in perspective, a standard 8oz brewed coffee from Starbucks contains 180mg of Caffeine.
Elevacity, the firm behind these products, got started back in 2014 and specialize in the creation of of wellness and health supplements.
They create products that are meant to elevate health and happiness and even mental functioning, (such as memory and alertness).
Since their inception, this company has introduced various different kinds of products to the market.
These include products such as elevate and Xantomax, Choclevate, Elevate Smart coffee, Ketocre, Pure 2.0, Elier timeless skin, and others.
So, if you hate coffee – there are other ways you can still try some of the products, including a hot chocolate drink with Choclevate.
In addition to the mental functioning benefits and mood enhancing effects, Elevate Coffee is also meant to enhance weight loss – which will making it extra attractive to many people.
The product is considered Esmart because it has nootropic elements… These nootropic ingredients, are thought to be "brain-boosters."
Such brain boosters could help aid concentration, mental alertness and more.
Does Elevate Coffee Really Work?
That is going to depend on who you ask! However, peoples reaction to the ingredients is also going to vary from person to person.
Elevate Coffee and related products have had plenty of positive feedback from people who feel it's had a real impact on them.
Both in terms of weight loss and mental functioning.
While it's true that many of these people will be promoting it as well – most were inspired to promote it after trying the products and having great results.
The ingredients within Eleveate coffee are thought to be effective for weight loss and boost the cognitive functions as well.
one way Elevate claim their products facilitate weight loss, is thought to be that they reduce your cravings for food.
Certainly, there are many people who believe that Elevate coffee has helped them achieve weight loss.
But this is anecdotal evidence, there are too many variables to determine exactly how much impact this coffee will have had on an individuals weight loss.
In any case, one way that it's thought to impact weight loss, is by triggering fat burning and boosting metabolism.
Of course, this is only going to be the case if you take the product regularly and as recommended by them.
Having the odd coffee here and there is unlikely to achieve very much.
That said, some people are certain that it has helped them achieve focus, drive and motivation.
So, it could be good for people who need to focus on a project, study, or prepare for important exams.
I've also seen some people claim it even boosted their incentive to do housework too – for example.
I think the unique thing about these products is, there are many positive attributes to it that would make it easier to sell if you promoted it than say…. a coffee that was JUST a "weight-loss," coffee.
However, not EVERYONE loves elevate coffee.
There are plenty of negative comments to be found as well.
Take just a couple of the comments that I noticed on Amazon below…….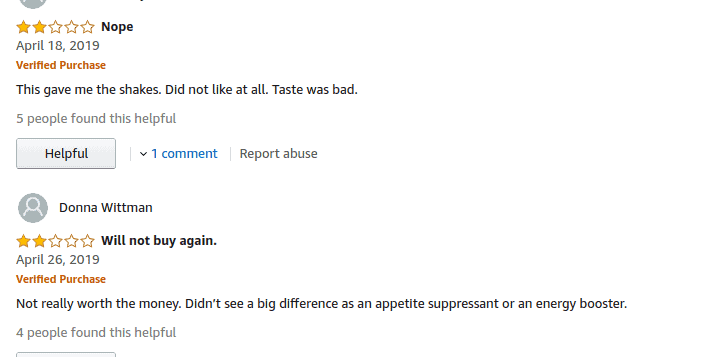 Read more reviews on Amazon here.
So, there is both positive and negative feedback about Elevate products – that's to be expected with pretty much anything.
But what about the business opportunity?
Is that going to be worth your time – and is this even a legitimate opportunity?
What Is The Elevate Coffee Business Opportunity?
I would not class the MLM associated with Elevate Coffee as a Pyramid scheme.
You can learn more about the difference between a Pyramid scheme and an MLM in this post.
It's important in a legit MLM, that you feasibly make money from selling products alone and not essentially recruiting others into the business.
In this particular case, I do believe that there is a market of people certainly looking for products like this to purchase & aren't just looking to join the opportunity.
Therefore, it's surely possible to build up a loyal fan base of customers – who need repeat orders.
Many people do have positive things to say about Elevate coffee and have expressed that it's made a major difference to their lives and improved it.
They aren't all just saying that because they want you to buy from them and join the company…
In many cases, they loved the product FIRST and then decided to promote it.
And from my first impressions, it does look like it has plenty of good selling points.
Most notably that it has properties that can boost your mood and brain functioning, as well as help you lose weight.
The part that some people dislike – is that company engages in a system is whereby you can introduce other people into the business and get rewarded for for that.
You can create a downline and earn a portion of your recruits profits, as well as the profit from your own sales.
(A downline starts with your recruits and can extend to multiple levels deep; when your recruits ALSO recruit more people into the business and then their recruits get more people in and so on and so forth).
This is what distinguishes the program as an MLM.
What Is An "Elepreneur!?"
Elevate coffee & related products promoters are called, "Elepreneurs," and they explain their role is to create health, wealth and happiness.
The company believes that any member of their system can succeed because they are selling hot products.
In this day and age, there is much more emphasis on the pursuit of happiness and achieving a higher level of health and wellness.
Smart coffee is something that can help people reach their goals and has a lot of benefits that people are looking for.
If you're interested in promoting Elevacity products, you need to join the Elepreneurs affiliate program.
However, although they call it an affiliate program, it's really a multi-level-marketing business – because the aim is to build a sales team.
You will earn up to 20 percent on personal retail sales, (PRS) and 10 percent on smart ship orders.
You can then earn a customer acquisition bonus which is another way of making money through the program,
you can earn $25 to $100 each time you get 3 to 7 people to buy their products.
What you earn as a bonus, will depend on your, "affiliate rank."
So, depending on your rank, you can earn anything from 1 percent to 7 percent to the tenth generation of people in your downline.
The other type of bonus or incentive you get from the system is the leadership bonus.
The company promises to pay you between $400 and $1000 monthly if you can attain the top ranks of the diamond, black diamond as well as royal black diamond.
As with all MLM's the bonuses and payment structures are notoriously complicated and in depth.
There are many performance based bonuses available depending on your level and increasing incentives.
You are also entitled to a percentage of the companies earnings each year, but that will depend on your ranking and performance.
Is The Elepreneur Program An MLM?
Because multi-level-marketing is so negatively thought upon, it may encourage some businesses to try and call it something else.
Even though Elevate do refer to the program as an MLM in their information video, they seem to initially refer to it as an affiliate program on their website.
However, with affiliate marketing, you do not create downlines.
You can get recurring commissions with some affiliate programs and you can get paid for referring people to a product or service – but only at one level.
It does not run several levels deep – as is the case with multi-level-marketing.
You also should never have to pay to join an affiliate program either – which is not the case with MLM type business opportunities.
With the case of multi-level-marketing, you will usually have to pay a certain amount to get started.
You often then need to sign up to get regular orders of products in order to stay active within the program.
In this particular case, you can get started initially with $49.95 and you are then eligible to earn commissions.
However, you also then need to pay $25 per month, to remain active.
There are two kinds of compensation plan available with Elevacity.
The first of the plan is binary. The method is that the weaker of the two active legs are paid.
The second one is the unilevel, and this pays members based on their sales and sales of all the team members.
Team members include those personally sponsored by that person. This means that Elepreneurs can earn money in two ways.
The first method is that they earn by making personal sales efforts. The other way is that you must make efforts to build your sales team.
Elepreneurs are paid via two levels and these are for the organizational sales volume and the personal sales volume.
Is Elepreneur Program A Good Opportunity?
Fans of Elevate Coffee products, rate it highly when it comes to energy-boosting, weight loss benefits, memory enhancement, metabolic rate improvement as well as antioxidant properties.
When it comes to building a profitable business though, it's not going to be as easy as they claim.
It is not fair to say that the system is not legit, because there is a real opportunity to make money with them.
However, most people will struggle to make a significant income in any type of MLM business.
If you're looking for an opportunity where you can make a little extra money selling a product you love, then that's a more realistic way of approaching it.
Unfortunately, MLM's are very adapt at "selling the dream," and they can give many individuals false expectations about how hard it is to become successful within a multi-level-marketing business.
It's often claimed that between 95-99% of people joining an MLM will actually lose money… (depending on what source you read!).
However, some believe this number isn't really correct and is exaggerated – it's also going to depend on many factors.
Such as which MLM you join, (there are hundreds out there, all will different structures and pay-in options).
So, it's not all that clear cut and at least in this case, it's not going to be an expensive venture to test out, if you already enjoy and use the products.
I would say one of the biggest assets someone can have when being part of this sort of business, is being passionate about the products you're selling.
If YOU love the products, are knowledgeable about them and believe you can connect with other people that love them too, then you can make money.
The biggest hurdle most experience with MLMs, is getting the right leads.
That's why, those who already have a good knowledge of internet marketing in general, can hit the ground running.
For example; having a YouTube channel in a relevant niche, having an already established blog, or Instagram following…
These are all things that can give you an advantage, over just someone who happens to stumble upon it and aren't really sure how to market the product.
Particularly because – as is usually the case with other MLM's, they really lack the training and support that is required to make it work.
Unfortunately, they will also prepare their prospects with the wrong mindset – because they're told that promoting this product and making sales will be easy-peasy.
That's not the case. It's possible to make money – but it won't be, "easy."
You also need to target the right type of individuals.
So, if you're someone who doesn't have lots of connections locally, (to people who would be actually be interested in this) or you're not intending to build an online reputation – then who are you going to sell to?
A majority of people approaching this business, will be those who want to dabble in it, but really have no idea what it will entail and consequently most fail.
If you go into it with a different mindset and already have some marketing ability, then it can be different.
Some additional things you might want to be aware of before you sign up, is the following….
The first is that the firm is not accredited with BBB.
There have also been over 50 complaints about the company on the BBB website in recent years.
According to some complaints, terminating your subscription could be problematic and this resulting in continuing to be charged.  
Also, many positive testimonies are from unverified people and the business rely on anecdotal evidence.
So alhough many claim they do have benefits that have worked for them – the fact remains that these products are not FDA tested.
Moreover, I can find no proof of income or earnings online.
I cannot see their affiliate income disclosure on the website either.
There appears to be nothing on ground that convinces anybody that some Elepreneur affiliates are making money from that system.
Unfortunately, there is an also an inherent problem with multi-level-marketing businesses that have led some to campaign for all of them to be made illegal.
That is, the emphasis most MLMs have on recruiting people into the business.
When it comes to enforcement by the law, there are now strict guidelines and regulations to adhere to.
Laws which, many MLM businesses have struggled to uphold.
Concluding Thoughts:
Elevate coffee & related products have tapped into a popular market and have a growing number of fans.
However, if you're talking about long term use, these are not going to be cheap products to buy regularly.
Therefore, as someone who is promoting it, you're going to need to target audiences that can afford to buy it regularly.
It isn't a Pyramid Scheme in my opinion, because you can make some money purely selling the product and not creating a downline.
But just be aware of the downsides of joining this type of business.
How To Expand Your Potential With An MLM:
One of the best ways you can boost your potential with an MLM, is by creating your own platform and brand.
For example; you don't only have to promote Elevate Coffee and their products.
I'm not sure of the exact rules with this one – as they do ask you if you are involved in any other MLMs when you sign up, but there are multiple ways you could expand your earning potential.
The major way being, having a blog or YouTube channel in a related niche – where you can also promote related products and earn commissions.
Either via affiliate marketing, or via a connection with other MLM companies, or sponsorship deals.
If you want to learn how to grow an income online & grow your potential – get started with the free training here.
It's where you can learn how to build a profitable website from scratch & learn many other skills besides.
Have you had any experience with Elevate Coffee? Let me know in the comments!