If you happened to stumble upon this Lucky Money App review online, you're probably wondering what a lot of other people have been wondering:
Is Lucky Money App legit?….
After having checked out various apps like this one, such as Lucky Day, Lucktastic, Lucky Dollar… This one runs along in the same vein.
It also seems to suffer with the same problems that some of the other popular Apps do.
That is, getting stuck on a certain amount prior to be able to cash out.
If all of the wins are just random and actually have true odds attached to them…
Why is it that some people feel they are suddenly cut off from any wins once they're a stone throw away from cashing out?
Apps such as Lucky Day just plainly deny this happens at all.
Some say it's coincidental that some people don't get wins for a while at this stage, for example.
Other Apps such as Lucky Dollar, have claimed to better than these other Apps, because you don't get "stuck."
Although I see some people online have claimed this is not true either…
I downloaded this App to check it out and looked to see what some other people have said online. This is what I have found so far.
Please let me know in the comments if you've had any experience with this app, (GOOD OR BAD).
I'd also love to hear from some winners.
Being an Apple user, I've been unable to use a lot of Apps like this – Since Apple removed many Apps from the App Store in 2019.
Many Apps like this have been trying to get back into the App store, but need to meet certain conditions to do so, (I'm unsure exactly what that entails).
In any case, I've been able to download Apps via Google Play on a chromebook instead to access them & to any Apple users that hope to use them, perhaps this will be possible in future!
Want to make $100's or even $1000's of dollars a month? Apps will not get you there! Start learning how here – for free.
What Is Lucky money App About – How Do You Sign Up?
Here there is a variety of ways you can earn cash prizes and tokens on this App.
This includes virtual scratchers, an egg cracking game, Lotto game, raffles and more.
You can download the App for free from the Google Play store and it appears to be available Worldwide.
They ask for you to sign up with Facebook and you'll need to connect in order to play the App on different devices and also ensure the safety of your earnings so far.
However, if you just want to test it out first, you can sign up as a guest.
How is it free to play?
Well, you will find you have to keep watching Ads to access the scratch cards.
This is because advertisers will pay Lucky Money a certain amount per Ads watched and part of this profit will go to you in the form of wins.
The good news is, you won't lose any real money playing this App! The only thing you can lose, is your time.
And for some of the most active players of this App, they could be playing it for hours a day.
It's little wonder they may get frustrated if they don't actually win anything.
Is Lucky Money Legit?
Well, there are going to be real winners with this App.
But that doesn't mean that some of the methods they use to
get you to keep playing, aren't misleading.
For example; you may start off getting wins in the beginning – to keep you interested and keep you playing.
But after a while, your wins could subside and you may find it impossible to reach the pay out threshold.
Presumably, if you keep at it for long enough then ONE DAY you will get enough to cash out.
But most people will just get bored doing this and give up prior to cashing out anything.
From the look at reviews online, (which I will outline in a moment) there are an extraordinary amount of people stuck just before reaching cash-out and this is absolutely a classic scenario with other Apps like this.
Have you cashed out with Lucky Money? Let us know in the comments!
Ways You Can Win On Lucky Money:
On Lucky Money you can win both money and tokens.
You can cash-out any real cash you've won, once you have reached $10.
You can also use your tokens to withdraw Amazon vouchers. 20,000,000 tokens = $1 Amazon gift card.
I outline the different ways you can win cash and tokens below:
Freebie Scratch Cards:
When I joined Lucky Money, I was able to scratch off 40 cards in 24 hours.
Once that time period is up, you get more cards available.
You get the chance to win cash amounts, but also raffle tickets, tokens and golden mallets for cracking eggs.
Every two or three scratchers, you need to watch an Ad to get to the next one.
Prizes seemed to range from $0.25 and $1000.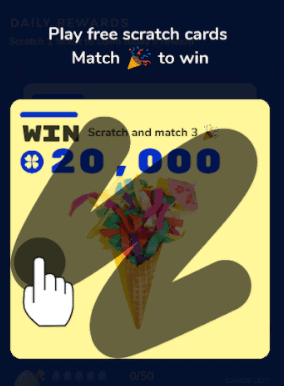 Lucky Spin:
Spin the wheel in order to win extra mallets rewards.
You can pay to spin 4000 tokens and you can watch video Ads to play, but there weren't any available to me when I joined.
You can earn tokens and you can also win golden mallets, which can be used to crack the lucky golden eggs.
Lucky Code:
Here you can win up to 10,000,000 tokens.
All you need to do is make sure you get the code they post on their Facebook page at a certain time each day, (1pm and 9:30pm (UTC)).
Lotto:
It seems you have the chance to win 100,000 dollars, if you get all the numbers.
But you can also win smaller amounts by matching other numbers. You can see the odds of winning below.

As you can see above – your odds of even winning $5 is 1 in 19219.3971 chance!!!!!
Even your chance of winning some prize tokens is slim, considering you need so many just to cash out a $1 gift card.
Raffles:
There are different raffles available to play.
The hourly $1 raffle, which you can by for 25,000 tokens.
The weekly $400 raffle, for 15,000 tokens.
A daily raffle for $50 and you get one free ticket to this one each day, (otherwise I believe it's 20,000 tokens).
A monthly $1000 raffle and you get one free ticket a day to this as well, (usually 10,000 tokens).
Another weekly raffle for 12,500 tokens to win $500.
Your odds of winning are simply going to depend on how many raffle tickets are in the virtual hat!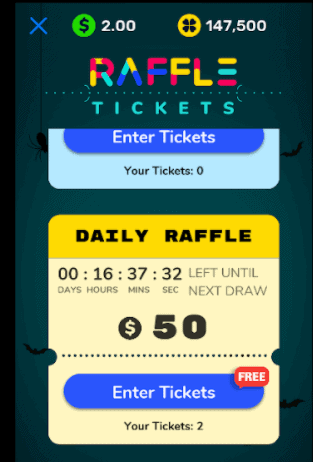 How Long Will It Take To Win?
Some people literally have spent hours a day using this App and have not managed to get to the $10 threshold to cash out – let alone win any of the bigger prizes.
This should give you some indication of how long it takes and how slim the odds are…
If you're thinking you could just save up tokens and use them for Amazon vouchers.
Well, you may be putting a LOT of work in for that, just to get a $1 Amazon voucher.
Let's do the math.
During my first day with Lucky Money App, I did all my scratchcards and by the end I had made $2.00 and 151,500 tokens.
Of course, if I managed to make $2 every day then that would be great, but according to reviews you get stuck prior to actually reaching it.
If I was relying on tokens and got that many a day, it would take around 133 days to get to my $1 Amazon card.
What Are Golden Lucky Mallets?
You can win these mallets on the App and once you get a certain amount, you're able to smash a golden egg and get rewards.
You can win things such as real cash, raffle tickets and tokens.
As features go, I enjoyed the Lucky Egg idea and even though you know you probably won't win anything, you still get that sense of anticipation that it's possible.
What About Slot machines?
Apparently Lucky Money had virtual slots before, but I cannot see these at this time.
However, they did have the lucky spin game and I managed to get an additional extra spin for completing all my scratchers for the day.
I just won some more tokens.
Earning More Rewards?
You can get additional tokens for things like, checking in each day!
Or for reaching certain goals on the platform, like completing all your scratchers on the first day.
You can also win $10 if you happen to win the most tokens on the App in the previous 24 hours.
PROS VS CONS:
PROS
It's free to download and play.
Small chance to win bigger money.
You can potentially get Amazon gift cards from tokens.
I admit…. I found it quite fun, but I can imagine some people getting addicted to it.
CONS
You have to put up with lots of Ads to play, (although I've experienced them more frequently on some Apps, for me they were roughly every 3 scratchcards.
The chances of winning anything significant is ridiculously low.
20,000,000 tokens for $1 Amazon card…. Will probably take sometime, depending on how many tokens you win!
People complain about getting stuck prior to reaching the $10 payout amount.
Lucky Money App Reviews Online:
Lucky money has some negative reviews on Trustpilot right now, not many but on average 2 stars.
It seems they removed the lucky spin feature at some point, but it was there when I visited it – so, I guess it's back!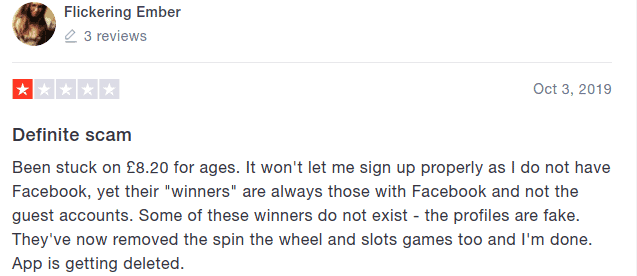 The low reviews on Trustpilot, is in contrast to the App store which has over 4.5 stars online right now — and many of them positive!!
I would agree with the review above that there did appear to be less advertisements than other Apps.
There are plenty of good reviews on Google Play though, including from people who say they have managed to cash out Amazon gift cards from just collecting the tokens.
Concluding Thoughts – Is Lucky Money App A Scam?
Far from being able to freely win money with an App, it appears to be very difficult to even reach the cash out amount.
In fact, it looks like you'd be very difficult to make enough money just to cash out at all.
Maybe if you spend hours and hours on the App for months…. and you just may get enough tokens to redeem a $1 Amazon card!
All that aside though, many people that play this App don't care about that and, as far as I can see, Lucky Money are transparent about your chances to win in their T&C's.
(Although granted… many people may not go and check them!).
The truth is, this App is quite fun to play.
Maybe not in the LONG term, but it's OK if you want to waste a bit of time and enjoy scratch cards.
Of other Apps like this, I have had some tell me that it helps them to stop buying real scratch cards and wasting money, but they still get a little thrill out of it.
If something like this can stop people wasting money on gambling in real life then, surely that has to be a positive thing….. ?
What do you think? Let me know in the comments.
Beyond Apps Online, Making More Long Term:
Several years ago, I came online looking for ways that I could make money from home.
Over that time, I've started up various side hustles in a bid to make extra money and some have worked better than others.
Right now, I make the most from my website right here. Via affiliate marketing and advertising on my site.
It's not something that happened quickly, but it's been a lot more worthwhile than any App.
If you want to learn how to do the same, you can start learning free here.
That concludes my Lucky App review for today! Please feel free to share your experience.