Today I wanted to review Lucky Dollar – an app that's very similar to other freebie scratchcard Apps like Lucky Day, Lucktastic or Lucky Scratch.
These are apps that give you the opportunity to do free scratch cards, but potentially win real cash.
The App store seems to have had a massive crack down on Apps of this variety.
Consequently, many of Apps that claim to help you win or make money via Apps, can only be found on Google Play right now.
The App store does still have some of them, but they have tightened up their conditions and many apps have still trying to get back on to the App store since they did this earlier in 2019.
So, how much can you really win with Lucky Dollar, is it legit and more importantly…. Should you even bother playing it?
Well, this all really depends on your point of you. I'll let you know some of the facts and you can let me know in the comments what you make of it!!
Eligibility To Play – Before You Begin:
In order to start playing right now, you need to be over 13 years old and reside in the US, Canada, or the UK.
If you fit that criteria, you can go ahead and download via Google Play & get started.
How Do You Make Money On Lucky Dollar?
There is the potential for one winner to win $1,000,000, (with the odds of 1 in 248,890,850).
Then, there are various opportunities to win smaller prizes via their scratchcards.
However, there are a few different ways you can make money on Lucky Dollar. These include the following: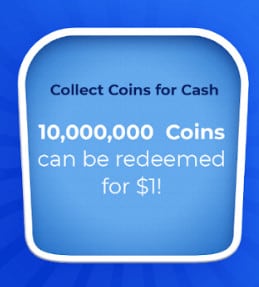 1/ The most obvious way….. Scratchcards:
When you first start, you need to scratch the initial scratchcard several times prior to gaining access to the others.
As you go on, certain scratchcards are locked until you have completed a certain amount and watched some Ads.
Every couple of games, you need to watch an Ad to continue.
This is how the App actually makes money & makes it possible for you to win anything!
When I started scratching, I had several mini wins – like the one above! This was a surprise to me, as I'm used to having to do tonnes before you see any real cash amounts….
(Although, I figured out later why, when I saw when the withdrawal threshold was….).
2/ VIP Cards:
Right now I have no idea what this is, it's in the "coming soon," section.
Let me know in the comments when you know!
3/ Complete Offers On Lucky Dollar:
This is where you can complete various get-paid-to offers, the variety same as you would with multiple other websites and apps.
For example; they may ask you to download another App, game, or casino App and you'll get a certain amount of coins for doing that.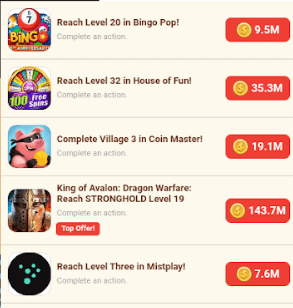 Some offers may need you to sign up to a free trial, or to make a deposit.
Make sure you carefully check the T&C's with offers, in order to fulfill the criteria and actually get your coins.
Also make note of when any free trials end, or else you could get charged, (I made this mistake more than once now….).
The offers that pay you the most coins, are typically ones where you have to make a deposit.
4/ Watch And Earn:
This is where you can watch Ads for a certain amount of coins.
Sometimes you get money as well.
The first Ad I watched was for $0.25 – (let me know if you've made any cash from watching the Ads!).
I also noticed there seems to be a limit on how many Ads you can watch at one time. I watched a couple of Ads the first time and I was cut off.
I'm guessing this is to stop people abusing the system, (playing Ads on autopilot and not actually watching).
5/ Refer A Friend:
By sharing your referral code, whoever you refer can receive a $1 bonus to get started.
You get a $1 bonus for your FIRST referral.
Thereafter you just get 10% of what your referrals make in coins during their first 90 days.
This referral program isn't very exciting. Considering you do need 10,000,000 coins minimum to cash-out as well.
You also need to rely on having active referrals.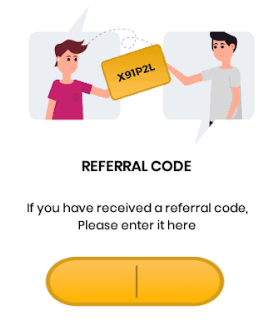 What Are The Odds Of Winning On Lucky Dollar?
I like the fact that Lucky Dollar ARE transparent about your odds of winning.
You can find the odds of winning each prize amount on their website and I will share this with you below.

Although, I don't quite get these odds, seeing as I won over $2 the first time I played – with a variety of amounts.
They're saying just winning the $0.25 was an odds of 1 in 369!?….
It's worth noting that their odds could change without warning. Therefore, it's best to check their T&Cs regularly for info.
Cashing Out With Lucky Dollar:
You can currently get paid out via PayPal or Amazon gift card.
You need a minimum of $40 to withdraw your money, or 10,000,000 coins.
Initially, I felt that $40 seemed incredibly steep and if I were talking about a survey site or something, then I'd feel that wasn't acceptable.
I guess it would be OK, as long as there is a feasible way the average person CAN make $40 if they stick with the App and not just get stuck a dollar off the cash-out amount, (as people have claimed on Lucky Day).
Also, they used to have a cash-out amount of $1 when they first started, so I'm unsure why they made the giant leap to $40…. !?
Or whether that's something that's temporary, or here to stay.
Update: They have increased this limit to $50 now….!!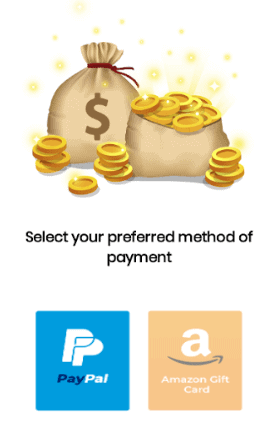 What Do People Say About Lucky Dollar?
Lucky Dollar currently has 4.1k stars on google play, over 9k ratings and over 100k downloads.
People find it enjoyable on the whole, although some feel somewhat conned by the whole thing.
Because, when you first join, you start getting wins and this encourages you to go on…. $1, $2 etc…
But as expected, the closer you get to the payout amount, some have claimed that things start to slow down.
That said, it does appear more rewarding in the short term to play when you see ANY wins at all.
In comparison to Lucky Day, where any wins at all seem few and far between.
The difference likely being, that Lucky Day has a low payout of $10.
Therefore, the wins are less and it takes a long time for some to get to that – many never doing so and giving up prior to reaching that.
On the Beer Money Forum there was someone working for Lucky Dollar that wrote on there only in Feb 2019, saying they paid out from a minimum of $1 via PayPal.
So, I'm not sure when they made a switch of up to their payout threshold, or why they made this change. I'm guessing it's to encourage people to stay and participate.
If you could cash-out at only a dollar, presumably those actual real wins would be incredibly infrequent and not make the game enjoyable.
Plus if it's only a dollar you win, you may not feel that excited to continue on.
Much like Lucky Day, where the cashout is only $10 and people get frustrated by winning nothing for many months of playing daily and get bored.
People on Beer Money also confirmed reaching the payout threshold and getting paid.
Pros Vs Cons:
PROS:
Free to join,
Good selection of Scratchcards available and fun to play,
Good feedback online from people,
You seem to win more cash amounts as you play that other Apps, which keeps it a bit more exciting,
You have the option to earn extra coins with offers,
A referral program to earn a little more,
Cash-out via PayPal and Amazon,
A chance to win 1 million dollars, (albeit, one in 200+ million chance!!).
CONS:
You need to reach $40 $50 to cashout, although amounts you win does seem more than other Apps,
You can only use in the US/Canada/UK,
Very small chance of winning much,
May take you a very long time to reach payout threshold, (this is a new app and so, this could change),
You will have to watch Ads in-between games, but this is how you manage to win any money at all, you also get to discover other Apps,
Is Lucky Dollar Legit?
So far, I enjoy Lucky Dollar more than I did Lucky Day, because I actually won some cash amounts and this made me feel more keen to continue…
Even though I know the reality of winning, is still very slim.
I'm somewhat confused about the payout situation.
In the past, they paid out from $1 and now are saying $40 $50 – so, because they are a new App, I imagine this is still in testing and they could change this at any time.
Ultimately, this App is for entertainment value and there is a SMALL chance of winning much in the way of real money.
But if you enjoy free scratchcards and these sort of games, then I see no reason why you wouldn't enjoy Lucky Dollar!
Let me know in the comments what you think and I'd love to hear about your experience so far!
Beyond Apps Online – Making More?
It would be great if you could make decent money via Apps, but after reviewing literally hundreds of reward sites and Apps, I haven't come across an App where you can make much more than pocket change, (at best).
That is… unless you're that 1 in a gazillion that actually wins money on the play-to-win Apps!
I keep looking because I do think that, one day, there will be more opportunity with Apps.
The amount available is growing all the time and as technology grows, so does the potential to make money.
However, for now I stick to a few side hustles that I enjoy to try and generate an income.
Right now for me, the most I make is from paid advertising and affiliate marketing on my website.
If you'd like to know how THAT is done, I recommend the training here.
That concludes my Lucky Dollar review for today… Have you tried it? Let me know in the comments below!