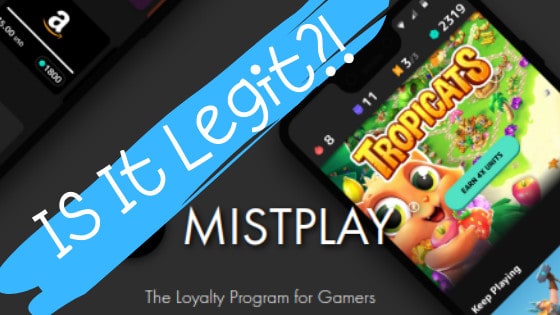 Today, I'm writing a review of MistplayApp – an app that claims you can earn rewards for playing games.  
But is Mistplay legit…  can you really make money playing games & if you can, how much can you expect to earn?
I've reviewed a tonne of different Apps on this blog and some of them are similar to this – such as Bananatic, & Appnana.
Does this have anything additional to offer… Can you earn any more here? Let's find out….
Want to make more online? I made my first $1000+ profit online, after I followed the training here.
What Is MistPlay and how do you sign up?
You can download MistPlay via Google Play for android – I don't see that it's available via App Store at this time.
The idea behind it is that you can accumulate rewards by playing games – but it's not quite as straightforward as that.
Basically, what you need to do is download game Apps that are suggested to you on the App and it needs to be the first time you have played them.
There will also be instructions that you need to follow once you have downloaded the game.
This could involve reaching a certain level in the game and you will also need to have the App installed on your phone for a certain length of time, before you can take it off.
Signing up is simple and quick to do, as you can link up with Facebook or via your Google account.
As soon as you have done this, you're good to get started and can see what Games are available for you to download.
There will be different requirements you need to follow depending on the game, so read the instructions for each game carefully, or you will find you won't get your credits.
Once you have completed enough to get your units for the game, you'll also be asked to answer questions about the game and your experience playing it.
Mistplay give you "Units," for completing tasks and playing games and these units can then be exchanged later, once you have saved up enough, to exchange for gift cards.
Try my #1 rewards site & get $5 free here!
How Does MistPlay Pay You For Playing Games?
Companies will link up with MistPlay and pay them a commission for you to download and play their games – of course, companies want feedback on their games and they also want people to download them.
The more people that download their games, the more chance they will get more players who legitimately like the game and also share it with their friends.
Mistplay will then share a percentage of the commission with you that they make.
You can also make additional Units for sharing with your friends and family. 
 They will pay you 50 Units for each person you successfully refer and who signs up to the App.
You can earn 100 Units per referral, once you have successfully made 200 Units from referrals as well – so, that's an added incentive to introduce people.
I will explain what these Units really amount to in a moment.
Useful: Other sites that pay for referrals!
How Much Money Can You Make With MistPlay?
How much you make is really going to depend on how much you play and how many games you're prepared to pay.
For playing a game on the App, it seems you could earn up to around 200 Units at the high end and you can earn the most by spending the most amount time playing the App and getting to the highest levels.
However, at the low end, you may only get 20 units for playing a game.
You should be able to cash-out a $10 gift card with around 3000 points, (for a visa prepaid card) and some people have managed to initially do this within a couple of weeks.
If you're in the UK, you will need to save up to 3900 Units to withdraw for a £10 gift card.
There is only a small amount of gift cards to choose from and unfortunately no PayPal option – but they do have Amazon, so I think that's fine.
Some people have commented that it's taken them longer to accumulate enough units to cash out, after their first initial withdrawal.
What Do Other People Say About MistPlay?
Mistplay has over 4 stars on Google Play right now and well over 40k reviews, which is pretty impressive for an App.

In general, the reviews are good.
Some people have commented that many of the game appear to be of the slot/casino variety and not much choice.

Some people have suggested there is the odd glitch going on and that it's made it difficult to play games.
One reviewer said they had made $50 of Amazon gift cards in just six weeks, which is pretty good.
However, they did also mention that you must play a lot to get to that level – but if you're an avid gamer on your phone anyway, then it's just a bonus.
PROS VS CONS OF MISTPLAY:
PROS
You can earn something just by playing games, (something you might do anyway),
You can join worldwide ,
Free to join,
Quick sign up process,
You may have early access to new games,
There is a referral program, (which will be the most beneficial for those with a large social media following, YouTubers or bloggers, who will have access to large audiences… otherwise you will not make much!).
CONS
Limited income potential – you're not going to make much, no matter how frequently you play games.
No PayPal option,
Limited gift cards offers,
Some people complain their accounts are closed without warning and this could happen for people who have inactive accounts,
It is not available for IOS/App Store, (not at the time of writing anyway!).
 Conclusion – Is MistPlay Legtit?
If you're an active gamer on your smartphone anyway, then Apps like this can be quite fun to partake in.
They give you an opportunity to earn rewards for doing things that you would already be doing anyway – so, why not get some reward for it?
The downfall with Apps like this, is just that it would be a lot more fun if they could pay MORE. 
While it may sound like a no-brainer to use Apps like this if you play games… For many people, the reward for playing the games are just way too LOW to even be bothered with.
You need a lot of units before you can be eligible to cash-out and many people will give up on Apps like this, before they have reached it.
Once you have got to your cashout level – there aren't many gift cards to choose from, although they do have Amazon, which is a popular choice for most people!
Ultimately, the people that enjoy this App most simply enjoy the opportunity to make a bit extra on the side for doing something they already enjoy doing.
But if you're only doing it because you want to make extra money, then it's not going to be a great choice.
Beyond Apps – Making More Money:
It wasn't long ago that I had to register as self-employed and that's because, I make money online.
For me, that means I make some money from a few different side hustles, things that I often discuss on this blog.
But a majority of it comes via affiliate marketing & paid advertising.
I learnt how I could make money from a website here – and that's what introduced me to the online marketing and finding ways to make money online in general.
I recommend it to newbies online, because you can start learning for free.
I hope you found my Mistplay review useful, if you have any experience to share – let me know in the comments.
All the best,