What Is Perfectly Posh?  An MLM, Or A Pyramid Scheme?
A couple of people have asked me about Perfectly Posh, so I thought I'd check it out for you guys – I'm not affiliated with Perfectly Posh in any way & all opinions are my own.
First and foremost:  Perfectly Posh is certainly not a Pyramid scheme, it's a legitimate multi-level-marketing company, with some great looking products.
Related Post:  The Difference Between A Pyramid Scheme And MLM!
There are definitely some red flags with this company though – and some negative points related to MLM's in general – so I will elaborate on those later on in this review.
What Is Perfectly Posh About?
Perfectly posh is a multi-level-marketing business, aimed at women, that sell luxury beauty and skincare products such as – face and hand creams, soaps, lip balms, body scrubs…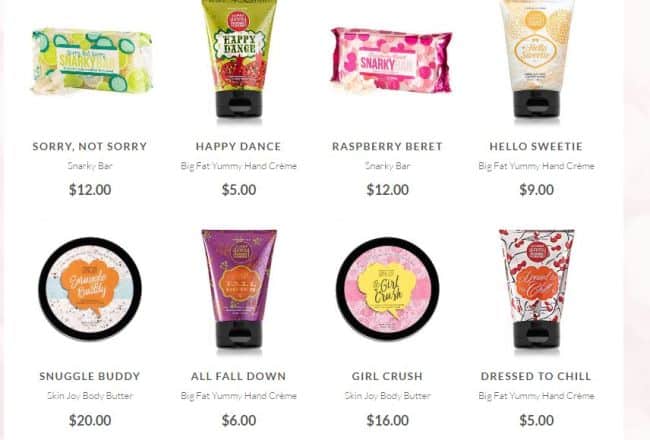 You can check out some of their new products below…
Having taken a good look at the range, I can see that the branding and overall appearance of the products look great and the ingredients are all natural – although on the pricey side.
The question many people may ask, is whether these products are really worth significantly more than similar products on the market.
While this will be a matter of opinion, (some people do absolutely love the products) there is no debating that MLM's do have to rise the price of their products to cover costs.
However, I think you've got a good chance of selling products like this in any case, if you're passionate about them – not least because, the products do look pretty cool.
I do like the design of a lot of these products, they've obviously put a lot of work into making their brand stand out.
I also like some of the names and descriptions of the products – for example, take a look below.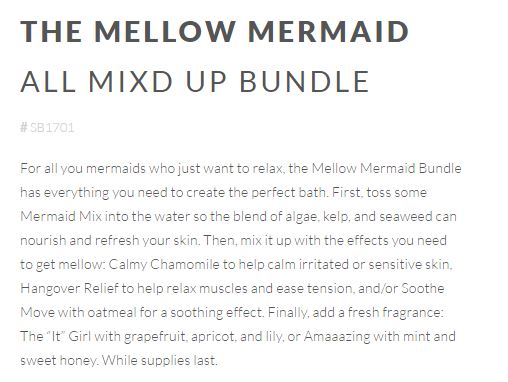 The "Mellow Mermaid," – I love the title and I feel the way they describe their products on their website, is really appealing.
While there is no doubt that the products are on the expensive end of the scale – there are also a tonne of luxury pamper-related products out there that are overpriced for what they actually are.
Yet, many women are more than happy to spend a premium price on what they perceive to be "luxury," "high-end," products.
"Perceive," being the operative word here.  Because, when it comes comes to these type of luxuries, many women assume that they're better quality if there is a higher price tag.
The pricing does reduce the reach that you have though, as many people may not be prepared to pay high prices for products like this all the time – but more for perhaps, a personal treat, a gift, birthdays and so on.
So, it seems the ideal scenario, would be that your customers fall in love with the products – and clearly some people do.
I certainly know from my own experience that there are some products that I love and once I find a brand I like, I will buy that brand again and again.
Perfectly Posh Product Feedback.
I took a look around the net for perfectly posh product reviews – the trouble is assessing what reviews are unbiased, (obviously if someone is trying to sell these products, they'll have good things to say).
Reviews tended to be mixed.  Only four reviews for the product below, but all five star.

Although there were limited reviews to be found, they tended to be around the 4 – 5 star mark.
Where there were complaints, they were generally things you'd expect to hear: such as the products being too expensive.
Ultimately, as is the case for a majority of products out there, there are good or bad reviews and the quality of the products will be a matter of personal opinion and taste.
Your job will be to convince others that what you're selling is really a cut above the rest and worth the extra money, in comparison to cheaper brands.
You'll then need to convince them to buy from you and hope your customers fall in love with the products enough to continue to buy form you.
How Much Does It Cost to get started?
You can get started with perfectly posh with a starter kit for $99, which is hardly expensive.
Their new starter kit for $99 in 2017 includes:
A variety of business tools,
Ingredients guide,
Posh pin + car decal,
Catalogue,
Handcream,
Chunk bar, (soap bar).
Skin stick, (for areas that need healing, such as cuts and grazes).
A special product that's likely to change month on month, (such as a snarky bar, for exfoliation).
"The ritual," which is a face mask.
For $99, I do think this is pretty good value to get started.
Many people also simply purchase the starter kit in order to get those products at a good discount.
How Much Do You Earn?
The commission you receive for the sales of the products is 20% initially and you move up to 25% once you progress on to the next tier.
While 20% may seem OK, it doesn't add up to much once you break it down.
For example, say your customer bought a Face mask for $17, you'd make $3.40.
So, you're going to have to be selling a heap of products to actually make a reasonable living from this.
But because this is a multi level marketing business, you also make an amount from recruiting people into the business – that is, money off their sales and off the people your recruits bring in also.
Generally, this will turn into peoples ultimate goal into not selling the products, but by recruiting others into the business – as the more people you bring in, the bigger the potential profits for you.
You can find the full breakdown of their commission structure here.
Growing Your Business, Via Recruiting.
Recruiting anyone into a business is hard, but particularly an MLM business, because they do have a negative reputation and you don't have to look far online to see people slating MLM's.
In addition, you can't just go and recruit any person you bump into – because you need to recruit people who will either be exceptional at selling the products, or exceptional at selling the business.
This really limits your scope to success and unless you're the kind of person who would feel comfortable constantly talking about this business to every opportunity.
Obviously, the circles people mix in are different – but a majority of people are not going to be interested in starting their own business and even less than that interested in joining an MLM.
The best way to generate leads for an MLM is by finding people who are already interested in joining an MLM business — and the best possible way of doing that, is online.
For example, Posh provide you with a website for people to order from you directly…
But if you had your own blog or website too, you could build it around your MLM business and write blog posts to attract those people into connecting with you.  Find out how here.
If you don't have access to a lot of people that will be interested in these products and the business, you're not going to be able to create a strong enough team to be really successful.
One way to find more leads is definitely online and throwing online parties via social media, would be a good way to go.
Perfectly Posh Criticisms:
Unfortunately, although the products look great from my perspective and plenty of people do rave about them – this doesn't make Perfectly Posh a great company to work for, nor a great business opportunity.
One issue  found, was that they get an F rating on the BBB database.
Some complaints targeting this company include the following…
Hit and miss products,
Flat shipping rate – despite order quantity,
Not enough affordable products and samples,
Bad customer service,
Some negative reactions to the products physically, (such as burning/redness),
Being sent the wrong products or damaged products.
Businesses are always going to have complaints against them, but an F is the lowest rating on the BBB scale.
I do keep seeing that people claim so many of the consultants are really great, but the business itself lefts them down.
Have you been a Perfectly Posh consultant?  Why not share your story below?
PROS VS CONS
Pros
Great branding/good looking products.
Only $99 to get started.
Your own website.
Ability to throw social media parties/sell directly online.
If you're passionate about the products, this will make it easier to sell.
Cons
An F rating on the BBB website.
A range of negative feedback surrounding the business and customer service.
Some negative reactions to products, (although, this is bound to happen with some people to any products).
A difficult business model to make work for you, but that's the case with any MLM.
Risk of alienating friends and family if you try and recruit them into your business. 
Is Joining An MLM Really A Great Business Opportunity?
Commonly, MLM's target women.  Housewives and mothers, who really are keen to find an opportunity that will help support their family.
So, it's common for MLM's to front their business as being the key to having it all…
Having a great career, being your own boss and being able to raise your family and have quality time at home.
The reality is far removed from the dream they're trying to sell.
A mass majority of anyone joining an MLM business will fail and it's not all down to their own efforts, the business model makes it very hard to succeed.
The marketing behind a many MLM's is deceptive:  While some MLM's are clear that a majority of people may only make a small amount, such as a part-time income if anything.
….Others try and push the idea that this business could be your ticket to everything you've ever wanted in life and try and make it appear recruiting others and building your business and simple & easy.
They don't want to market it as a hard sell, but being rejected time and time again is going to be the norm if you're trying to sell an MLM opportunity.
As I've said in previous posts – I don't see joining an MLM as having your own business at all.
The MLM company can fold at any time and you'll be left with nothing, your "business," will be gone in an instant and you have zero control over that.
MLM's often talk about being trapped in a job and all the insecurities and uncertainties that come with being employed…
But it's just the same with an MLM!  Yet worse, because you have zero security and you're tied up with their business.
You're putting all your eggs in one basket and you don't even have a guarantee of a monthly salary coming in for all your efforts.
For example, I make most online via affiliate marketing – and while it's true that I also have to make sales to be paid, I can promote and earn commissions, from any products I like.
I own my own websites and have total control over what companies I'd like to work with.
On one a couple of blogs I own, I make use of a whole bunch of affiliate programs, including big ones like Amazon or Etsy.
While it's true that affiliate programs also fold and close, if you own your own websites and have your own brand, you can adapt to that and just promote things from other companies.
So, the way I see an MLM is that you're still working for somebody else, but with a commission only payment structure.
The appeal for many is the flexibility, although plenty of people successful in MLM's will say they work around the clock to make it work for them and certainly not all from home either.
Conclusion: Do I recommend Perfectly Posh?
While Perfectly Posh is not a pyramid scheme, there is enough negative feedback about this business, that I couldn't happily recommend it.
In addition to that, I've covered some other reasons why joining an MLM isn't often a great opportunity for many.
Perfectly posh does acknowledge that people may join for a variety of reasons, including those who have no desire to recruit and just want to sell products and those who want to make significantly more via recruiting.
At least with Perfectly Posh, you have legitimate products that you can happily sell to people outside of the business – although, you would need to sell a lot of products to make a reasonable profit.
The way to earn much more, is always by building a team under you – but since the drop out rate will be very high, you'll always be struggling to bring more in and this will be one of the most stressful aspects for a majority.
Finding leads online, would definitely be one of the best methods to find people already interested in joining this type of business.
The way I make most money online at the moment is via affiliate marketing.  
It suits me, because it doesn't involve recruiting others, customer service, or direct sales. This training helped me.
There are plenty of people who are involved with MLMs over there too.
What's your experience so far with Perfectly Posh – or other MLM's?
You can leave me a comment below.
All the best…