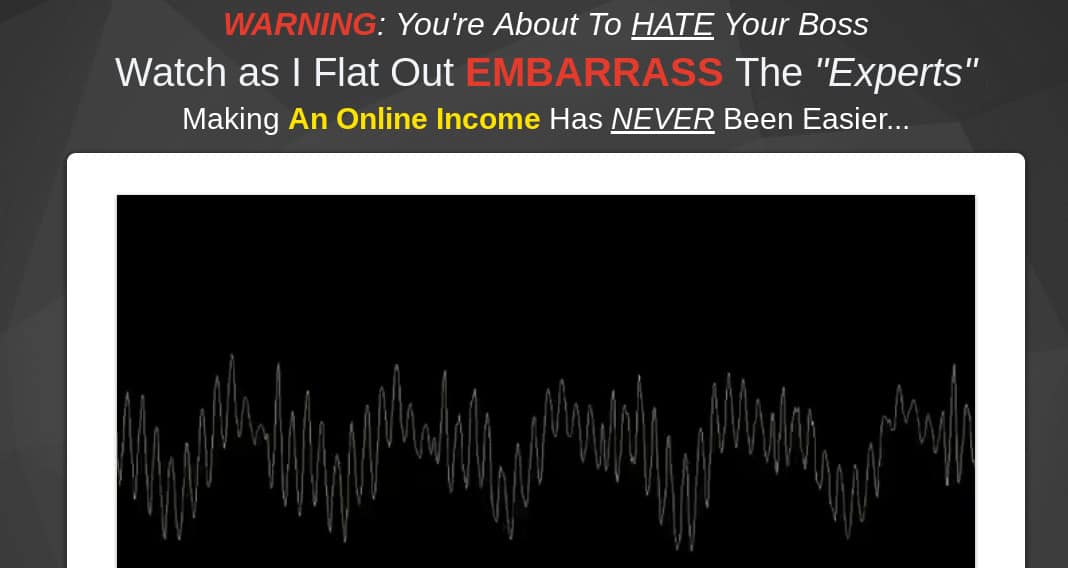 Is Push Button System A Scam – Or Can You Become A Millionaire By The Click Of A Button?
As I was just reviewing Push Button Profits this week, I came across yet another program with "Push Button," in the title…  that was, the Push Button System.
So, I thought, I'd just quickly tackle this one as well!  This is going to be a short and sweet review.
Is There A Push Button System?
If you go by what they claim on their sales page, you'll be able to churn out thousands at the press of a button.

Sounds like a dream… and it is exactly that.  It is pure fantasy.
The reality is, there are no push-button automated systems online that make you a fortune.  That's just not how it works.
I'm sorry if that's what you've been led to believe, but making any money on the internet takes time and effort – just like making money in the real world!
For sure, working on the internet IS different to working in the real world.
For one, you don't have to get dressed all day if you don't want…  you don't even have to get out of bed.
You can take breaks when you want, days off when you want and you generally don't have to deal much with the general public.
You don't have any office politics to navigate… that's a big bonus.
On the other hand, working online can initially be financially unstable, isolating and frustrating.
So, it's not all picture perfect and there is a massive dark side – because the internet is full to the brim with people trying to prey on the weak and vulnerable.
In any case, good and bad, making money online is not something that will automatically fix your financial problems…
and if you fall into scams like this, it will certainly add to them!
Related post —>  Real Online Success Stories, From People Who Have Made It.
Push Button System – Red Flags Everywhere.
This program reminded me a great deal of Countdown To Profits, that I looked into a while back.
The giant red flags come along with the insanely over-inflated earnings claims.
They suggest you can make tens of thousands and potentially millions by literally, "pressing a button," and doing zero work.
To be precise – they say you could apparently make $20,000 or more, in the next 3 hours!
The video is quite entertaining, (because it's so ridiculous) and so very similar to many other videos I've seen.
It's full of "testimonials," from people, sharing how much money they've made and being all shocked and amazed.
Although, in their disclaimer, they do mention that these are all paid actors.
Just like the previous program I just reviewed – I had previously read that push button profits, wasn't as it first appeared.
I'd read in another review, that their disclaimer revealed that this program was nothing but a sales funnel into a different program, called EZ Money Team.
This seems to be a common thing, affiliates for other programs create smokescreen products, to funnel people into these other programs and make a commission.
However, when I went to look at the sales page – it appears that this has now changed.  There was no mention at all of the EZ Money Team.
It's possible they just took that information off once they realised, perhaps they made a mistake there.
Anyway, this video could really be used to funnel people into any program of their choosing and they could potentially change it regularly.
I've seen that happen with certain other sales videos, they're used as a front for various scams online.
In any case, if this is a funnel into the EZ Money Team, I did go and check it out, and that's certainly one I would stay away from too.
EZ Money Team as is based around teaching you to promote and profit from well-known scams online, there have also been many people complaining about not being able to get a refund for the program and having fraudulent charges on their credit cards, so – beware.
Either way, Push Button System do declare in their disclaimer that the average person does not make ANY money with this system at all.

Is Push Button System A Scam?
Push Button System is just another deceptive program, claiming that you can earn thousands of dollars at the push of a button: zero effort, zero skills.
A typical person signing up here will not be earning any money.  They admit that themselves.  You're far more likely to lose money, so this is not a winning ticket.
Someone in a desperate financial situation may still be tempted to go and check it out… because it's $67 and they seem to also have a half price offer on. Plus, there is a 60 day money back guarantee.
BUT be careful, many of these programs say you can have a money back guarantee, but then won't answer your emails, or just make it difficult for you to get your money back.
One thing you can do if you're finding getting a refund difficult, is contact your credit card company directly.
Commonly, these programs will use a tempting low-level entry price to tempt you through the doors, but that is not where the spending ends.
If any training program online is promising you that you'll make thousands overnight and claiming that there is no work involved – alarm bells should be ringing.
Have a think about it, try not to get caught up in the emotional hype.  Trust your instincts… does it just sound too good to be true?  Then it most likely is.
If there was a magical push-button system to wealth, then either everyone would know about it – or no one would, (e.g. the creator of that system would keep that secret to themselves!).
If you signed up to the push button system, or any similar program – I'd love to hear about it!
Leave me a comment below and I will get right back to you.
All the best,