Is Qmee worth it – what about these new surveys, are they worth your time?
I first wrote about Qmee a little while back and you can read my full review on Qmee here.
But I just wanted to update you, because Qmee has started expanding and now also includes paid surveys.
US surveys tend to pay anything from around 25 cents and $1 and in the UK, (where I am) it's a similar amount in pounds and pence.
Surveys range from about 5 minutes to 20 minutes.
You'll also always need to answer some qualifying questions prior to being accepted.

Having reviewed numerous survey sites before, I thought I'd better check out Qmee's latest addition.
Before I could answer any surveys though, I was confronted with a bunch of questions.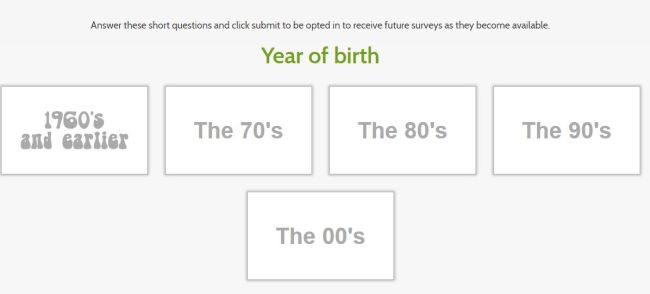 There were a group of standard screening questions you needed to answer – but I hadn't answered them in this format before on other sites.
Normally, I've been asked things such as my date of birth, gender, postcode and so on in a straight-forward tick box kind of a way.
Whereas this was quicker to fill out and looked a bit more appealing.
You will be asked some standard questions, the same as you would on any survey site – questions about your occupation and how much you earn, for example.
From that point on, you've opted into Qmee surveys and then there is a waiting game prior to actually being invited to surveys.
I had already read there could be a lack of surveys to people in the UK, (where I'm based) although I didn't really understand that – as each survey takes you to a different provider.
Since there are a mass amount of providers available, I wouldn't have thought there should be a lack of surveys.
In any case, I did not get invited to any surveys for 24 hours or so.
The Initial Surveys:
After the initial waiting time, I was invited to three surveys.
I could tell there were surveys available, because the Qmee icon on my browser extension had a little number there, indicating surveys were available.

I initially took the bonus survey available for 5p.
I went to take the next survey, but it said it was no longer available.
I then went to take the final survey and it transferred me to another provider.
Unfortunately, after some screening questions, I was told I didn't qualify for the survey.
This is unsurprising, as being screened-out is the number one problem with taking all paid surveys.
But the issue is, if there aren't enough surveys to try, then it can feel like even more of a time wasting exercise.
You can spend lot s of time just answering qualifying questions and not actually ever getting accepted on to the main surveys.
Since surveys pay out such a small amount to begin with, this really adds to the time wasting element.
After being pretty unsuccessful with these initial surveys, I wasn't sent another for 24 hours and didn't qualify for that.
The next one, the same story, I didn't qualify.
So, there does certainly seem to be a general lack of surveys at this point.
Have you had much experience doing the Qmee surveys?  Let me know in the comments!
UPDATE: I was sent FOUR surveys this afternoon, 3 out of 4 I didn't qualify for, the 4th I completed and made 58p.
When I'd completed it, there was another waiting.
Getting More Surveys + Cashing Out:
I have heard reports that you may get more surveys sent to you, the more you actually make use of Qmee and the more surveys you complete – but that's unconfirmed.
Still, it could be worth a go to see if you get more luck with it.
Once you do build up your Qmee balance – via surveys or just the regular way, via their Ads, there are new cash-out options also.
When I initially joined QMEE, Paypal was the only cash out option available.  But since then, they've started offering giftcards also.
Before you can get paid via gifcards, you need to verify your identity by withdrawing a small amount into your Paypal account.
Giftcards available now are:  Amazon, Starbucks and Itunes.
You can also earn by referring others to Qmee – $1 per referral in the US, or 50 pence in the UK – but you're only paid once they made their first cashout.
You won't be able to refer right away though, until you've been a member for a month or so.
So, is QMEE worth it?
I think if you're using QMEE in the original way, using their browser extension, then that's definitely worthwhile to have.
Qmee alerts you to deals and pays you to check them out – it may only be a a small amount here and there, but there is no effort involved.
Surveys, on the other hand, are an effort and they're even more of an effort when you try and go for them and then don't qualify.
Qmee have only just introduced surveys, so it may be that this will improve over time, but right now they don't seem to have a huge amount available.
If you're keen on doing surveys though, it could be an additional way to make a little extra on the side – If you're using Qmee anyway.
Generally, I don't recommend wasting much time on surveys, because you do get so little for your time.
But as far as Qmee goes, it's still worth signing up for their special offers/Ads – as that doesn't take any extra special effort.
Want To Make More?
If you're interested in making more than just pocket money online – I make most money online right now, from owning and running a website.
this is where I learnt about that.
What's been your experience with Qmee so far, have you checked out their surveys?
Leave me a comment below!
All the best…

Other posts that may be of interest….