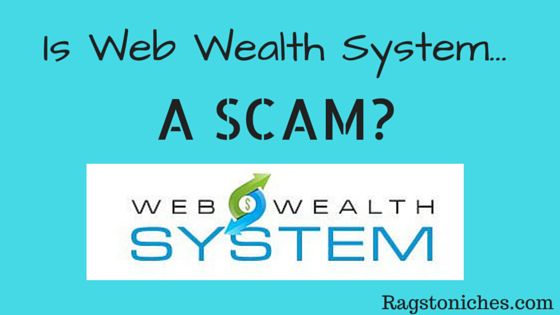 The sales page suggests you can make thousands of dollars in commission from this program… Is Web Wealth system a scam?
Or is this a legitimate opportunity for you to make some decent money online?
I will break it down and give you some of the facts about it – you can then make up your own mind.
Company: Web Wealth System, (www.webwealthsystem.com)
Creator: Terry Duff
Cost: $27 (starting price)
Verdict:  Not recommended.
Review In Brief:  This program has some hyped up earning claims in on the sales page, which is clearly used to entice newbies on to this program.   Ultimately, I feel this program is an empty one, used to build up the email list of the creator.  The chances of you making any reasonable money at this as a newbie, is limited.  Read on to find out why…
For Training Without The Hype – I Recommend This *
What Is Web Wealth System?
The web wealth system aims to make you recruiters for the system itself.  Yes, the whole aim is for you to generate sales for the very system you are about to buy.
You're given your affiliate link which you're taught various ways of posting all over the web and you receive a commission for your leads.
So, you get $1 for getting anyone to actually click to the landing page that  joins Terry Duffs email list and then – depending on how much these leads purchase, (or not) you will receive a commission for what they purchase.
No one that you direct to this landing page has to buy anything, you will get $1 for just getting them there and them entering their email address.
It's only if they do buy, that you get further commission – actually you get 100% commission, which is a perk here.
Additionally, if the people you're sending to the system also sign up, you create a down line – which means you also make a small commission off of the people you refer.
So, this program is entirely based on recruiting others and you will also make a commission off those recruits.
What's in this for Terry Duff?
If Terry is paying you 100% commission… what's in it for him?
Terry Duff is paying you a large commission on any sales you get via directing people to the web wealth system…
But by sending people to it you are helping Terry build up his email list, that is – whether they buy anything or not.
Many people may reach the squeeze page and enter their email address, (you get $1 for this) but it's not until they're entered their email that they get any further info about the system.
So, whether or not they do buy anything, this email address will be very valuable to Terry.
Email lists are big money – did you ever hear that the "money is in the list?" Well, it's a term thrown around a lot in internet marketing and it happens to be true.
Terry also happens to market some expensive back-end products that can make him thousands of dollars per sale – so, this can be very profitable for him.
Essentially, Terry is building a small army of people to build his list for him and funding them as they do.
If you don't have any problem with that OK, but this is not a real business model.  This won't help you build any long term sustainable online business for yourself.
Terry is teaching you some basic traffic generating techniques on this course but all the other things you'd need to know to build your own business is not included.
Ultimately, this will not bring you in money long term, so while you could make some money from it- you'd need a PLAN B too, or other sources of income.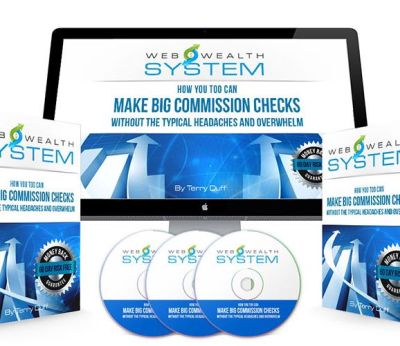 Back-End Vs Front-End Products:  The Real Money.
On the front end of this program is where people will purchase the regular program for $27 and upsells up to $97.
As a regular buyer of the program, you can gain commissions for these products, if you manage to generate leads that convert into sales.
However, the back-end products range into the thousands of dollars and you too can gain commissions from these products – but only if you purchase them first.
This would be a slippery slope, as you can see the possibility of losing thousands of dollars.
However, this is how anyone has made thousands of dollars in a short amount of time – it's not just by sending people to a few front end products.
Who Is This Program Aimed At?
Without a doubt, this program is aimed at brand new internet marketers who perhaps have tried a couple of things that haven't worked, don't get have the knowledge to build their own online business and want an easy solution to start making money online.
Alternatively, some already established marketers may sign up to market this to their newbie audience as an easy sale – personally see this as unethical because it won't steer people in the right direction.
PROS VS CONS
PROS
This is not a difficult system to grasp – there isn't much to it.
You can learn some basic traffic generating techniques that could help you down the road.
Low cost.
CONS
The program claims there are limited spots available – this is BS.
There are hyped up, unrealistic earnings claims and testimonials on the main page that are just there to draw people in.
Sending cold traffic to a squeeze page will not yield high conversions.
Generating traffic can be one of the hardest things to master in internet marketing – as such, most people will not be successful at generating enough leads – therefore, a majority will not make much money at all, if any.
This is aimed at newbies, but to be successful – you'd have a considerably better chance if you did have some experience.  Having an audience that trust your judgement already, is a million times more effective to sell to – than random strangers on the internet.
The whole "system" is just centred around selling this system itself – how is this new, secret, or special?  Where is the real value here?
Conclusion – Is Web Wealth System A Scam?
Web wealth system is not a scam, but I do think it's dishonest in how it's marketed.
For starters, it's not clear prior to sign up what this secret system really is.  You also need to enter your email address to get to any real info about it.
Additionally, the big sales claims on the main page are not relative to normal results people will have – huge sales come from people purchasing back end products, that you yourself would have to purchase in order to generate any commission from any leads purchasing them.
All this "system" is – is some training to try and help you sell the web wealth system itself.
This is not about helping you build your own business, this is just about build up the email list of Terry Duff.
You could make some money with this program, if you manage to get enough people to sign up.
But that means sending traffic to this squeeze page that will actually convert into sales – and for newbie marketers, with no experience, this would be a difficult task.
To make money online successfully, you need to learn the skills that the web wealth system doesn't teach you.  Yes, it's the longer way – but it's the way that will give you the best chance of success.
Sure it's only $27 – so, you can give it a go and see if it's for you.  At the least, it would give you an insight into some traffic generating methods you can use down the road.
But avoid the upsells.
So, what are the other options?
If you're a newbie, you should really stop looking for quick solutions to make a tonne of money online.
There unlimited programs out there that claim to have the secret for doing this – but they're full of crap.
You can learn to make money online, but you will need to build up a skill set to really earn long term.
Remember, the people you're buying these products off, learnt the long way too.  
They didn't make their fortune from buying some push button system or overnight riches program – they took time to learn everything they needed to know to eventually create their own products.
If you'd like to learn how to make money online from scratch, you can start for free here.
Have you signed up to this program already…  what's your take on it? I'd love to know!
Leave me a comment below!
All the best….