Legit Flex Job Academy Review: Can you earn nearly $400 aWeek?
What Is Legit Flex Job Academy?
Legit Flex Job Academy claims they're looking for people to "process their online worksheets…" If you think that sounds a bit vague, you'd be right.
For doing this online processing work, you could earn $371.25 part time – or even $1000+ full time.
The job title is specifically stated as: "worksheet processor."
It always makes me laugh how specific these numbers are with these things. $371.25…. Are you kidding me!?!
Not $400… not $350… But if you decide to work full time, they claim you'll make over $1000.
Anyway, this is something scams regularly tend to do.
They give you very specific numbers – thinking this somehow the story appear more realistic. To me, it just looks like the sign of a scam.
Be warned, you do need to add your email address in the main sales page to get any sort of detailed information about this.
I suggest using a fake email, (if you do at all) because your email is likely to be sold on to other internet marketers that will flood your inbox with other scam products.
Legit Flex Job Academy: It isn't legit an there's no real job!
The weird thing is, when you go ahead and purchase legit flex job academy, what you get on the other side has NOTHING to do with becoming a "worksheet processor," or working for them in any capacity at all.
The sales page is quite extensive and goes on to some length about how easy this processing job is, how flexible and how successful you can be with it.
The page is also littered with fake testimonials, showing people holding up their paychecks.
A testimonial from Margie she says it only took her 10 hours to make that magical number they talk about… $371.25!
Although, if you take a look below all the testimonial images, it will tell you that the results are not typical. You need to go and check out their disclosure for further info.
But hold on… if it's so easy to do and anyone can do it, why are the results not typical?
They seem to be clearly saying that this work is the best opportunity online and it's SO EASY to do. Right?
All they want you to do is simply copy and paste data they supply you with. Sounds like a walk in the park, so why aren't the results in those testimonial pictures not typical?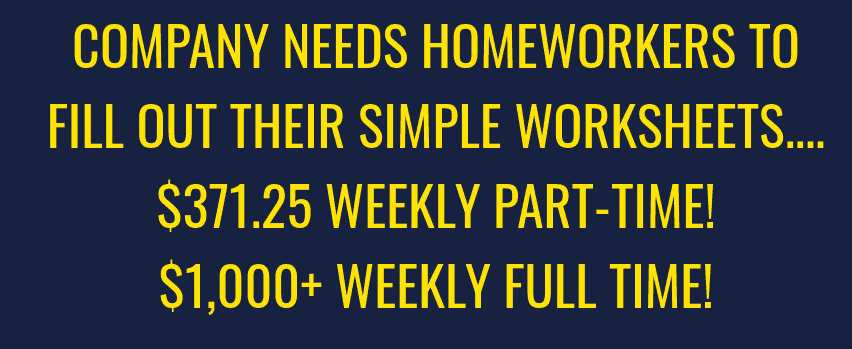 Well, that's likely because the actual product you'll be purchasing has nothing to do with processing anything at all and so, your results are not going to be bringing you in any specific income to speak of.
What you earn following the advice within this product, will be completely unique to you.
So, What Does Legit Flex Job Academy Teach?
If you do purchase this product and land in the members area, you'll be confronted by a bunch of training.
Hey, at least there is something there to speak of. There are 14 lessons in total that you can check out.
what is actually being taught within this training is something called Amazon to Ebay arbitrage.
Within this area of making-money-online, there are tonnes of get-rich-schemes already operating.
What Is Amazon To Ebay Arbitrage?
The idea is simple:
You find products on Amazon, that you can sell on Ebay for a higher price. You list the product on Ebay, when a sale is made, you order the product from Amazon.
Once the sale is complete, you make a profit from the difference.
If you think about it, there's no doubt you can potentially make money doing this. This idea itself is not a scam, people do make money in this way.
Although, there are many problems that can face someone going down the Amazon to Ebay arbitrage route…
It's not an "easy," work from home option and there is certainly no copy and pasting involved, nor any worksheet processing.
I'm surprised that clickbank allows these obviously deceptive programs to be live on their platform, (Clickbank is an online marketplace for digital products. I wrote about it here).
The good news about Clickbank is, if you're looking for a refund, forget contacting the company itself and go directly to Clickbank.
I've personally had multiple products refunded and I've never had a problem getting a refund directly from Clickbank.
They also provide you with a 60 day money back guarantee.
The Training Is Outdated:
Another thing that's also worth mentioning is that the training is several years old. For some things, that wouldn't be a problem.
For example; is this training really did relate to a "processing job," and nothing had changed regarding the details, then that may not be an issue.
But in the world of Amazon to Ebay arbitrage, you need your finger on the pulse.
Think about how often Amazon changes and evolves, their rules change, their T&C's change – prices can also swing up and down, sellers are constantly changing their prices.
So, out of date training is not something you can rely on in this area.
While there aren't any courses I can confidently recommend in this area, (at the time of writing)….
I can't recommend one that is not only out of date; but also operates via a fake smokescreen product that doesn't exist.
I do know that I came across plenty of YouTube videos relating to this subject when I very first started looking into how I could make money online – so, that may be one place to start researching, if you're interested.
Just don't take anything at face value, there are so many scam products promoted via YouTube.
Legit Flex Job Review Conclusion: Is It A Scam?
I think I will class legit flex job review a scam because it's completely deceptive.
If they're trying to sell Amazon to Ebay arbitrage training, why do they not say so on their sales page?
Instead, their sales page is a front, connecting you to an entirely different product that has nothing to do with it.
People sign up, thinking they're going to be given an easy job of copying and pasting and earning hundreds of dollars for very simple work – but in reality, this is nothing of the kind.
Making Money Online Fast Vs Slow:
When I first came online, I spent a lot of time looking for ways I could make money online with no experience – and fast.
But eventually, I came to realise, that making money online would require work and developing skills.
The more skills you develop, the better chance you have of generating an income in the long term.
One important reality I've come to realise since starting this website – is that a majority of people really do not stick to anything long term!
People say they want to achieve things, but many people just don't put in the time and dedication it takes to make it happen much of the time and just get stuck in their same old routine.
So, if you're the type that DOES persevere, who does take action and are not the type to give up at the first hurdle – then you're already ahead of most of your competition.
If you'd like to learn the basics and understand how you could make money online in the long term, this is where I first got started.
Did you sign up to Legit Flex Job Academy? Share your experience below!
All the best,