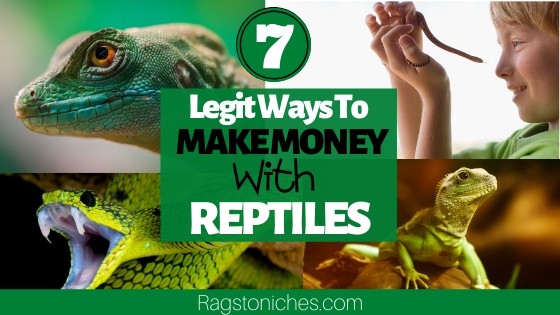 Most people keep reptiles purely as pets with no intentions of financially gaining from them.
However, do you know you can actually make money from reptiles online or from the comfort of your home? That's right; you could potentially earn a living from your passion for all things reptilian!
But how do you make money from reptiles? Well, there are multiple ways but today we are looking at several ways you can earn from home, or online.
However, I wouldn't recommend anyone even think of doing this unless they already have a great knowledge of reptiles, (or are willing to gain one) and have a genuine love of these creatures.
Want to know what methods I use? These are the side hustles that have made me money.
1. Creating & Running A Reptile Blog Or Niche Site:
In the current digital world, blogging is among one of the most popular ways to make some money.
So, how about starting a reptile related blog or website? It's a way that certainly makes sense if you're passionate about reptiles and reptilian care.
While it's not necessarily a quick way to make money online, (nothing usually is!) – it is a straightforward and legitimate one and can also be rewarding.
So, how do you earn from owning a reptile blog or website? Well….
The first way to earn from your reptile blog is through affiliate marketing. You can provide referrals to other products and services and consequently earn some commission.
If your website or blog has good traffic, you stand the chance of earning a decent amount of commission from these referrals.
You can also sell out advertising space on your website to other products and service sellers.
If you can find a way to maximise traffic to your site, and it successfully becomes popular, marketers will come calling for advertising space on your blog too.
If you get a good amount of traffic to your blog, you will also be able to apply to premium ad networks – which pay way more than Google Adsense.
If you are well-versed with a reptile niche, you can even create an ebook and sell it through your site.
Moreover, you could create and post sponsored content, which will also make you money.
Finally – don't forget about video! Creating a YouTube channel is a great way to bring additional traffic to your website – as well as earn you some extra money, (see below!).
If you're interested in learning affiliate marketing for beginners, (like I did back in 2015) – start learning here for free.
2. Create And Run a YouTube Channel:
YouTube can be a profitable way to create videos and earn if they get enough subscribers and views.
If you are knowledgeable in reptile keeping and breeding, you can create relevant videos and if your videos become popular, you can earn from it too.
Not only can you potentially earn from paid advertising – but you can also earn from affiliate marketing and driving traffic to your blog, (if you have one!).
Think of creating videos such as; how to feed your reptile, how to handle your reptile, among other relevant topics.
Remember, there are lots of new reptile keepers looking for guidance content, and nothing beats straightforward video clips.
Eventually, you can gain subscribers and views and consequently make some money.
However, many channels that make considerable money have 100's of videos uploaded! So, think of it as a long term commitment – not a quick money making opportunity!
Take a look at the channel below – some of these videos have tens of thousands of views.
3. Become A Reptile Breeder:
Another way you could potentially make money from Reptiles – is to make money from breeding them!
Reptiles are common pets across the globe, with people keeping snakes, iguanas, Chameleons, Lizards, and other reptiles as pets.
You can maximise on this by breeding some of these reptiles and selling them to pet enthusiasts – obviously, you'd need to check out the legal stipulations and requirements.
You also want to ensure you have all the necessary equipment, food and supplies before you get going.
In addition, if you do your research and become established, you could potentially sell your reptiles to zoos, museums, and animal parks.
However, I wouldn't get involved in this business unless you're already very experienced with reptiles and love these animals.
It's also not going to be cheap to get started – it can be expensive and very time consuming in addition.
That aside, if you're a massive reptile enthusiast, this probably won't bother you.
4. Selling Reptile Food:
Naturally, reptiles need to eat! Well, most pet owners or even breeders buy this food from pet stores or reptile food dealers.
Dealing in food is going to be more cost effective than buying and breeding reptiles – as far as getting started, but the downside is you're not dealing with reptiles directly and you'd still need to make relevant connections.
Some of the most common reptile feed include the following:
• Mealworms
• Discoid roaches
• Crickets
• Phoenix worms
• Waxworms
• Mice
• Vitamin and mineral supplements
Long term, you could open your own reptile dedicated store, which also specialises in food – as well as selling at reptile related shows and events.
5. Become a Reptile Supplies Dealer:
To breed reptiles or even keep them anywhere in captivity as pets, in zoos, museums, and animal parks, unique supplies are needed.
Of course, there is no way anybody will keep a snake or a lizard as a pet without a cage – for example.
Some of the required supplies that reptile keepers must have included the following:
• Spray bottles
• Feeding and water bowls
• Cages and reptile racks
• Fake plants
• Incubators
• Lighting and heating systems
• Cleaning supplies
• Screen covers
• Filters
• Pumps
With such a wide range of needed reptile supplies needed to keep these creatures, of course there is going to be a demand and some potential here to make money.
6. Offering Training:
With many people in the world, keeping reptiles as pets, training on how to deal with and handle these creatures is imperative.
It is dangerous to keep certain animals without having a decent knowledge for how to look after them.
I mean, how do you handle a potentially dangerous snake, without knowing what you're doing?
As such, reptile pet owners may advised to have some training to get them up to speed with all they need to know to keep their pet safe and healthy.
If you are well-versed on any specific reptile, you can get certification and offer training for a price.
You can even explore online means of training such as YouTube and blogging to reach out to reptile pet owners.
Not only will you be helping people out by ensuring they understand how to care for their pets, you'll also, (hopefully) ensure the animal is properly cared for…. plus make money in the process!
7. Exotic Animal Kids Parties:
Unusual party ideas for kids are becoming increasingly popular and what about a party where kids can handle and get their picture taken with some exciting animals – such as snakes & lizards?
In addition to showing the animals, you can make it educational too – by telling the kids plenty about them and how they need to be looked after.
You don't need to stop at kids parties though – there are plenty of grown up events and parties that may love to learn about Reptiles as well.
You could advertise these sorts of events somewhere like Facebook, by targeting people locally to you, who already have an interest in reptiles.
Build up a local fan base, advertise locally and get recommended via word of mouth too!
Pin Me For Later!
Conclusion – Could You Make Money With Reptiles?
Reptiles may not initially seem to be an obvious choice for a money making venture – but, if you're a reptile lover, this could be something you've dreamt about for a long time.
In whatever route you choose, you're not going to be an overnight success – but if you're invested in making reptiles part of your daily working life, it could be an exciting and fulfilling avenue to explore.
Whether as a breeder, blogger, Vlogger, trainer, or supplies dealer, reptiles could provide an earning potential.
If you had been wondering how to make money with reptiles online or from home – maybe this will give you a few ideas.
Do you have any additional ideas? Let me know in the comments!
Online Business Vs Home Based:
I personally prefer online business as opposed to a home based, or business out in the "real-world."
That's because, with an online business – you can really operate it from anywhere with an internet connection and it often won't be location dependent.
For example; you can work on a blog, an online store, or YouTube channel from anywhere.
One of the ways I love to make money right now, is via print on demand and in that case – all I'm doing is uploading digital files, I have no contact with any products directly that I sell.
If you're interested in starting an online based business, these are some ways that have worked for me.