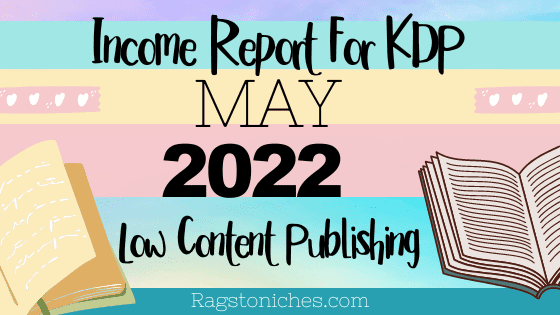 Last May, I had a crazy high month, one of my highest ever to date and partially that was down to a big bulk order of one book, (one that wasn't a best seller usually).
The same thing did not happen again this May, (or any month since that random event) but I did have a really high bulk order day.
This time though, it was for my best seller.
While the royalties weren't as high as last May – they were higher than April and it was still a very good month.
MAY 2022 LOW CONTENT INCOME REPORT:
May was close to a thousand dollars MORE than April.
But around a thousand less than the previous May in 2021.
I wasn't sure what to expect, because that month had been turned around by a crazy sales day.
I had a really large sales day this May as well, but it was somewhat less and with a much more expected book.
You can see how much I made in May exactly in the image below.
My highest day was in late may and for $1020.
The bulk of this was for one book and it was my all time best seller. I do occasionally have bulk orders for this book.
The rest of the month by comparison was overall less than the month before in general, day by day.
My lowest day was lower and my second highest was lower than the previous month also.
But still, the lowest day in May was over $100.
By comparison, you can check out how much I made in May 2021 below……..
I made over $1400 in a day on one day in late May – much of it was for one book and that one book made over $1800 in that one month.
These days, the book may typically make $200 or so in a month but isn't one of the main sellers.
Did I Publish Anything New In May?
Ummmm…… No!!
I did spend time on a book on May and was almost finished. But then I went away for a week on holiday during the kids half term break and I didn't get it done.
I'm not great at multi tasking. I am much better just focusing on one main thing.
Starting YouTube and trying to keep up with my blog also, has really taken my focus away from the multiple other things that I really wanted to get done.
So, I'm going to have to be really strict with my time and get more organised.
Because I find myself procrastinating for the first couple of days in the week and spending the rest trying to get a video done and a blog post where I can.
I also got slack checking Ads! I went away and didn't check Ads at all. Came back to find my ACOS in Canada had gone up to 50% this month.
SO….. Trying to get back into a routine at this point.
What has helped me this month to get back on track is actually watching some Mel Robins videos. She has some on YouTube on procrastination and that has helped me regain some focus.
Were There Any Surprises In May?
There really wasn't so much!
I wasn't expecting a day like last May.
That book coincidentally that ended up making $1800 in total in May 2021… Made about $200 in May 2022.
Who knows what company or business bulk ordered my book last year, but they certainly haven't got a second order. Not yet anyway.
My best selling book was the one to get the bulk order this time and that does happen now and then.
The other top selling books were all ones that usually are in the top 10, so no changes there.
I didn't get the book out in May that I'd planned and I still haven't published it as I type this out, but I'm going to be getting the published this week.
KDP Amazon Ads For May
I really took my eye off the ball this month, (June) when it comes away because I went away for a week and didn't even look at my Ads.
I came back to find my Canadian Ads with a 50% ACOS eeek….
Thankfully, May was OK but I didn't really do much with them this month. I just tweaked them really and took some off.
I had really wanted to run Ads to a lot of my older books, but now I'm not so sure.
Actually, I think I'd now like to spend more time actually trying to create NEW books and then running Ads to those new books, (rather than trying to run Ads to the older ones).
Anyway! Here are the Ad numbers for MAY….
Canada was the worst one and I think this was partially due to not really paying attention. Thankfully, the overall spend was really low though, so it's fine.
Definitely time to go in this month, (June) and do some tweaking to all the Ads however. I've noticed some have not been performing so well this month.
Canada

USA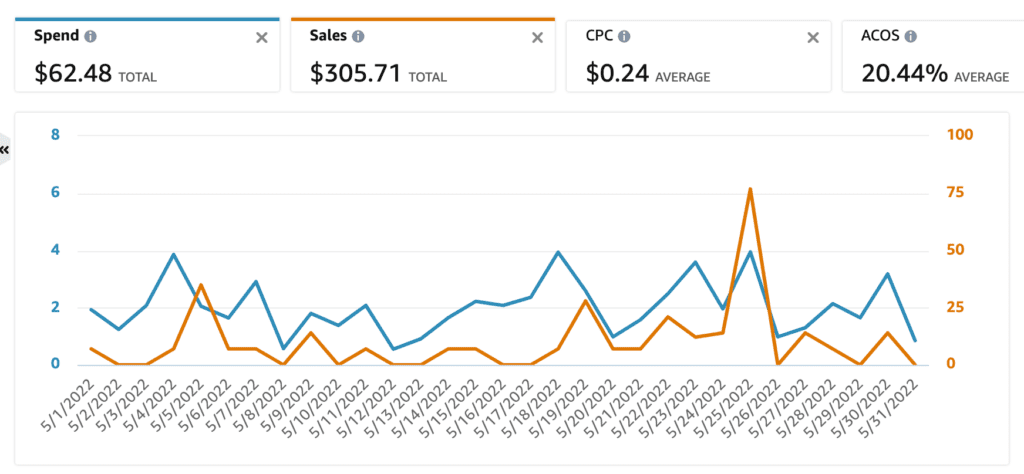 United Kingdom
So, the ACOS in Canada at 36% is definitely not profitable. The US was slightly profitable and the UK will have been around break even.
Not a wonderful month for Ads but the overall spend was also fairly low overall – I just need to take a look again into these Ads in June.
Total Ad Spend, (once everything is switched into dollars and rounded up….)
Around: $243 in US dollars.
If you're not sure how to run Ads and you want to know more; you might want to check out the brief intro I did on Ads here.
Other Expenses:
You can see the tools I use here – some are ones I paid for out right and others are monthly subscriptions.
Generally, this comes to no more than $100 total.
So, What Are The Total Expenses?
Ads:
Total Ad spend, across all platforms: $243
+ 20% VAT tax that I get charged on top, (as I'm in the UK I get charged this on top of my Ads).
So, rounded up – around $49 plus $243 = $292
Then my tools $100.
$100 + $292
Total Expenses: $392
TOTAL PROFIT:
$6554 – $392
PROFIT: $6062
This is before any regular yearly tax that will need to be paid each year.
Check Out My Mini Course Below — It's Free & For Beginners:
How Was Your KDP Low Content Results For May?
So, how were your royalties on KDP this May? Did you have any surprises?
Let me know in the comments and also, if you have any questions at all – don't be shy!
Pin Me For Later: