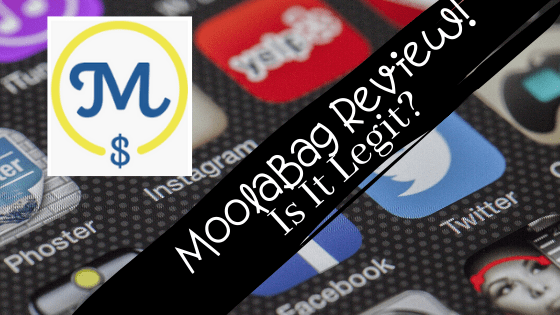 Hey there; welcome to my MoolaBag review – an App that claims you can earn gift cards on your smartphone, by completing offers.
Today I'm looking at the Apple IOS version and I believe there could be a bit more going on with the android version.
With the version I was looking at, there wasn't much going on and this may be due to having to fit in with Apple's specifications.
Many Apps have been removed from the App Store, as they don't meet certain guidelines that the App Store introduced in 2019.
As a result, I've seen a decrease in the "Make money," related Apps on the App Store… Whereas, there seem to be tonnes on android.
In any case, for the most part, this App rewards you for downloading other Apps and completing certain tasks.
There are many other Apps like this – such as App Karma or AppNana.
The thing is, most of them all have the same kind of offers available BUT… some do have more than others and some also pay you more than others.
It can be confusing to figure out which when these Apps often pay via a points system.
But they all have different points systems and so, you have to figure out what the points are worth, to know how worth completing an offer really is.
MoolaBag App – Key Points!
What is it: An app where you can complete offers for points.
Where can you learn more? https://www.moolabag.mobi/
How much does it cost? It's free.
Who can join: you can join worldwide, (but available offers will vary considerably).
How much can you make? A minor amount.
Is it legit…. They will pay you, but that doesn't make it worth it.
If you want to make $100's+ every month online, Apps will not work! Learn how to start making more here.
What Is MoolaBag App About?
There wasn't very much to this Application when I downloaded it.
The premise was simple… Spend your time on their App completing offers, (downloading apps and games/partaking in trial offers and prize draws etc) and accumulate 1000 points.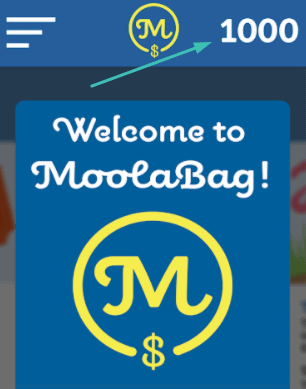 Once you have 1000 points, you can exchange them for a gift card and there was a selection of these available.
At first, I could not find out how much points were worth.
I eventually discovered that 100 points = $1.
But in the cash out section, they had the option to cashout $5….. Which would be 500 points.
As they advertise you need 1000 points to cashout…. So, I'm not sure if you can cash-out with $5, or if they're merely encouraging you to reach $10.
Signing Up To MoolaBag:
Signing up for me was very quick and simple.
You can sign up via Google, I decided to sign up using my email address.
Then you're in and you can get started immediately.
They give you a little intro explaining how it works.
Essentially…. complete offers…. get to 1000 points…. cash out!
Cashing Out:
Now, they say that you need to get to 1000 points to cashout… but there is a $5 option payment wise.
$1 = 100 points.
So, you'd only need 500 points if you want a $5 gift card, for example.
I'm unsure if this is a mistake on their part, or if they'd just rather you reach 1000 points.
The payout info was also confusing to find, because there was no obvious tab to click on.
I found it by clicking on what was essentially a dot, on the right hand corner of their homepage on the App.
In any case, there are various gift cards available and these will be dependent on your location.
Some gift cards included:
Itunes, Amazon, Target and Walmart. Plus… PayPal!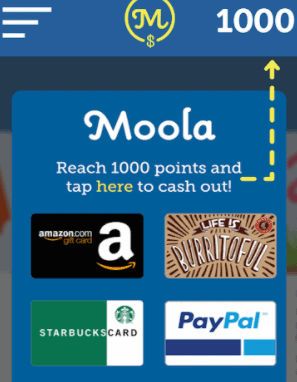 Choosing What Offers To Do:
MoolaBag is a bit muddled, because they have all the Apps you can download huddled in one place.
So, there are no tabs you can click to find… Say, the highest paying APPs, or the game Apps, or the Casino type offers.
You just have to scroll through them all to see what is on offer.
Not Just Offers?
Among the regular offers, like trials and do on – there seemed to be links to surveys as well.
Again, this seemed confusing to me because, you'd think there would be a separate section for surveys and other offers than don't involve downloading Apps.
I did go into one survey provider and after being seemingly thrown from one profiling survey to the next, I wasn't getting very far.
At the end I got 1 point, which I think was just a consolation point, because I got disqualified, (what often happens with surveys!).
If you've completed an offer and aren't sure if your points have registered, go to the history tab. This is where you will find a log of the offers you've done and the points you currently have.
If you don't like getting disqualified – try Prolific.
What Sort Offers Are Available?
The problem is, if you download these sort of Apps regularly, they do tend to have the same offers pop up again and again.
Although, there are new ones that show up now and then.
Some of the offers available to me when I downloaded the App, (in the UK) were:
Win an ASDA gift card – join the sweepstake and get 48 points, (careful with your info, these type of sweepstakes typically lead to major spam.
Nivea questionnaire – get 40 points for completing a survey and getting a chance to win a Nivea Sun Package.
Go Daddy – get a domain from Go Daddy and get 300 points.
Castle Clash: Brave Squads – simply download, install and open – get 13 points.
Nielsen Digital Voice – install their app and earn from it, plus have the chance to win cash prizes 440 points.
Farm Story Game – download and get to level 20. You get 238 points.
Amazon Prime – sign up for 30 day trial for 74 points.
Those were just a selection of the ones I could see.
Typically varying from 20 to several hundred points.
Some seemed to have very low points for the effort you have to put in.
Take the offer below, where you can get 20 points for downloading a game…. But you need to reach level 35!!!!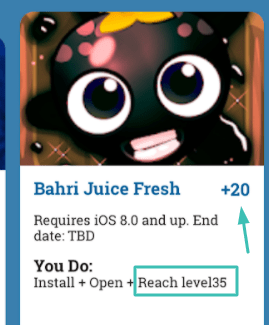 How Does MoolaBag Make Money?
MoolaBag will have an affiliate partnership with the companies on their App.
So, Amazon, (for example) will pay them a certain commission whenever someone signs up for a free trial for Amazon Prime.
They can then share a small portion of that commission with you.
What Do Other People Say About MoolaBag?
This App only has under 100 ratings on the App store right now — but only 2 and a half stars on average right now!
One person complained that they could not get a response with customer service and that once they reached the $10, there was some glitch and all their info was lost.
Some complain that they've not received points for the offers they've completed.
On Google Play, they don't fair any better.
Actually, it's worse, as there are over 100 reviews and still, on average, 2 and a half stars.
Many people complain that the App is glitchy and that they are not awarded the points their owed.
Sometimes they are asked for proof and it can be a long drawn out process.
It was good to see that Moola was responding to all the negative comments on Google Play and some seemed to have reasonable responses…..
But you wonder why people complain about people getting back to them when they contact them directly.
Whatever the reason, I've rarely seen quite so many negative reviews for an App.
Unfortunately, it does seem common with these types of Apps, that points don't register – although, it seems particularly prominent here.
PROS VS CONS
PROS
Free to join,
Get gift cards or PayPal payments,
Available on IOS/Android,
Worldwide members welcome.
CONS
I didn't feel there were enough offers, (could be dependent on location),
I felt a lot of the offers paid lower than others I'd seen,
No referral opportunities,
While you can join from around the globe, that doesn't mean you will be eligible for offers!
Basic looking – not much going on,
A fair amount of negative feedback.
Concluding thoughts… Is MoolaBag Worth It?
Personally, if I'm going to spend my time on an App like this, I want there to be a little more going for it.
The App was quite dull, somewhat confusing in the layout and I felt could have some higher paying offers.
In addition to this, many people have been complaining that their points are not registering and that they've just wasted their time.
Many have said that MoolaBag customer service, hasn't been very helpful in resolving these problems.
I also noticed quite a lot of sweepstake offers and, take it from someone who used to enter sweepstakes for hours per day, these are not the type you want to enter!
In any case, there are better Apps out there, if you're trying to make or save a bit of money with your phone.
As rewards sites go, I recommend Swagbucks – which also has an App available.
I've never had a problem cashing out gift cards and they have a lot more going on.
Beyond Apps Online – If You Want To Make More:
I enjoy finding Apps where you can make a little bit of money here and there, or sometimes to save money via cashback and so on.
But that's all it ever is…. a little bit of money.
Now I try and concentrate more on things that can bring in more money over time.
More effort yes…. But bigger rewards as well!
If you're interested in some of the side hustles I've tried, you can find them here.
But the most I make now is from having advertising on my website and from affiliate sales, recommending products and services that I have used and enjoy.
If you want to learn how THAT is done… I started learning here for free.
I hope you found my MoolaBag review useful to you…
If you have downloaded the app and would like to share what you think about it, you're very welcome to leave a comment below.